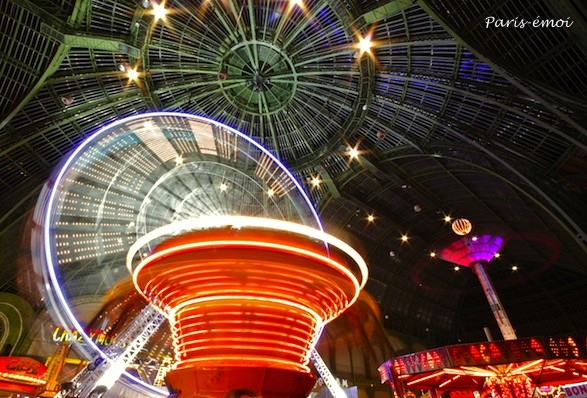 Jours de fête.  Photo: ©Francis Beddok AKA Paris-émoi 2011
Here's a fun deal! Le Grand Palais is hosting a huge indoor carnival for all ages called Jours de fête! It's a hit with the locals and visitors alike.
Adult and kiddy rides, carnival games, strolling costumed characters plus enough cotton candy and toffee apples to feed the 250,000 who attend annually. And even Bar à Bulles, a Champagne bar . . only in Paris, right?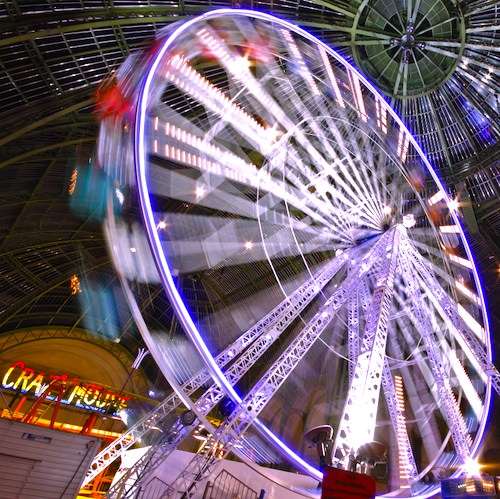 Rather amazingly, unlimited rides cost only €10 for children and €15 for adults.
Isn't the ride sweeter when it doesn't feel like your wallet is being taken for a ride?
Jours de fête ends January 2 and is presented in partnership with le Musée des Arts Forains, the Paris Carnival Museum, which also ends its limited public open dates on January 2. (See Francis' photo and info about this wonderful museum here.)
Should you miss this, the Ferris wheel at Place de la Concorde is up until early February.
Here's video from the Mairie de Paris . . . enjoy!

Francis Beddok AKA Paris-émoi is a Paris-based photographer who captures sacred sites and profane sights in Paris. Please click on his name to view his photographs published by BonjourParis every other week.

Subscribe for
FREE

weekly newsletters with subscriber-only content.
BonjourParis has been a leading France travel and French lifestyle site since 1995.
Readers' Favorites: Top 100 Books, imports & more at our Amazon store


Find more fun in Paris…and don't forget a camera that shoots still or video. Click on an image for details.
Thank you for using our link to Amazon.com…your purchases support our free site.