BUZZ Best of 2011 by Margaret Kemp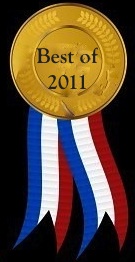 "Best of 2011" BUZZ by Margaret Kemp
Margaret Kemp is a Cordon Bleu graduate who spent a year traveling the world, working and watching in the kitchens of top chefs from Sydney, Australia via Bangkok, Hong Kong, California, New York and France. Her Sunday columns for BonjourParis premium members include the latest European trends, interviews with internationally acclaimed top chefs, and reviews of restaurants, hotels and hot spots. Please click on her name to see her weekly stories dating back to 2003 . . . et merci, Margaret.
Margaret covers top chefs around the globe, but your favorite stories this year were about beautiful new openings and classic favorites celebrating milestones in Paris. From the Golden Triangle to Opéra to the Paris 16th to the Left Bank, here are your Top 3 Readers' Favorites for 2011 by Margaret Kemp for BUZZ.
Readers' Favorite #3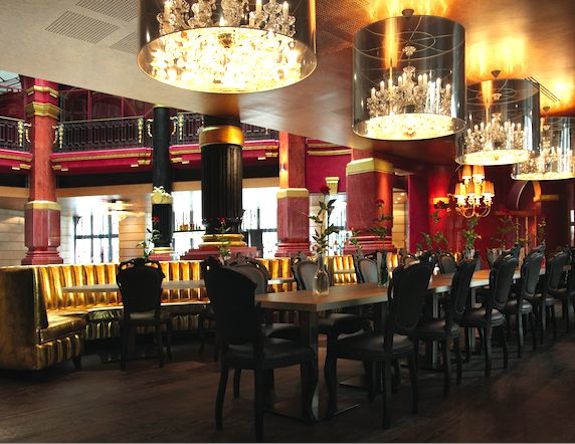 Le Banke Hotel, Paris 9th
Hôtel Le Banke launched in 2009, a magnificent "Eiffel style" Belle Epoque building that formerly housed the CCF bank. The exciting and eclectic interior design, avant-garde and antique, by architects Paul Fresse and Cassien Bernard is worth the detour. A mix of styles, colours and lots of space will really turn you on. Force yourself out of Galeries Lafayette and swing by Lola, the circular bling bar serving cocktails and tapas, then discover Josefin, the Mediterranean-style brasserie with dishes created by chef George Pierre (ex-Robuchon, Maison Blanche).
On the menu, starters include Carpaccio de homard + algues. Raviolis de cabillaud farcis de gambas de palamos + vinaigrette de tomate basilic. Oeuf cassé + jambon bellota + huile de truffe blanche. There are Iberian influences in the dishes, so choose a Spanish wine Finca la Estacada 2009 (30€) or the robust red Miranda, Crianza, Rioja, 2005 (35€).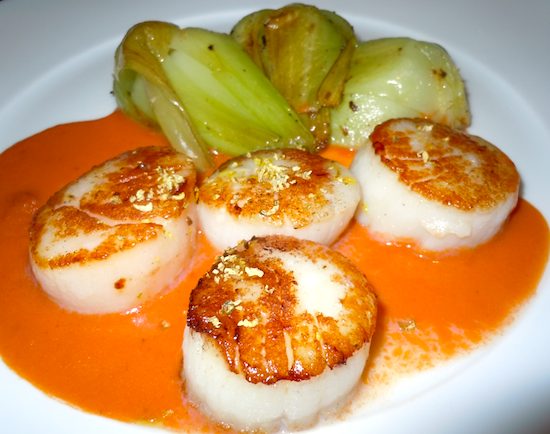 For mains: Riz crémeux aux cèpes + huile de truffe blanche. Noix de Saint-Jacques + citron vert + pak choy + émulsion au lime (see photo) or Onglet de boeuf Wagyu aux échalotes, poêlée de légumes faҫon ratatouille gratinée. The pâtissier was head-hunted from the Ritz, so save space for desserts: Millefeuille tradition + glace vanille. Crème Catalane + tuile Canelle + biscuit à l'Orange; La Pêche faҫon Melba, served in a tall glass and Tartelette aux fraises. The contemporary space buzzes with a hip young crowd and couples who don't seem in a hurry to leave.
The Banke project is by Jordi Clos, director of Derby Hotels Collection, with exciting addresses in Barcelona, Madrid, London, and now Paris. 94 rooms and suites, with spectacular bathrooms, views over the Sacré-Coeur. Eclectic art everywhere, Jordi Clos is a big collector and expert Egyptologist. What a great place to hang your sombrero. With the world economy in crisis the banque did well to transform itself into a fantasy hotel—check in and forget everything.
Readers' Favorite #2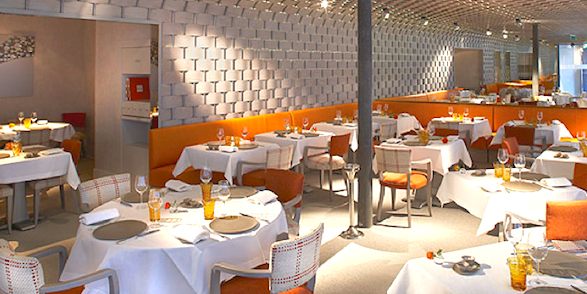 Les Tablettes de Jean-Louis Nomicos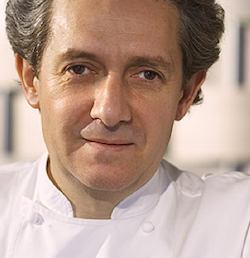 There's a buzz around avenue Bugeaud, just off Place Victor Hugo, where Chef Jean-Louis Nomicos just opened Les Tablettes. He came from Lasserre (Christophe Moret's taken over now) and follows Joel Robuchon, now aux Champs Élysées, at Le Drugstore.
The aura's silver. Anne-Cecile Comar has created a sleek metallic cocoon; mirrors at each end give depth. The tables are spaced, but there's plenty of table hopping—New York City comes to the 16th arrondissement. Nomicos, who lives in the Auteuil district of the 16th, says he loves this part of Paris, but agrees that every district has something to offer. For Nomicos, Tablettes is a dream come true.
"I could have stayed at Lasserre forever, but all chefs dream of seeing their name over the door of their own restaurant," he says.
He explains that since he was 18 he's worked for others. Not just any others: Alain Ducasse was his first boss at Le Juana, Juan Les Pins.
"From him I learned my way around the kitchens, the history of cooking, reflexes, the essentials, the marketing," he explains.
Nomicos stayed close to Ducasse for ten years, travelling in Asia when he was developing his restaurants and reputation in the East. Nomicos was just 27 when Ducasse suggested him for the prestigious post of executive chef at La Grande Cascade, Bois de Boulogne (Frédéric Robert is there now). Lasserre followed, but Marseille-born Nomicos decided to continue his journey.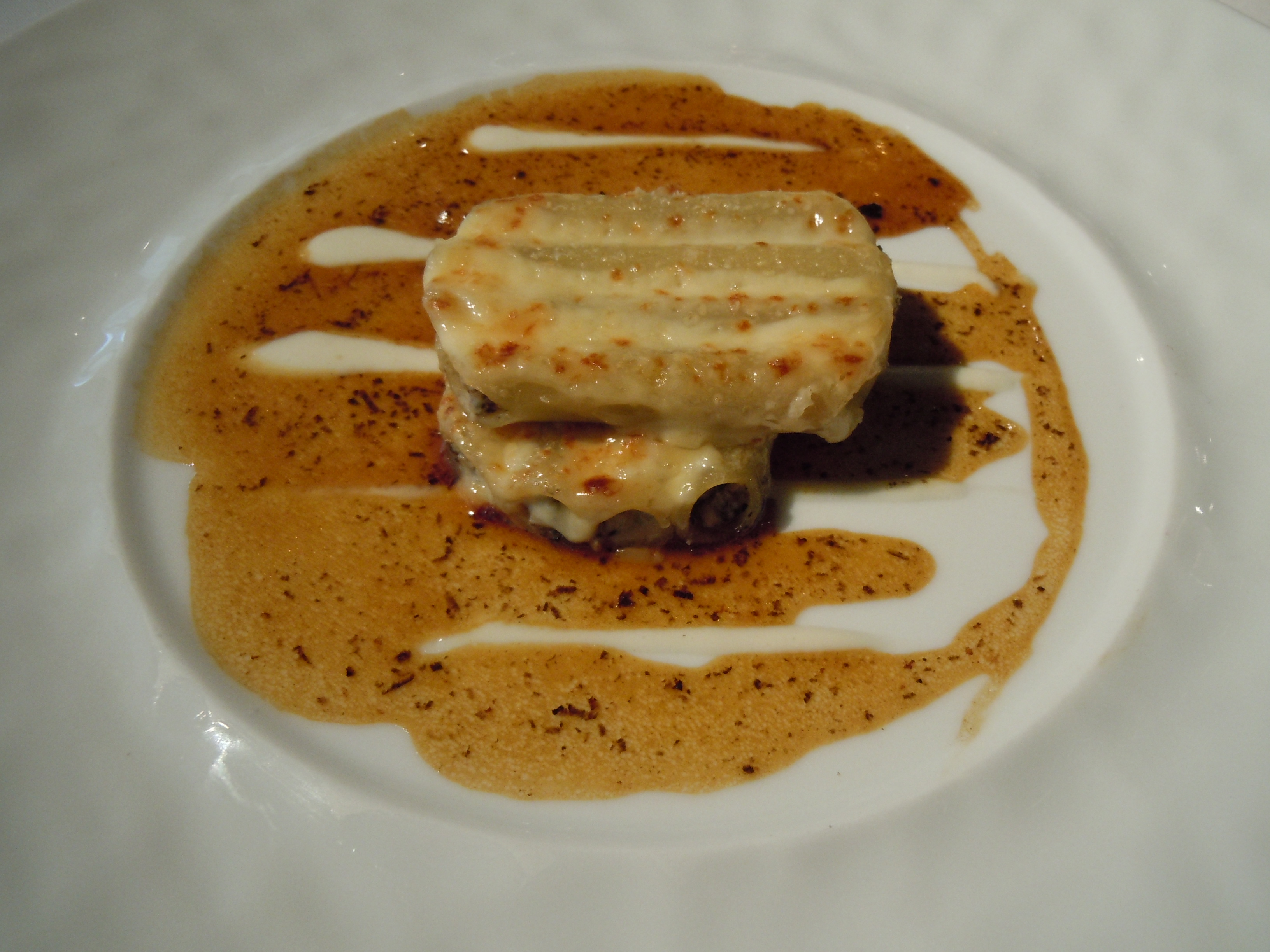 Tablettes' menu is presented in an envelope, like a love letter to clients. They'll know he loves them when they read it and they're all breathing a sigh of relief that his signature Macaroni aux truffes noires et foie gras features. The macaroni's cooked in milk, stuffed with a brunoise of celery, foie gras and truffles, drizzled with beef stock, then topped with more truffles.
"It's a 21st-century spin on a recipe by Escoffier," smiles Nomicos.
Readers' Favorite #1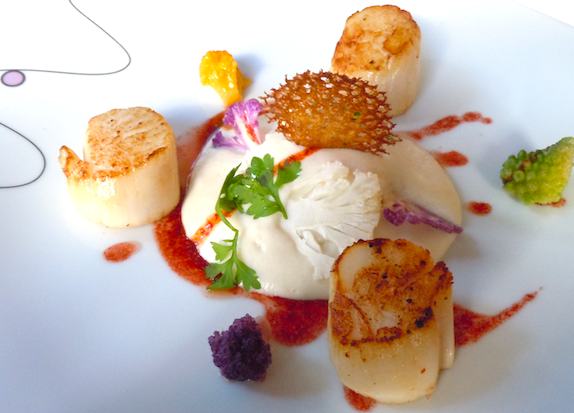 Le Fouquet's and Restaurant Le Diane at Hôtel Fouquet's Barrière, Paris 8th
Hôtel Fouquet's Barrière, in the heart of "The Golden Triangle" has taken its place in the hearts and minds of chic Parisians since it opened in 2006. The 50 million euro building sits just behind Le Fouquet's, the legendary restaurant with names of César-winning celebs engraved on copper plaques in the entrance. Always buzzing, it's opposite the Louis Vuitton flagship store, where there's usually an orderly line of shoppers waiting to be let into the HQ of conspicuous consumption.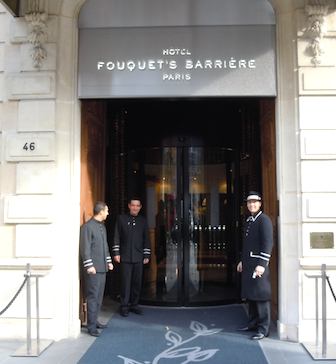 To greet you are the hotel's Clooney look-alike doormen wearing sexy livery. Once inside there are 81 rooms, 31 of which are sumptuous suites with names like Backgammon. Barrière is, after all, darling, famous for its legendary up-market casinos, and each room/suite comes with its own butler.
The "silent building" is constructed around an internal garden courtyard designed by brilliant French architect Edouard Franҫois with interior décor by Jacques Garcia. It's also big on sustainable development that offers "eco-friendly lifestyle choices throughout your stay," the most intelligent, in my opinion, being Pommery's vineyard creation of POP Earth Champagne, sitting in an ice bucket in your room/suite. Everybody gets one. When you leave, no paper is wasted, your invoice comes on an iPad, no you can't take it with you dear. The gorgeous gardens are watered with saved raindrops, so they won't be falling on your head. And, below stairs is the state-of-the-art spa with 8 treatment rooms and a 15-meter pool, steam room, sauna, etc.
Restaurant Le Diane and Le Lucien Bar
Restaurant Le Diane is an homage to Diane de Barrière, who never fully recovered from a 1995 air crash before she died in 2001. Subsequently her husband, Dominique Desseigne, took over direction of the group. A beautiful woman, there are tributes to her throughout the hotel and she will never be forgotten.
Wearing the whites at Le Diane are a talented team headed by MOF (Meilleur Ouvrier de France) Jean-Yves Leuranguer (ex-17 years in the kitchens of Le Martinez, Cannes) with Christian Willer. Add Christophe Schmitt (ex-Crocodile, Strasbourg, Le Rosenmeer in Rosheim, Alsace under Herbert Maet and Maison Lameloise, Chagny) plus talented pastry chef Claude Ducrozet, whose version of cupcakes are available at Le Lucien Bar along with other wicked creations. Chill out in the bar after a hard day's night and let Stéphane Ginouvés mix an exotic or classic drink—he's "MOF" Best Barman in France 2011.

Merci

, les abonnés

premium

,

nous vous apprécions

.
BonjourParis has been a leading France travel and French lifestyle site since 1995.
Readers' Favorites: Top 100 Books, imports & more at our Amazon store
Prepare for your culinary tour of France: start with secrets to French style and Champagne.
Thank you for using our link to Amazon.com…we appreciate your support of our site.
Leave a reply
Your email address will not be published. Required fields are marked *