Angelina: Le chocolat chaud à l'ancienne l'Africain
Paris is a haven for chocolate lovers. Considering the eye candy at every corner of this lovely city, it is impossible to keep track of the many wonderful things to discover. Chocolate is just one more Parisian treasure and as the temperatures begin to drop le chocolat chaud (hot chocolate) is at the top of the list.
Imagine sipping a hot chocolate while walking through the Tuileries Garden on a brisk day be it morning, afternoon or evening. And with the renowned Angelina directly across from the Tuileries on rue de Rivoli, it need not be a fantasy—and you can bypass the lines and get a chocolat chaud to go. The fact that hot chocolate at Angelina's is one of the best in Paris is not surprising because the family that established has roots in Eastern Europe where thick, sumptuous hot chocolate is a staple.
The history behind this Parisian landmark began when the Rumpelmeyer family immigrated from the then multinational realm of Austria-Hungry to settle in the Côte d'Azur region in the south of France. In the late 1800s, the Rumpelmeyers had nostalgic thoughts about the teahouses they left behind and decided to open their own in Nice. This proved to be a successful venture and they followed with teahouses in Monte Carlo and Antibes. Building on these successes, in 1903, the Rumpelmeyers opened the now-famous Parisian landmark Angelina.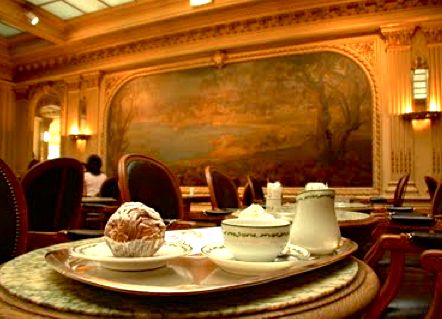 The Dutch-born architect Edouard-Jean Niermans was commissioned to decorate the interior that remains unaltered to this day. Its entrance appears modern with delicate, bright, airy, unassuming touches that beautifully display the signature pasties and chocolates. The interior looks like a traditional teahouse—pleasant, understated yet refined and elegant. There are marble-topped tables and lots of mirrors that give the dining area a larger-than-life feeling and enhance its many decorative flourishes.
Originally, this teahouse on rue de Rivoli opened as Rumpelmeyer. However, in 1930, owner Antoine Rumpelmeyer changed the name to his daughter-in-law's, Angelina.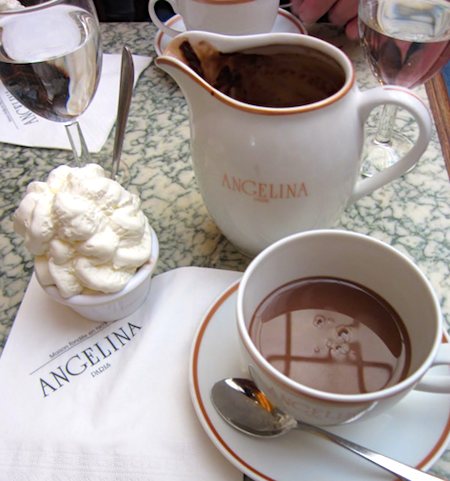 The prince of hot chocolates is chocolat chaud à l'ancienne l'Africain (old-fashioned hot chocolate called "The African"). You will be served a cup and saucer along with a pitcher of steamy, hot chocolate so thick and creamy that if it were a tad thicker it would be classified a pudding. To add to this decadent treat, fresh whipped cream is served on the side along with a glass and une carafe d'eau.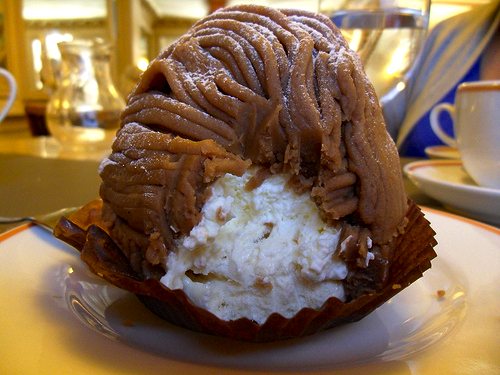 If this is your first time, you must try its mouthwatering signature pastry, the famous Mont Blanc—a very simple pâtisserie, composed of cream of chestnut, fromage blanc (a soft fresh type of cream cheese) and meringue. Together these ingredients give the pastry a sort of crunchy yet creamy texture. The celebrated pâtissier Pierre Hermé created this cake and its exact recipe has never been shared. That fact alone is a good reason to try it.
Angelina also serves a lovely breakfast lunch and light dinner. From 12:00 to 3:00 it can be very crowded, but if you can avoid these hours you should be able to get a table relatively easily. Angelina's servers are known to be courteous and unhurried, which is a nice plus for a popular destination.
Coco Chanel was regularly seated at table #10. Reportedly, she was a daily customer just for the hot chocolate. The table is positioned next to one of the mirrors and her biographers have written how Mme Chanel loved mirrors and used them to coyly keep an eye on the world around her.
Sitting in Angelina, sipping chocolat chaud and looking at the crowded room via the mirrors gives such a different perspective. Give it a try.
Angelina has two exciting additions opening—the first is at the Galeries Lafayette in December and the other at the Musée du Luxembourg in January. The latter will offer a large terrace and should be a delightful stop in one of the loveliest gardens of Paris.
À la prochaine at Angelina!
PRACTICAL INFORMATION
Angelina Salon de Thé, Pâtissier, Restaurant
Tél: 01 4760 8200
226, rue de Rivoli, Paris 1st
Open:  Monday through Friday 7:30am-7:30pm; Saturday, Sunday and holidays 8:30am-7pm
Check site for other Paris locations
Loui Franke is a Paris resident and the author of Parisian Postcards. Please click on her name to learn more about her and to see other stories by Loui published by BonjourParis.
Subscribe for free and never miss a story. Search our library with 7,200+ stories and 50 original stories published monthly. BonjourParis has been a leading online France travel and French lifestyle site since 1995.

Please use our link to the world's largest online retailer, Amazon.com.
View our Top 100 Bestselling Amazon.com Items. (Wait for Amazon.com widget to load)
Want more? View our recommended France-themed books & items. Most recent listings at last pages.

Save 10% on your return trip
PARIS SHUTTLE is a leading Paris airport transfer service. Book your airport transfers in advance online for direct to-your-door service.