L'As du Fallafel: Most Popular Paris Falafel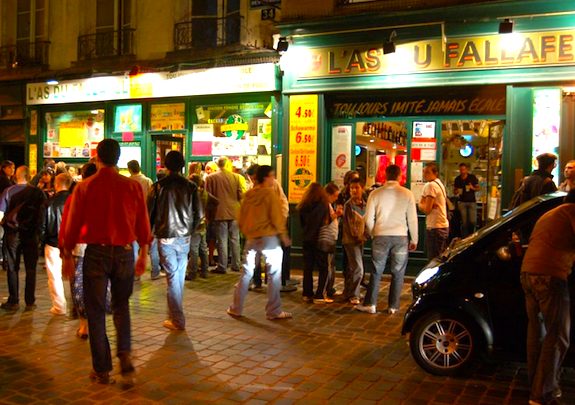 Let's face it. Finding great food in Paris is not difficult. (Neither, by the way, is finding over-priced, mediocre food.) But all too often, great food comes at a great–meaning "high", not "opportune"–price. Quite frankly, I don't eat in Paris' best restaurants often enough to tell you about them. In fact, I hardly eat in them at all, since my idea of fun is to go buy fabulous produce, fish, and meats and cook them myself. However, in the middle of a long, wearying day at the computer, I do like to "take the air" a bit, as the French say, and head out for a quick bite—just to break the monotony. I need it to be quick, and preferably cheap, because if it's expensive in Paris, it isn't likely to be quick. To that end, I've come up with a short list of my favorite mid-day "joints." And I don't use that term pejoratively. For me, the food that's served up in my joints of choice is first of all, real, meaning that it doesn't pretend to be something it's not; second, it's the sort of cooking you could enjoy at your own home, if you did that sort of cooking; and third, it's often sublime! Vying for top slot on my list of these places is L'As du Fallafel, or the Axis of Fallafel, at 34, rue des Rosiers in the Paris 4th. Located in the heart of the Marais, amid a welter of falafel competitors, the "As" is by far and away the king of them all. It is starkly superior to its major foe, Chez Marianne, which is nearby at 2, rue Hospitalières St Gervais, and more quaintly picturesque. Although there is the usual array of menu items that this sort of restaurant offers (i.e., shawarma, kebabs, chicken, fried livers), forget all that stuff. As I see it, there are only two choices of things to eat at the As: the "fallafel sandwich special" or the assiette du fallafel. In other words, falafel or falafel. The falafel sandwich special reigns supreme. Whether you order it to go at the open window on the street (I don't have the courage to do that; it's too messy) or sitting down inside, you get the same thing—a hot pita slit open at one edge, and stuffed to bulging with the chickpea fritters called falafel, red cabbage vinegar slaw, fried eggplant slices, cucumber and tomato, baba ghanouj, and probably other ingredients that are too mixed up to distinguish in the dark interior of the sandwich. It is topped off with a dollop of tahini-lemon sauce, much like the hot fudge on a sundae. If you eat inside, you will first have a paper-lined plastic "French fry" basket set down in front of you, which, as you'll see, is strictly a formality. Then, in a matter of seconds, the waiter returns with your tissue-wrapped sandwich clutched carefully upright in his hand. He transfers this precious load directly to your own hand, as laying it down in the basket would spell disaster for the physical integrity of the sandwich. Anyway, I'm willing to bet that once you've put that heavenly falafel-laden pita to your mouth, you'll never pause once to put it down in that silly basket, which will serve only to catch the drips of sauce drooling down between your greedy fingers, as well as any stray fragments of contents that escape your grasp. As far as I'm concerned, the falafel sandwich special at the As is a perfect meal. It is a luscious combination of contrasting flavors and textures: salty, acidic, slightly sweet, unctuous, and crunchy, moist, crispy, and saucy. Nutritionally it's got everything going for it as well: a host of vegetables, a dose of complementary vegetable protein, plenty of fiber and vitamins. And vegetarians, rejoice! In this city of carnivores, the As is your destination– a bustling restaurant where you can order vegetarian without the waiter pretending he doesn't understand what you're saying! If you're really hungry, you might want to go for the falafel platter or assiette, which is really a deconstruction of the sandwich. Here you get the same ingredients that are in the special sandwich, with the addition of green as well as red cabbage slaw, salade Turque, a sweet sort of cooked tomato concoction, and hummus as well as baba ghanouj, but minus the delicious tahini-lemon sauce. All this surrounds a small mountain of falafel, delicately crisp on the outside and tender, moist, and steamy on the inside. Two hot pitas are served on the side. The only thing I ad to transport me to complete Nirvana is a hefty glass of freshly extracted carrot juice, a house specialty. They press it on order. The As is one of the most efficient and speedy restaurants in Paris. Even though it's always crowded, you never have to wait long for a table. The hawk-eyed waiters take your order the second they spot decision dawning on your face, and the falafel arrives a couple of miraculously short minutes later. How can they be so fast? A lot of it has to do with those guys moving in a blur behind the counter, cooking and constructing the falafel sandwiches. These young men, most of who appear to be Tamil Indians, work like dervishes, their hands seemingly spinning like windmills as they fill the pitas with condiments, which splatter against the glass backsplash protecting them, like a hard rain. Meanwhile, the waiters don't waste a moment. They are masters at spatial planning, never hesitating to ask you to share a table with waiting falafel fiends. The moment you're finished or even before, you have your bill, although you are never made to feel as if you must…
SUBSCRIBE
ALREADY SUBSCRIBED?
BECOME A BONJOUR PARIS MEMBER

Gain full access to our collection of over 5,000 articles and bring the City of Light into your life. Just 60 USD per year.

Find out why you should become a member here.

Sign in

Fill in your credentials below.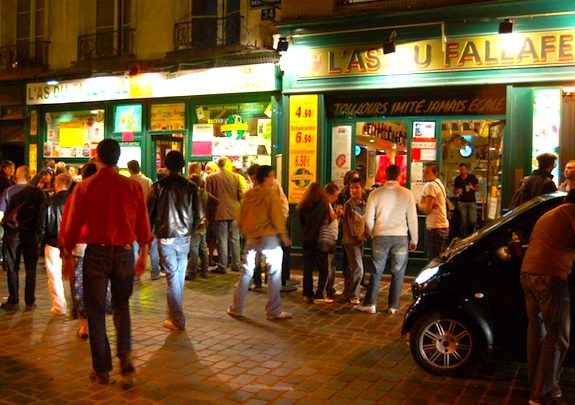 Let's face it. Finding great food in Paris is not difficult. (Neither, by the way, is finding over-priced, mediocre food.) But all too often, great food comes at a great–meaning "high", not "opportune"–price. Quite frankly, I don't eat in Paris' best restaurants often enough to tell you about them. In fact, I hardly eat in them at all, since my idea of fun is to go buy fabulous produce, fish, and meats and cook them myself.
However, in the middle of a long, wearying day at the computer, I do like to "take the air" a bit, as the French say, and head out for a quick bite—just to break the monotony. I need it to be quick, and preferably cheap, because if it's expensive in Paris, it isn't likely to be quick. To that end, I've come up with a short list of my favorite mid-day "joints." And I don't use that term pejoratively. For me, the food that's served up in my joints of choice is first of all, real, meaning that it doesn't pretend to be something it's not; second, it's the sort of cooking you could enjoy at your own home, if you did that sort of cooking; and third, it's often sublime!
Vying for top slot on my list of these places is L'As du Fallafel, or the Axis of Fallafel, at 34, rue des Rosiers in the Paris 4th. Located in the heart of the Marais, amid a welter of falafel competitors, the "As" is by far and away the king of them all. It is starkly superior to its major foe, Chez Marianne, which is nearby at 2, rue Hospitalières St Gervais, and more quaintly picturesque.
Although there is the usual array of menu items that this sort of restaurant offers (i.e., shawarma, kebabs, chicken, fried livers), forget all that stuff. As I see it, there are only two choices of things to eat at the As: the "fallafel sandwich special" or the assiette du fallafel. In other words, falafel or falafel.
The falafel sandwich special reigns supreme. Whether you order it to go at the open window on the street (I don't have the courage to do that; it's too messy) or sitting down inside, you get the same thing—a hot pita slit open at one edge, and stuffed to bulging with the chickpea fritters called falafel, red cabbage vinegar slaw, fried eggplant slices, cucumber and tomato, baba ghanouj, and probably other ingredients that are too mixed up to distinguish in the dark interior of the sandwich. It is topped off with a dollop of tahini-lemon sauce, much like the hot fudge on a sundae.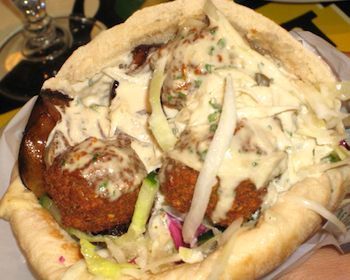 If you eat inside, you will first have a paper-lined plastic "French fry" basket set down in front of you, which, as you'll see, is strictly a formality. Then, in a matter of seconds, the waiter returns with your tissue-wrapped sandwich clutched carefully upright in his hand. He transfers this precious load directly to your own hand, as laying it down in the basket would spell disaster for the physical integrity of the sandwich. Anyway, I'm willing to bet that once you've put that heavenly falafel-laden pita to your mouth, you'll never pause once to put it down in that silly basket, which will serve only to catch the drips of sauce drooling down between your greedy fingers, as well as any stray fragments of contents that escape your grasp.
As far as I'm concerned, the falafel sandwich special at the As is a perfect meal. It is a luscious combination of contrasting flavors and textures: salty, acidic, slightly sweet, unctuous, and crunchy, moist, crispy, and saucy. Nutritionally it's got everything going for it as well: a host of vegetables, a dose of complementary vegetable protein, plenty of fiber and vitamins. And vegetarians, rejoice! In this city of carnivores, the As is your destination– a bustling restaurant where you can order vegetarian without the waiter pretending he doesn't understand what you're saying!
If you're really hungry, you might want to go for the falafel platter or assiette, which is really a deconstruction of the sandwich. Here you get the same ingredients that are in the special sandwich, with the addition of green as well as red cabbage slaw, salade Turque, a sweet sort of cooked tomato concoction, and hummus as well as baba ghanouj, but minus the delicious tahini-lemon sauce. All this surrounds a small mountain of falafel, delicately crisp on the outside and tender, moist, and steamy on the inside. Two hot pitas are served on the side.
The only thing I ad to transport me to complete Nirvana is a hefty glass of freshly extracted carrot juice, a house specialty. They press it on order.
The As is one of the most efficient and speedy restaurants in Paris. Even though it's always crowded, you never have to wait long for a table. The hawk-eyed waiters take your order the second they spot decision dawning on your face, and the falafel arrives a couple of miraculously short minutes later. How can they be so fast? A lot of it has to do with those guys moving in a blur behind the counter, cooking and constructing the falafel sandwiches. These young men, most of who appear to be Tamil Indians, work like dervishes, their hands seemingly spinning like windmills as they fill the pitas with condiments, which splatter against the glass backsplash protecting them, like a hard rain.
Meanwhile, the waiters don't waste a moment. They are masters at spatial planning, never hesitating to ask you to share a table with waiting falafel fiends. The moment you're finished or even before, you have your bill, although you are never made to feel as if you must rush out. It's just that option is open to you, which I think is infinitely preferable to being in a hurry in the utter absence of waiters. Once you put the money on the table, that too, vanishes in the blink of an eye, and in another blink, your change is back.
The As du Fallafel would already be my idea of a perfect lunch joint.
PRACTICAL INFORMATION:
L'As du Fallafel (no website, no phone)
34, rue des Rosiers, Paris 4th (look for the inevitable queue at the storefront)
Métro: Hotel de Ville or Saint-Paul
Average cost: under 10€ for entree + drink
Open: 11am-11:30pm Sunday through Thursday; open until sunset Fridays; closed Saturdays & Jewish high holidays
PHOTO CREDITS: exterior and food ©GabyPrado;
Story updated October 2011.

Subscribe for
FREE

weekly newsletters with subscriber-only content.
BonjourParis has been a leading France travel and French lifestyle site since 1995.
Readers' Favorites: Top 100 Books, imports & more at our Amazon store


Update your library…click on an image for details.
Thank you for using our link to Amazon.com…we appreciate your support of our site.
---
---
Comments