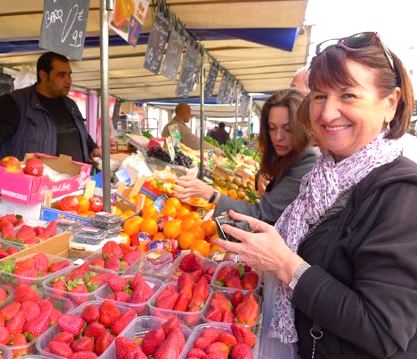 At times it feels like a juggling act when a visitor with limited time in Paris must choose to visit just one of the wonderful and varied Paris markets. The outside vendors at Marché d'Aligre and those in the covered Marché Beauvau in the Paris 12th arrondissement make this one this area of those cool places where you can find the greenest of green zucchini or a lovely bunch of French radishes perfectly arranged as a bouquet with a red top and white bottom—and the little piggies that went to market that are tucked away in the adjacent covered market building.
To reach the Marché d'Aligre, get to Métro: Ledru-Rollin and walk to Place d'Aligre (see map below). Its treasures are available any day of the week except Monday. Over 100 vendors wait at this friendly market loved by locals. Let's take a stroll through this most typical of French markets, which is anything but typical to visitors.
The outdoor market vendors that line the street offer up fresh fruits, vegetables and buckets full of bouquets of flowers. There are bric-a-brac flea market booths that sell everything from books to clothing to small tchotchkes.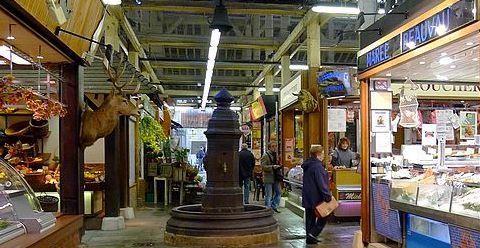 But save time to explore the covered market, Marché Beauvau. It's a protected, historic building built in the mid-19th century and that's where you might encounter sights you haven't seen before, such as shining piglet butts hanging from a butcher's stall rafter. Come now; tell me which market you frequent when you can see this every day?
Not only are the little piglets inside the shops beneath the covered market, but you'll also find a mix of classic merchants' stalls, too, with everything from pastries to pasta. Michel Brunon is a butcher who sells meats in all varieties, but he's known for selling aged beef and, yes, horsemeat.
La Marée Beauvau is a fishmonger's stall that sells fresh fish and sushi.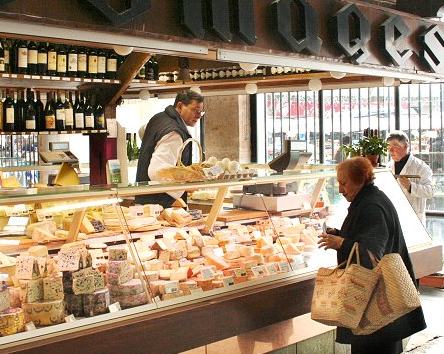 Hardouin/Langlet has a huge selection of cheese from every corner of France, their fragrance lingering in the air like old tennis shoes (those of us who love pungent cheeses know what this means).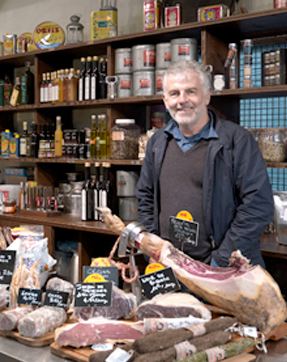 Sur les Quais is very well known for their specialties of olive oil and spices in containers that are easy to pack. You'll even find Les Caves Augé , one of the oldest wine shops in Paris, has a shop there.
Take time to visit with the merchants behind the counters to learn more about their rich traditions. If you stop by Le Garde Manger, a delicatessen full of Alsatian products, you won't be disappointed in the welcome or the offerings. The proprietor is a charming young woman; mention that you are from America and she's likely to share her dad's story with you. It goes something like this: when the word "American" tumbled from my mouth, she caught on quickly and asked, "Do you know about Trader Joe's?" I told her I shop the American grocery often, a bit alarmed that she even knew about the Trader. Her story continued on as she told me of her father's love of baking and how he manufactured frozen pizzas sold to Trader Joe's. She also carries les confitures de Christine Ferber, the popular gourmet Alsatian jams and jellies that are a must have for any breakfast table.
If you arrive at Marché d'Aligre later in the day near closing time, you will have timed it perfectly for the grand bargains and real action. Vendors slice prices and vie for customer's attention with their exclamations of final sales. Take the bait and purchase a couple of bright orange and yellow mangos or a kilo of fresh dark indigo figs, which I snagged for half price.
Juggling errands, checking in on little piggies in markets and purchasing from the green grocer is tiring, so drop by Le Garde Manger for a deli sandwich and café.  You won't be disappointed.
If a wine bar sounds better, Le Baron Rouge is right next door on rue Théophile-Roussel. It's very lively, and you can't miss it—chances are good you'll see the overflow crowd spilling out into the street.
PRACTICAL INFORMATION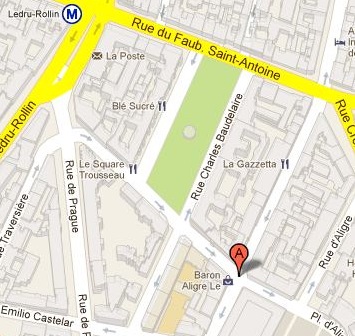 Marché d'Aligre Place d'Aligre, Paris 12th
Métro:  Ledru-Rollin
Open: Tuesday-Saturday 8am-5pm; Sunday 8am-1pm
Marché Beauvau
Covered market at
Marché d'Aligre
Open: Tuesday-Friday 9am-1pm & 4-7:30pm; Saturday 9am-1pm & 3:30-7:30pm; Sunday 8:30am-1:30pm
Le Garde Manger
17, rue d'Aligre, Paris 12th
Open: Tuesday-Saturday 10am-2pm & 4-7:30pm; Sunday 10am-2pm
Sandra Quesenberry is a longtime Francophile. Learn more about her and read her other stories by clicking on her name.

Subscribe for
FREE

weekly newsletters with subscriber-only content.

BonjourParis has been a leading France travel and French lifestyle site since 1995.
Readers' Favorites: Top 100 Books, imports & more at our Amazon store
We daily update our selections, including the newest available with an Amazon.com pre-release discount of 30% or more. Find them by starting here at the back of the Travel section, then work backwards page by page in sections that interest you.
Please support our site by clicking on this banner for all your Amazon.com browsing. Merci!