Mallarmé : A Parisian Symbolist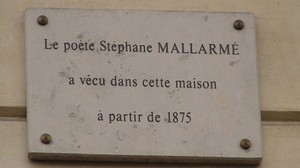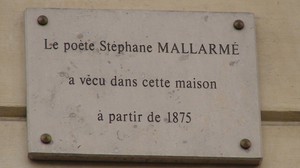 Among 19th century Symbolist poets, Stéphane Mallarmé shares the spotlight equally with giants such as Baudelaire, Rimbaud, and Verlaine. To discuss poets from this era with most French people is to witness their ability, since grade school, to readily recite lines and phrases that are as ingrained in the French culture as haute cuisine and 'la mode'.
Verlaine and "Il pleut sur mon coeur", Baudelaire and "Les Fleurs du mal", and Mallarmé's "L'Après midi d'un faune" carry with them the cadence of poetry at its most vigorous and challenging. Each poet employed his unique, audacious methods to wring the ridiculous and profane from life as they butted up against the hallowed and praised.
Mallarmé's work takes things one step further. He challenges the word, the rhyme, vowels and consonants even, to say nothing of established traditions in poetry, and his pieces risk ringing to the everyday ear as nothing more than gibberish. That is, until you dig a bit deeper. And the digging is meant to take a lifetime for most of us lesser beings. Mallarmé wrote the book on the book that never got written.
Each year, I take a French class—this year it's the poets. Even though I majored in French literature during college and even though I have no long-term goal for using the literary works in any other fashion than for pleasant conversation, I take the course anyway, because it helps me to sit in a room with a French professor who can crystallize a message or sort through confusing text. Thankfully, these heroes of literature put in writing all that exploded in their minds and hearts. Their work is a testament to the fact that as humanity evolves, indeed, much does change but, in the end, there is so much about us that remains the same. For one assignment, I prepared the biography of Mallarmé and discovered that long ago he lived in my Paris neighborhood.
Mallarmé's rue de Rome address is a five-minute walk from chez moi. One raw gray day I journeyed to the front door, to gaze up and imagine the man living behind its walls and windows. Number 89 faces the broad rue de Rome which faces the train tracks of the Transilien, the regional rail that heads north of Paris. The Paris stone building conforms to the city's classic structure, with its étage des nobles on the second floor, the oversized magnificent sculpted front door, the wrought iron grates at the windows. The brown and red "history of Paris" sign signals an historical event or personality. Here, I found once again the story of Mallarmé, not unlike what I learned preparing his biography, and so for a moment I took the time to read and again appreciate the man, his message, and the fact that, as I am continually and happily reminded, Paris takes a lifetime to appreciate. A stone's throw away, on a somber frigid day, you come upon a remnant of the life of one of France's giants of literature. A simple clay pot with blooming red geraniums hangs from what might have been his window long ago, defying the cold, defying the odds as it blooms in beautiful red against this somber backdrop day. Challenging life at every turn.
One of his poems, "Les Fenêtres" exemplifies the Symbolist approach: to present the subject in a highly metaphorical and suggestive manner so as to endow images or objects with a symbolic meaning. Here, an old dying man restricted to a hospital bed makes his way to the window and, fixing his gaze on the pane of glass itself, thinks of the world beyond.
Je me mire et me vois ange! et je meurs, et j'aime
–Que la vitre soit l'art, soit la mysticité—
A renaître, portant mon rêve en diadème,
Au ciel antérieur où fleurit la Beauté!
Angelic in mirrors, I love and die –
and may these panes be mystic or be art
to be reborn, a crown of dreams apart
Where beauty blooms in tender bygone sky!
Kathleen Comstock is a writer and lover of France, who lives in Massachusetts and Paris. She recently published a collection of shorts called Vieilles Filles and Other Stories from France.
Take trips, not chances. For peace of mind each and every time you travel, enroll for MedjetAssist evacuation services.
Leave a reply
Your email address will not be published. Required fields are marked *