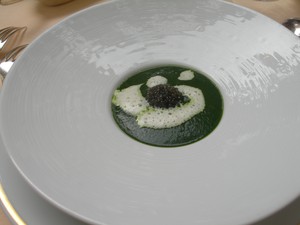 There's been a star-studded lineup of chefs formed by René Lasserre since he created his eponymous restaurant in 1942: Guy Savoy, Michel Rostang, Gérard Boyer, Jacques Lameloise, Jean-Paul Lacombe, Marc Haeberlin. Recently Jean-Louis Nomicos brought his vision to the kitchens, until he decided it was time to move on. At the pianos now is Christophe Moret; both talents acknowledge owing much to their mentor, Alain Ducasse. As does delicious, and enviably slim, pastry chef Claire Heitzler, ex- Troisgros, The Ritz, Beige, Tokyo and Dubai.
"Lasserre continues its ambitions of excellence by bringing together the expertise of two exceptional talents", explains Guillaume Crampon, Lasserre's director. "We're writing a new page in the restaurant's history". Indeed the 50s décor has been revived but not banalised – if Jackie O, Audrey Hepburn or Salvador Dali were to walk in now they'd be happy.
"There are so many signature dishes, we'll definitely keep them," insists Moret.
"People get a kick out of sitting at André Malraux's table and ordering the pigeon dish, named for him. Just as they adore the famous opening roof decorated with Touchagues paintings and the padded lift that brings them up here," he reasons.
Choose from Nomicos' classic dishes such as Macaroni aux truffes noires et foie gras de canard or Moret's new and poetic Laitue en délicate royale, caviar et crème légère à peine citronnée (see picture). Seasonal vegetables grown by Didier Pils or Joel Thiébault are translated into légumes et fruits d'automne, fondants et croquants. Moret's love of vegetables comes naturally: he's the son and grandson of market gardeners from the Loire region. Classic mains include Filet de boeuf Rossini avec ses pommes soufflées. And the gleaming silver trolley reveals different meats or fowls daily, carved and served to perfection by Franck Bernard. Or try Moret's Homard de Bretagne, châtaignes et potiron, drizzled with sauce civet, destined to become a new Lasserre classic for sure.
Patissier Claire Heitzler, working in close collaboration with Moret, puts a superb modern spin on desserts, say, Saint Honoré, Moelleux au chocolate Guanaja; however, the classic crêpes suzettes are unchanged, perhaps in hommage to Edward Prince of Wales. "Claire's compositions show that there's a revolution taking place at Lasserre without losing direction or good taste", says Gilles Pudlowski, food critic of Le Point magazine.
Restaurant Lasserre,
17 avenue Franklin Roosevelt, 8th
Metro: Champs Elysees Clemenceau,
T: 01 43 59 53 43
Open for lunch Thurs & Friday 75€-120€ with wine + A La Carte
Shut Sunday-Monday – Dinner from Tues-Friday
Average Spend 185€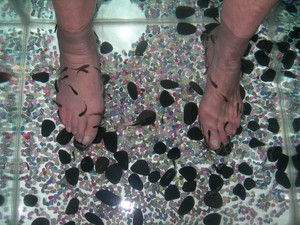 Located in a narrow street near the Pantheon, France's first Fish Spa launched recently, the result of owner Rida Boughanmi's amazing piscatorial adventures while taking a spa break in Kangal, Turkey. "The healing powers of the Garra Rufa fish were discovered in 1917. The fish saliva contains diathanol, which improves the skin's regeneration process", explains Mr Boughanmi.
After careful research, Mr Boughanmi installed 15 aquariums and stocked up on rufa fish, tiny creatures, members of the carp and minnow family. There's about 200 in each aquarium. Clients have their feet washed on arrival, before being led to a comfy leather seat. Taking the plunge, the black fish make a bee-line for your feet, tickle, tickle, tickle.
Apparently people worry about the hygiene. "The water is sterilised every hour," says Rufa technician Elsa. And she would prefer you to take off nail varnish the day before your rendezvous, "because solvent's bad news for the fish." Or you can keep your varnish on.  "Dont worry, they won't bite," Elsa assures me. "They don't have any teeth. Just spread your feet and let them swim through your toes. The Fish Pedicure is an enjoyable and relaxing way to remove a buildup of dead skin after a flip-flop summer. Come back every two months for the best results," adds Elsa.  After twenty minutes my feet and heels are soft as a baby's butt and have remained so ever since. Reader, I'm hooked!
Coming soon – Fish Manicures, lotions and potions and full body fish spa treatments in a tank.
Fossés Saint-Jacques, 5th
Metro: Cluny la Sorbonne or RER B Luxembourg
T: 01 43 29 41 36
Bain de Poissons – 20 minutes 35€
Fish Pedicure Complète – 49€
Ferran Adria is arguably the best chef in the world, his restaurant El Bulli, closed for two years while the main man cooks up some new ideas. In the meantime you'll have to be happy with the book, the inside story. Out this week, Reinventing Food charts Adria's rise from military cook to creating the world's most influential restaurant.
What's it's like then? A cookbook for people who would rather make reservations then dinner at home.
Reinventing Food, by Colman Andrews
If you're coming to France (or for that matter anywhere) you can reserve your hotel here. To rent a car, Bonjour Paris recommends Auto Europe.