Madame Gres Exhibition at Bourdelle Museum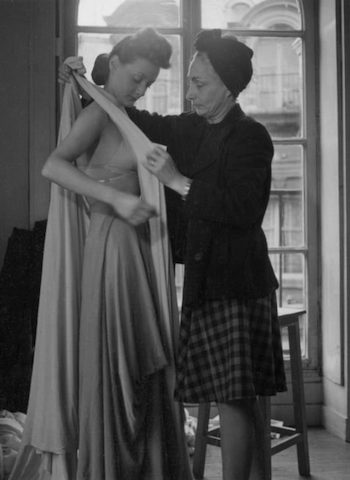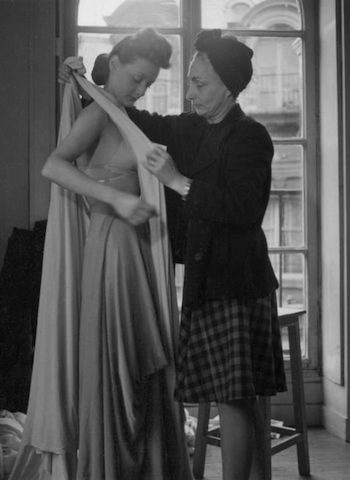 Musée Bourdelle in Paris is now hosting Madame Grès: La Couture à L'œuvre (Couture at Work), the first-ever exhibit devoted to the haute couture designer known as Madame Grès.
This exhibition, which runs until July 24, is actually a program presented by Musée Galliera-Musée de la Mode de la Ville de Paris (Paris Fashion Museum) at Musée Bourdelle because it's closed for renovation expected to last another year. La Fondation Pierre Bergé-Yves Saint Laurent and private collectors are supporting this exhibition that shows over 80 Madame Grès garments, 50 original photographs and numerous archival sketches from the House of Grès.
The Paris Fashion Museum could not have found a more fitting temporary location in which to host this important exhibition, juxtaposing Madame Grès' flowing fabric sculptures against Bourdelle's more classic pieces.
The Sculptor Bourdelle and his museum
Sculptor and painter Antoine Bourdelle (1861-1929) was a student of August Rodin for fifteen years. Although Rodin had somewhat of an influence on Bourdelle's early work, Bourdelle branched off to study work by other sculptors, including ancient Greek and medieval religious sculpture. Bourdelle's work is seen as eclectic while connecting Rodin's realism with more classical sculpture. Nearing the end of his life, Bourdelle planned to have a museum where all of his work would be preserved. After his death his wife, Cléopâtre Bourdelle, gave the studios to the City of Paris and in 1949 the Bourdelle Museum finally opened. Over the years extensions were added to better preserve Bourdelle's work, including a large sculpture hall, graphic arts room and storage area. Some of the most interesting works in the Madame Grès exhibition can be found in Bourdelle's preserved studio.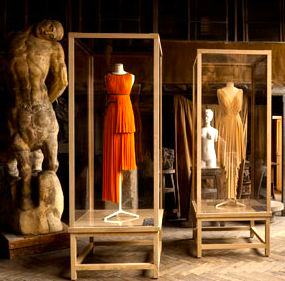 The Sculptress: success from the start
Madame Grès (1903-1993), born Germaine Émilie Krebs and also known as Alix Barton, studied painting and sculpture while dreaming of being a ballerina or sculptress. Her fashion career started as a woman's hat maker until she opened her first couture house, La Maison Alix, in 1932. Just one year later she and Juliette Barton blended their names to create Alix Barton in the Paris 6th and soon after designed under her own name, Alix, from a rue Saint-Honoré workshop. She was praised for theatrical costumes she created. Her elegant designs took off and her bias-cut and draped "goddess" gowns were haute couture sensations, each one created as a unique work of art sculpted directly on models who stood for hours as Madame tirelessly draped, twisted and knotted yards of silk or jersey. She designed for royals like the stylish Duchess of Windsor and movie stars like Greta Garbo and Marlene Dietrich, a mere few of the fashionistas who advanced the Madame Grès look.

Shut down by the Nazis at the peak of her career
In 1942, she created the Madame Grès label, and soon afterward German forces occupied Paris in World War II.  According to her biography, Madame Grès: Sphinx of Fashion, she defied German orders to create somber, utilitarian garments. Her entire collection was built around the colors of the French flag, which she hung from her atelier window on rue de la Paix near the Opéra Garnier. The Nazis shut down her shop and she fled to the Pyrenees, where she stayed until Paris was liberated.
The exhibition
Anyone who appreciates design, art or fashion can enjoy the exhibition even without full knowledge of Madame's fascinating life. Madame Grès was not merely a fashion designer; she was an innovative creator who transformed clothing into artwork. The exhibit, spread throughout eleven rooms of the museum, is absolutely exceptional. Walking into the first room of the museum the first dress of the exhibit stands in the center of the Great Hall surrounded by Bourdelle's sculptures. You would think that a dress would seem highly out of place in a room full of large marble sculptures, but interestingly enough it fits right in. The dress, an off-white jersey dress, with its thoughtful drapery and artful construction is a sculpture in itself. The contrast between the masculinity of the surrounding sculptures and the femininity of the dress creates an elegant and somewhat delicate aura around the glass case in which it's displayed.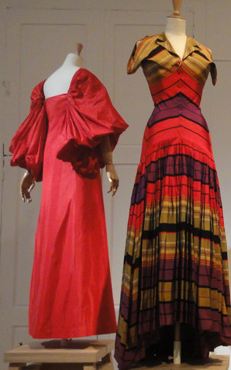 The entire exhibit is inspirational. Day dresses, evening dresses, and gowns from 1925 to 1980 are spread throughout the museum. Visitors walk through Madame's life's work decade by decade, aware that fashions of the periods changed while Madame applied her distinct style to each dress. Details on each piece are so intricate and skillful it's amazing Madame Grès wasn't better known in her lifetime. Every piece has its own personality, yet all share the masterful mark of Madame Grès. Whether you're an aspiring fashion designer, a lover of art, or just someone who appreciates true beauty and skill, this exhibit is a must-see.
Erica Hewins is a a fashion major at Syracuse University now in Paris reporting on fashion, arts and lifestyle trends. This is her first piece for BonjourParis and your comments are most welcome at the bottom of this story.
Practical Information
Tél: 01 49 54 73 73
18, rue Antoine Bourdelle, Paris 15th
Métro: Montparnasse-Bienvenüe (lines 4, 6, 12, 14, place Bienvenüe exit)
Falguière (line 12)
Bus: 28, 58, 91, 92, 94, 95, 96
Hours:  Daily 10am to 6pm except Mondays & bank holidays
Admission to the Madame Grès temporary exhibition:  7€ adult; 3.50€ for 14-26 years; children younger than 14 are free
Accessibility: Lift access to the different levels of the museum; wheelchair available at reception; disabled access to toilets. A list of hands-on exhibits and large-print tour guides available at reception
Not yet subscribed to BonjourParis? Sign up for your free subscription to French travel guides, news from France, French lifestyle articles and more delivered to your in-box twice weekly.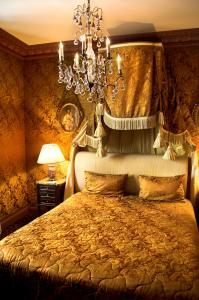 We think Madame Grès would have liked L'Hotel–who wouldn't?
L'Hotel is a sophisticated 4-star hotel in the Left Bank where Oscar Wilde lived and wrote. Located in the cultural and historic district of Saint-Germain-des-Prés, suites are air-conditioned with satellite TV, DVD/CD and free Wi-Fi Internet access. Of course in the area you have fabulous shopping, restaurants/bars, cinema and landmarks like Musée d'Orsay, le Louvre, St. Michel/Latin Quarter and the Seine are very near. The on-site restaurant, le Restaurant, serves delicate, seasonal French cuisine awarded a Michelin star. Do not miss the bar, which is open late. Métro: St. Germain with taxi stand near.
Please review the thousands of hotels represented by Booking.com, a Priceline company with this guarantee: if you book a stay and later find the same room priced for less, Booking.com will match the price. To read more about L'Hotel or the price guarantee, please click here: BOOKING.COM.
Did you know you can buy travelers' essentials like luggage, guidebooks, cameras plus imported gifts for Francophiles at our Amazon.com French Marketplace? You benefit from competitive pricing and speedy delivery as your purchases support costs of keeping BonjourParis your most complete online France travel resource. Merci in advance for your support.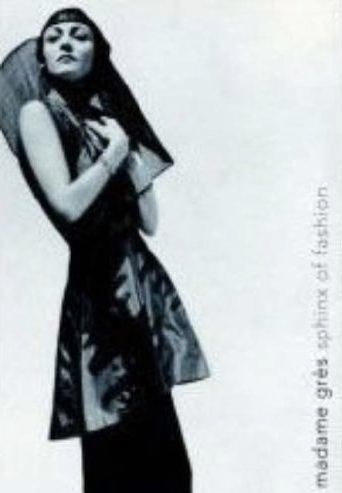 Madame Gres: Sphinx of Fashion [Hardcover]
While the classically inspired "Grecian" gown designed by Madame Alix Grès is widely recognized & admired, little else of the brilliant couturier's life or work has received close attention. This book, by far the most detailed study yet published on this influential fashion designer, carefully analyzes Madame Grès' innovative construction techniques & connects her designs to the art styles & movements that inspired & informed her aesthetic. Gorgeously illustrated with images of fabulous clothes designed by Madame Grès, the book focuses on her long career (spanning the early 1930s to the late 1980s). The volume discusses how sculpture & the construction of non-western clothing inspired Grès's fashion . . . it constructs a timeline of her career & discusses her secretive private life, including the circumstances of her death, inexplicably concealed by her daughter for over a year.
Leave a reply
Your email address will not be published. Required fields are marked *