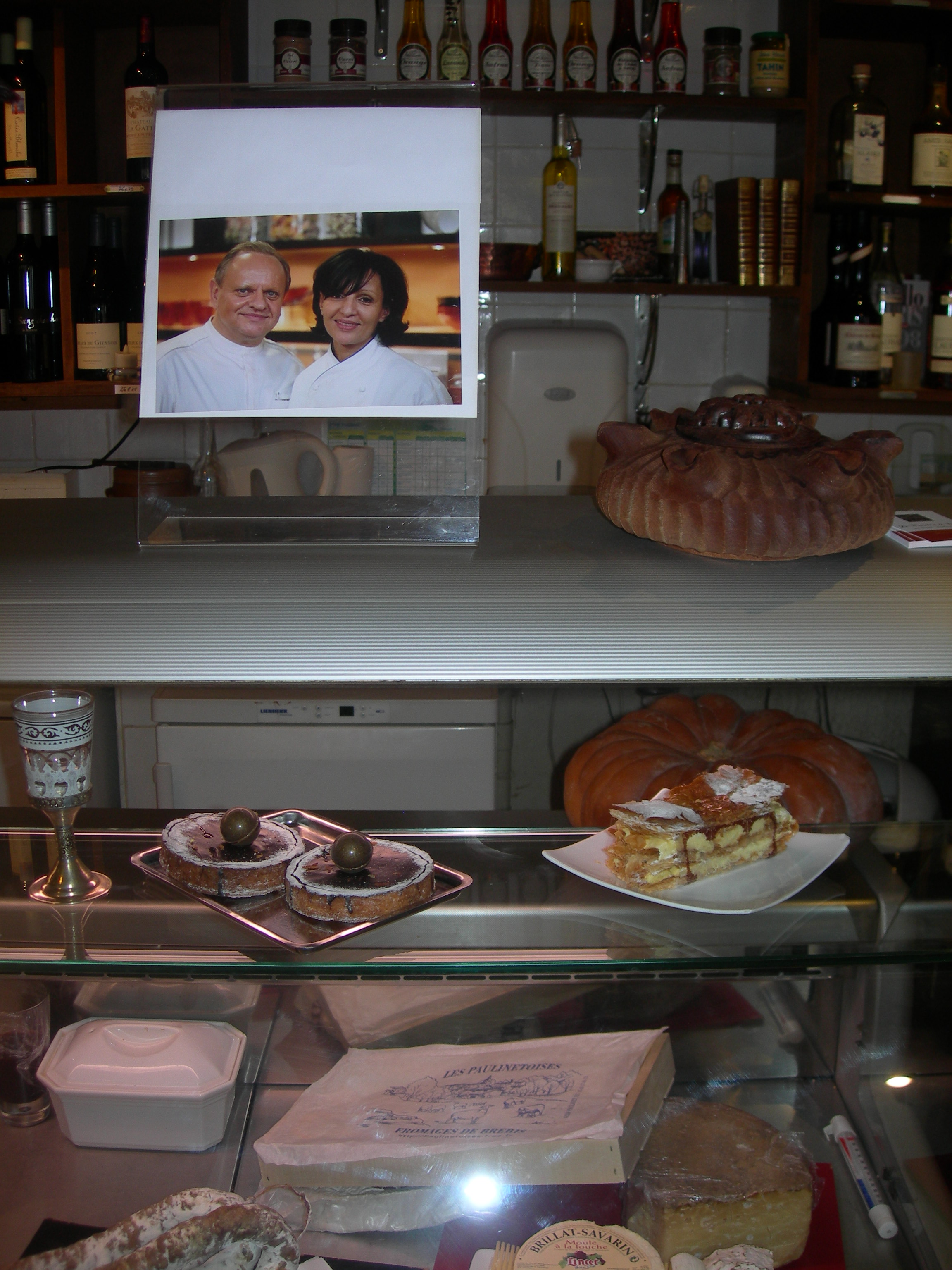 It's usual to note the progress of a chef, a bit of name dropping never did any harm. Very unusual for a culinary passion to begin in a convent. This is what happened to Iza Guyot, a student at Notre Dame des Apotres, Toulouse. "I learned the basics from the sisters who wisely thought that every woman should learn to cook. In fact I was always fascinated with the kitchen, I stood on a stool aged 6 to help knead the bread, and mixed my first Buche de Noel when I was 8. I can't remember ever wanting to do anything else."
After leaving school Iza worked in Paris restaurants and spent three years in Costa Rica, and now she's happily settled in her own place in the 15th. Le Casier à Vin is welcoming as a restaurant, wine bar, cellar and take-away. Go there for a plate of cheese and a glass of  fabulous vin de vignerons, it's quite possible these wine makers are eating in the restaurant, they're friends. Everyone becomes a friend, like Danielle often there for lunch. "I'm a local and have a great respect for Isa's cuisine, I order special dishes like oysters and foie gras, les noix de joue de boeuf mijotée dans un vin du sud aux epices, when I entertain at home Isa makes my main course and I always say I've made it," she laughs.
The cosy room has a view over a leafy herb garden and perfect lighting. On top of the refrigerated counter is a photo of Iza and Joel Robuchon with whom she cooks regularly on TV. There's no menu or wine list; everything's marked on a blackboard and changes daily, as does the plat du jour. How is she managing during la crise? How on earth can she make money with a generous plat du jour, warm sesame bread and a glass of wine at 13€? "I negotiate good prices," she admits. Read, Iza bats her beautiful brown eyes and the suppliers melt.
And last Monday you'd have melted for Iza's lunchtime Velouté crémeux de riz arborio, escalopes de noix de St. Jacques just snackeés, a soothing soup for a chilly day. Or, the ladies who do will appreciate, Aumonière croustillante de légumes al dente, un filet d'huile d'olive, coriandre fraiche, a thin crispy filo parcel of crunchy herbed vegetables, and for the toy-boy a macho Galette de Tête de Veau croustillante, salade tiède de lentilles vertes. Drink the hearty Scamandre 2004 Red from Costière-de-Nimes or a Macon Villages white from Chez Perraud. Pot-au-Feu de canard was delicious and Le Tartare de boeuf, frites.
To finish, a hearty plate of cheese, home-made confiture de lait or créme de lait ice-cream to match an excellent Mousse de ricotta très légère, confit de fruits rouges. A joy to meet Iza and discover this address, a few minutes' walk from Porte de Versailles. Don't hesitate, because Iza's worth it.
Iza Guyot – Le Casier à Vin
51-53 rue Olivier de Serres, 15th
T: 01 45 33 36 60
Lunch 13€-25€
Dinner 25€
Metro: Convention
Closed Saturday lunch & Sunday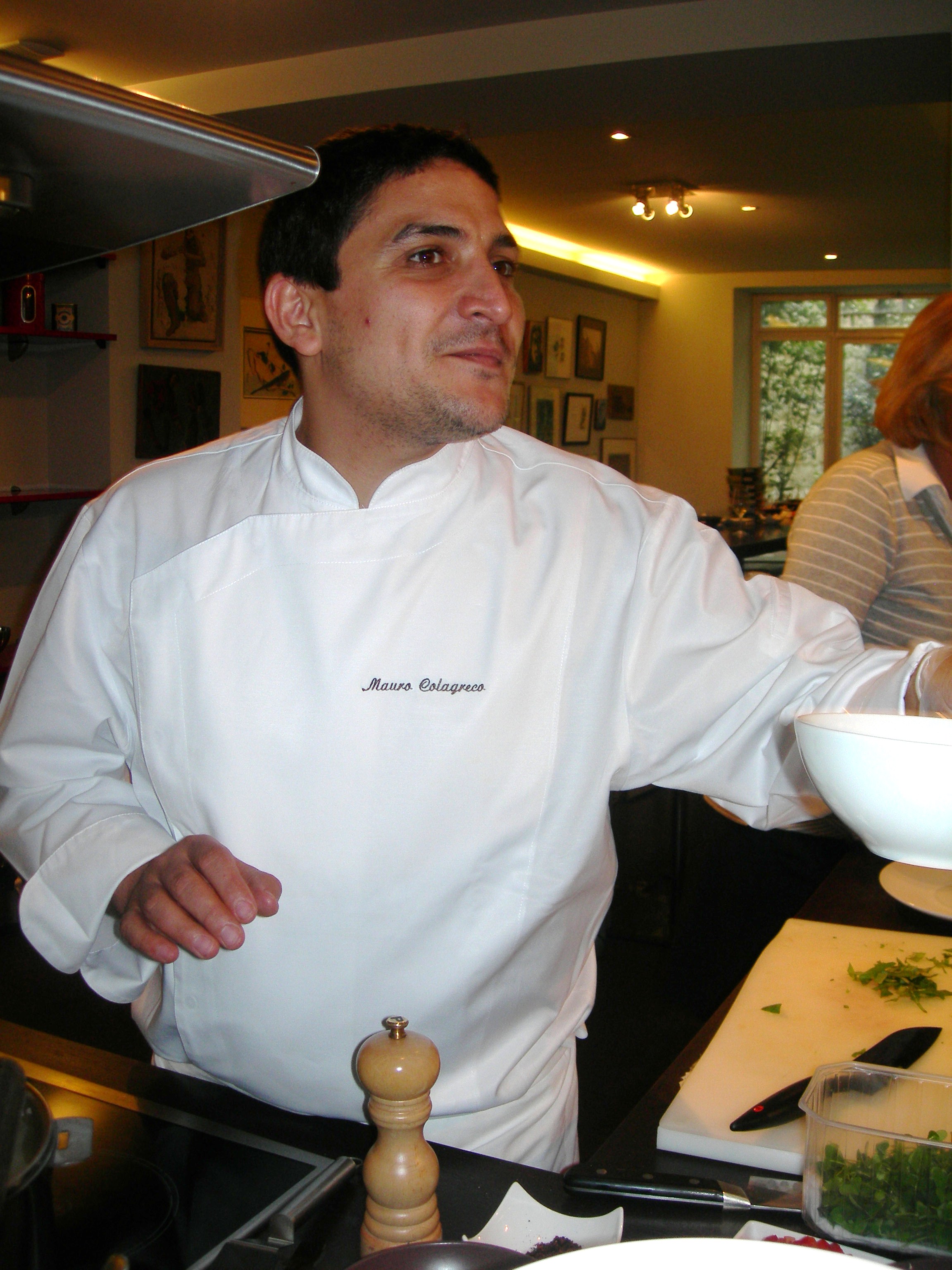 Mauro Colagreco 1-star Michelin, Best Chef of the Year GaultMillau 2009, was in Paris this week to launch a new concept, KitchenDiet. Alert readers will know that this young talent has Mirazur, a dream spot perched on a hilltop at Menton, the last address before you get to Italy. He's planted a lush herb and vegetable garden, all his dishes are inspired by the fresh seasonal products of the South of France, it's a dream scene. Together with Vincent Guillet and Olivier Deschamps, Mauro's been working for two years to create a sustainable gastronomic diet that can be ordered on the internet (or by telephone or fax). Imagine being on a diet and having Mauro's dishes for breakfast, lunch and dinner – easy peasy. And the cost about 20-25€ a day. At present only available in France, but they're working on it.
Kitchendiet
Mauro Colagreco, Mirazur,
Menus from 33€-105€
Shut Monday
BUZZ-BUZZ:
Rumour has it that the lovely Adeline Grattard of Yamt'cha will win a Michelin star when the Guide 2010 is published on 1st March. Her resto is tiny so if you haven't been yet book now to avoid the rush. Delicious tea and food pairings.
4 rue Sauval, 1st
T: 01 40 26 08 0
If you love wacky contemporary ceramic art, the Made in France by Americans at the Mona Bismarck Foundation is for you. Eight talented sculptors, including Chicago-born Jonathan Hammer, obsessed by toys whose installation Button Ass took two years to create.
Through 17th April.
Please post your comments or questions and let them flow. Register HERE to do so if you need a Bonjour Paris user name and password.