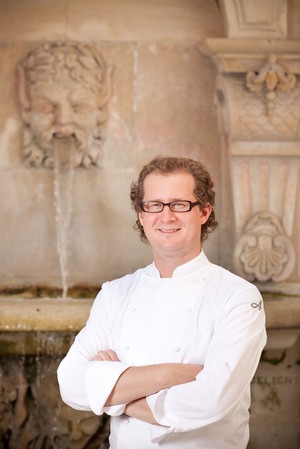 There's good news and bad news for my friend Bertie's mother. Il Cortile was her favourite restaurant in the world, and Bertie Lipworth's mum is a sophisticated, well-travelled lady who lunches. The good news is that after a facelift (not Bertie's mum, cherie, the resto) Il Cortile is up and running with a new name, L'Assaggio.
Lady L will adore the new chef, Gianluca Re Fraschini, who loves to chat with Assaggio's chic clientele about his delicious Italian regional dishes. Gianluca, from Cugginon near Milano, has worked worldwide with the likes of Gualtiero Marchesi, Angelo Paracucchi, Pierre Gagnaire, Albert Roux in London and Pierre Orsi as well as restaurant Andrea at Hotel Pelican Hill, California.
Start with La Burrata, a speciality from Puglia, with baked cherry tomatoes, tomato coulis.
Or the Tuscan cured "pata negra Cinta Senese" with mushrooms and black truffles.
Restaurant Director Gerardo Gargiulo has created excellent wines to match; he suggests tastings by the glass the better to discover the diversity of Italian wines.
Nor will Lady L ignore the pastas and risottos, revised and corrected by Gianluca in his light, bright style. Terra e Mare mains include Charolais Beef Filet with rocket salad, Parmigiano Reggiano and black truffle vinaigrette. Or Turbot, just seared, with green beans and sweet garlic sauce. A selection of six cheeses follows with fig bread or grilled Tomino di Talucco, from Piedmont, with a drizzle of white truffle honey. Desserts include poached pears with Sicilian Marsala and hazelnut chocolate mousse.
The décor is by Italian designer Mariquit Papi, who's created an elegant "hôtel particulier" atmosphere. The beautiful terrace, with Florentine fountain, will be getting a new look for spring.
37 rue Cambon, 1st
Metro: Concorde,
T: 01 44 58 45 67
Lunch 38€ Dinner A La Carte
Shut Sat-Sun
Men are from Mars, Women from Venus. But you're on another planet if you haven't heard about or read the rave reviews for Saturne by the guys from Racines, Passage des Panoramas. Sven (the chef) Chartier and Ewen (sommelier/ main man) Lemoigne have created a "bistro/bar for today" with minimal blond décor, lots of glass and the art of noise. Sven, who's still only 24, says he has three obsessions: Le goût, le respect des saisons, et le choix des meilleurs produits.
"Everyone's saying I'm from Sweden but I'm not, I was born in France, my grandfather was Swedish. OK. I don't blame them, the decor's minimal and blond, I look like a Viking", he admits, patting his designer beard. What a joy to taste Sven's dishes–read naked. "I just take the best products and they cook themselves", he grins. If you like jus, sauce or flour, Saturne's not for you. Why Saturne? "Because it's an anagram of nature, Saturne is god of agriculture and winemakers". Who has influenced you? "Arnaud Daguin is my spiritual father. I worked at Hegia, for Alain Passard at L'Arpege, and then Racines". Why did you and Ewen leave Racines? "For us Racines was a transition, a time for reflection before setting up on our own". Sven's food is very hip and on-message: Passardian Tarte Fine à l'oignon doux; Courge Jack Be Little, moule, cèpe bouchon, huile de pépins de courge et pourpier; Pintade Sarthoise, légumes de jardin; Figues de Solliés, framboise sorbet, basilic.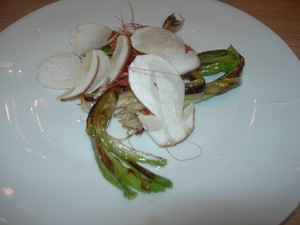 Go to Saturne, along the road from the Bourse and the Elvis My Happiness Store, for a wine bar moment in the "Satellite" space at the front of the bistro, or lunch and dinner in the airy restaurant with atrium-style roof, open kitchen and glass wine wall. The wine list's fun, whimsical and doesn't take itself too seriously, chosen with TLC by Sven and Ewan. Ciders, beers, sparkling wines from little producers and all bio/organic, say, the fruity Champignon Magique, by Pierre Beauger 100% Chardonnay (45€) or La Poignée de raisin Côtes du Rhone 2009 (20€). "A fistful of untreated Grenache grapes thrown into a vat, fermented and bottled–you don't get more organic than that", says Ewen.
They're shut weekends. Sven and Marianne are expecting a little one in the spring. And where do they eat? "Baratin, Châteaubriand, Verre Volé and Rino is where you'll find us".
Saturne,
17 rue Notre Dame des Victoires, 2nd
Metro: Bourse,
T: 01 42 60 31 90
Shut Sat-Sun
Lunch 35€ or A La Carte
Dinner 37€ 4 courses & 59€ 6 courses
No site yet.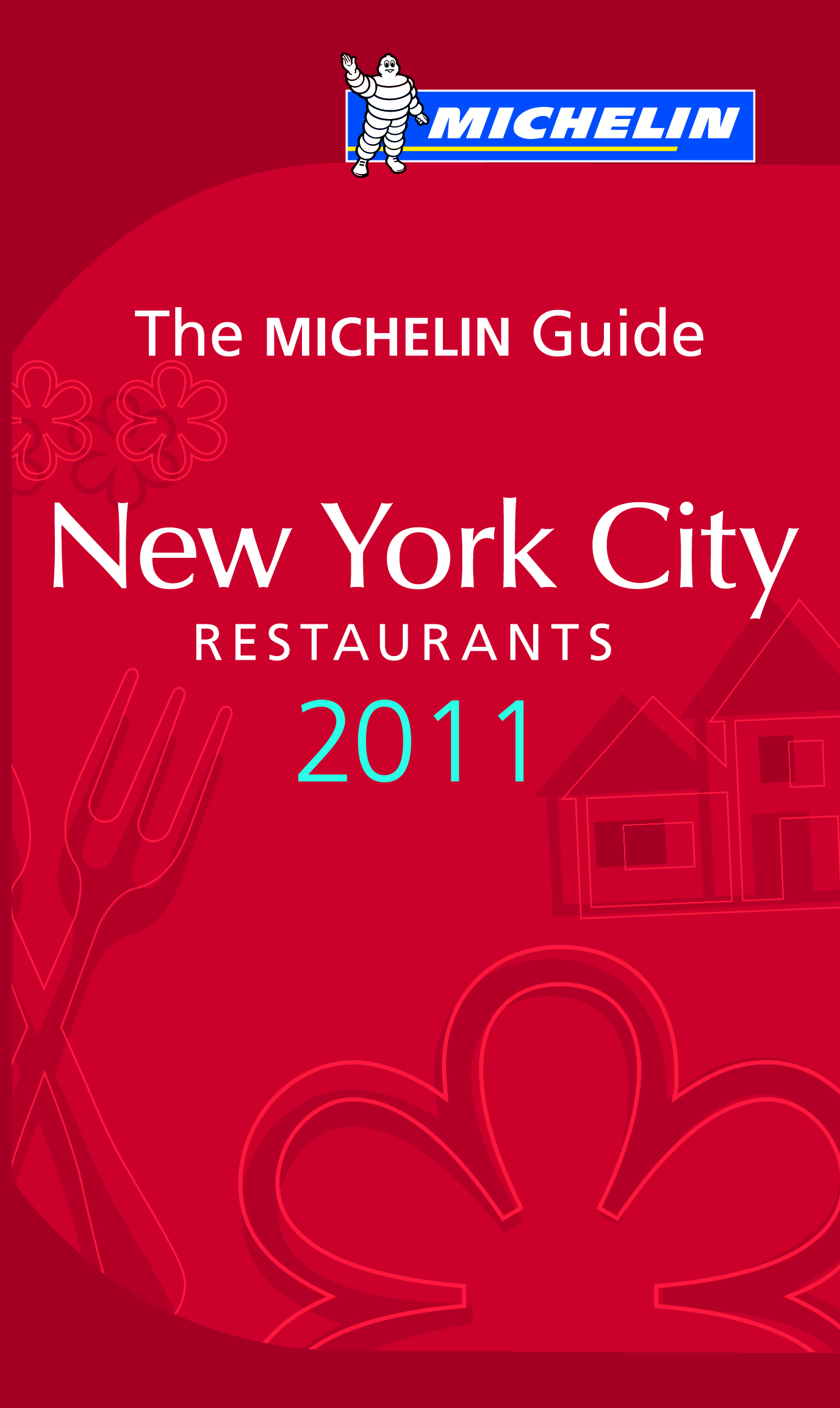 What is Bib Gourmand? Identified by a red symbol depicting the head of the Michelin Man, Bib Gourmand restaurants represent each city's best hidden culinary value, serving a two-course meal and glass of wine or dessert for $40 or less. In total there are 95 Bibs in NYC; find the full list on www.facebook.com/MichelinGuides.
"If you live in or visit New York, you need to know not only restaurants that are the world's best, but also which deliver the best value", says Jean-Luc Naret, director of Michelin Guides.
Michelin inspectors also share insider secrets via Twitter at @MichelinGuideNY.
The full list of NY restaurants, including the Michelin stars, is available now.
Michelin Guide New York City 2011. (Coming up in November : Chicago)
List price $18.99, available for $12.81 on Amazon.com
La Semaine du Goût, 11-17th October, features workshops, competitions, and visits to markets all over France. The week gives chefs an opportunity to showcase special menus and introduce themselves to a wider public with the attraction of 30% off the Jack and Jill for students and wannabe chefs. www.legout.com In Paris Frederic Simonin (ex-Robuchon) says: "It's a way of encouraging young talent and giving something back". He should know—Simonin began as an apprentice aged 15 in Brittany. www.fredericsimonin.com
If you're coming to France (or for that matter anywhere) you can reserve your hotel here. To rent a car, Bonjour Paris recommends Auto Europe.