La ville avec le lac, Annecy, France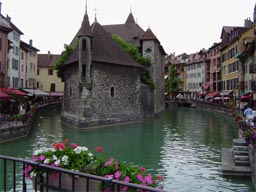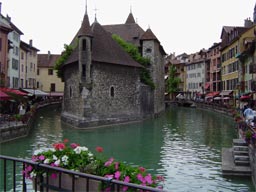 When you arrive at the small train station in Annecy something in the air takes you towards the centre ville. Maybe it's the scent of fresh cheese, or the taste of bright fruits along the small cobblestone roads.  Or maybe it's the lake. Yes, the lake. The lake that sits below the Alps is commonly known as the freshest lake in Europe.
You exit the train and you walk through the modern, but small, station. You walk along the streets and you see the Alps in the distance. The white tips hovering above the old apartment buildings in the centre of town. No matter where you go the Alps follow your footsteps and are a constant reminder that you're vacationing in a ville unlike anywhere else.
Walking in the centre of town is like a stroll through one of Europe's greatest cities. Small side streets wind and crawl around the center road, named Rue Des L'Ile. You cannot miss Rue Des L'Ile. Even if you tried you would see the children running down the narrow cobblestone road with ice cream cones and bottles of Evian water tightly gripped in their hands. You will see the restaurants and cafés lining the sidewalks like a European dream. Every café has a specialty espresso, every ice cream parlor has its perfect fifty flavors (all handmade), and every restaurant has the best cheese and wine.
You arrive at your hotel near the lake. Historic yes. Expensive no. The hotels in Annecy are inexpensive when comparing a night in Paris, or Rome. Not to mention Dublin or London.   Annecy has style, a style that's alpine and unique from anywhere in else Europe. You are in an ancient ville, and it will become apparent when you find yourself tripping on those loose stones in the cobblestone roads. But you'll get used to it. It starts to become part of your daily routine, and then suddenly the roads become as even as those freshly paved American highways.
What do you do with yourself now? You're here, in a town that seems so small in comparison with Paris, or Nice.  What is there to do while you walk the winding roads? Let me begin with a little checklist. You don't have to follow it, or even remember it for your next visit, but let it be a suggestion for your next few days.
First you hit the lake. How do you get there? Well its easily done. You walk up Rue Des L'Ile and you find yourself at the major road, named Rue Des Marquisats. You walk down Rue Des Marquisats and you'll see the lake beside you. Almost like a dream, the Alps hover above you. You see a red café along the sidewalk.  The waitress waves hello when you look inside. She'll stand with her black apron on, sipping a fresh coffee,
and enjoying the afternoon sun. You may stop for some French bread and strawberry jam; you may even have some eggs and a ripe green and tomato salad. You may have a coffee with and a homemade yogurt. Or you may just wave hello, and come back later.
There you are. At the entrance of the lake, or what the French call it here: La Plage Publique. You will see some girls walking across the street wearing tiny bathing suits, or nothing at all. And you may panic. You may think it's a nudist beach! Why on earth did they say to come here? But you walk a little closer and you see it's not a nudist beach at all. No, it's actually a beach with children and mothers and fathers. And then you see the fresh green grass and you walk to the grass and you lay your towel down, and you feel the sun on your face. The lake is only a few steps away and it speaks to you. You hear it whisper and flow. The fresh Evian water will feel like a spiritual awakening, and when you walk in it takes your body and refreshes it to the point where you're purely released.
Before you know it it's nearly dinner. The hour's fly by and the sun is starting to set below the mountains. The families have started to go home and you find yourself wondering, "What do I do next?" Well you walk back to Rue Des Marquisats and you pass the red café, and you wave hello. You get back to your hotel room and shower off. Outside there are street performers on stilts, musicians playing classical instruments, and artists throwing fire in the sky and catching it with their hands behind their back. There are even restaurants with live entertainment and small pubs with your name on them. There're restaurants serving pizza for under ten dollars. Pizza to die for.  There are Kebab stands down Rue Des L'Ile, and you may want a fresh Kebab avec des fritures. You may want some wine with dinner at a crepe restaurant down the road.  Maybe you'll go for the homemade pasta with garlic-seared shrimp, topped off with some fresh poissons du lac. With literally hundreds of restaurants at your fingertips you may find yourself wondering, "Why am I only staying here for a few days?"
You finish dinner. You had a carafe of wine and you feel alive. The streets are a bit quieter now.  The time is nearly midnight. You find yourself walking down Rue Des L'Ile and you see the pubs named: Rivers, Pub Curt, and Pub Medieval. Inside the drinks are fresh, the bartenders are smiling, and the girls and Frenchmen ask you where you're from, and when you're coming back. It's a party if you want it to be.  It's everything you want, and anything more.
It's nearly two a.m. and the time has melted away. You walk down the canals and you come to the ancient palace that sits on a small triangle island.  The walls glow from the candles from the inside. You look down from the bridge and you see the swans swimming under you.  You hear the silence of the air and the lake in the distance. Not a person around but you.  You feel safe, alive, and ready for tomorrow.   I'll let you take it from here.
Leave a reply
Your email address will not be published. Required fields are marked *