"In France, tea is the supper of the salons", wrote author/gastronome/national treasure Eugene Briffault (1799-1854) in his book Paris à Table. How he would have enjoyed Eric Frechon's lunch at La Table de Bristol, Le Hotel Le Bristol this week. "Frechon, popping out of the kitchen just before serving his starter, "Bouillon cube au Thé Gyokuro, langoustine mi-cuite "citronelle et gingembre" servi accompagné de thé Gyokuro glace, explained. "I drink green tea all the time, usually I've no idea what kind, the wife buys it. But, when I discovered Tamayura, the flavour, the feeling and the serenity it gave inspired me to create a collection of new dishes using it, but not in your face", he insists, "delicate". Tamayura was previously only available in Japan until two ladies, who are Masters of Tea, Yasuko Ono and Sayako Nisikawa decided to introduce their teas, and traditional hand-made objects, to Europe, so now you can buy on-line and concentrate on shopping for the latest Issey Miyake/Arakawa Shinchiro creations, next time you're in the land of the rising sun. "Tamayura green teas (called "green" because they're non fermented) are cultivated in the south of Japan on Kyushu Island in the Yamé region, where the climate is perfect for tea-growing and the variations of temperature cause lots of lovely mist", explain the ladies.  Think terroir, basically it's the same principal as wine growing.  "Just remember that Buddist monks were probably the first to infuse leaves making tea to help their meditation", say the ladies. "And please remember that delicate green tea should be tasted without milk or sugar, using a mineral water such as Volvic, at a temperature of 50-80 degrees, depending on the choice of tea. "Adding milk or sugar kills the flavour, as if you dilute wine with water", they giggle. Look for these names and you can't go wrong, as Eric demonstrated with his lunch. Gyokuro (to impress your guests), Houjicha soothes, Genmaicha with Matcha (contains Vitamins B, E low in caffeine) is a mix of grilled rice with hazelnut notes, refreshing during big meals, soothing at bed-time. Matcha, often used in tea-ceremonies, is used to make yoghurt, ice creams, little cakes and, considered the most healthy because, "you don't drink the infusion of basic leaves, but the leaves themselves which contain all the nourishment. Prepare Sencha in the morning and serve iced in the summer", suggest the ladies. "You'll feel the benefits, see your skin's texture improve and green
tea helps eliminate toxins, protects against free radicals and cholesterol because of the polyphenols", explain the ladies. And looking at them, I see why. They are sublime, tres zen. "But remember, it's only a drink, can help prevent, but not treat illness", they smile that zen smile. Meanwhile, back in the Bristol kitchens Frechon, whose brilliant book, Tout Ce Que Vous Devez Avoir Gouté au Moins une fois dans Votre Vie (amazon.fr) sums up his outlook on life. He continues his inspirational lunch with a white porcelain dish of Artichoke poivrade cuit au thé Houjicha, coquillages à la coriander et fleur d'ail, that is mopped up with warm green tea bread by the Bristol's in-house baker, the talented Wesley Tulwa. To follow, Bar de ligne, recouvert d'un tartare d'huitres, jus de thé Genmaicha et Matcha aux perles de Japon (tapioca). This paired with hot Sencha tea. The main was delicate Supreme de volaille poché au thé Gyokuro, mousseline de petits pois et mousserons. Yes, there was wine:  Chablis 1er Cru Fourchaume 2002 and an excellent Chateau Lalande Borie, Saint Julien 2001 (not a great year according to my neighbour). Dessert was Parfait glacé au Matcha, strawberries and fraises des bois infused in Sencha. And, because we are all ladies who lunch, even the guys, uber-patissier Gilles Marchal, in a daring fusion of food and fashion, added a handsome chocolate handbag, no lipstick inside but a roulade of green-tea ice cream. "But it's not a Kelly, and my cell-phone won't fit in", grumbled my neighbour. No pleasing some folk is there? Eric Frechon at Le Bristol, 112 rue du Faubourg Saint-Honoré, 8th (Metro: T: 01 53 43 43 40
www.lebristolparis.com
www.tamayura.fr
Read: The Book of Tea by Gilles Brochard The Tea Companion: A Connaisseurs Guide by Jane Pettigrew
www.amazon.com
SUBSCRIBE
ALREADY SUBSCRIBED?
BECOME A BONJOUR PARIS MEMBER

Gain full access to our collection of over 5,000 articles and bring the City of Light into your life. Just 60 USD per year.

Find out why you should become a member here.

Sign in

Fill in your credentials below.

"In France, tea is the supper of the salons", wrote author/gastronome/national treasure Eugene Briffault (1799-1854) in his book Paris à Table. How he would have enjoyed Eric Frechon's lunch at La Table de Bristol, Le Hotel Le Bristol this week. "Frechon, popping out of the kitchen just before serving his starter, "Bouillon cube au Thé Gyokuro, langoustine mi-cuite "citronelle et gingembre" servi accompagné de thé Gyokuro glace, explained. "I drink green tea all the time, usually I've no idea what kind, the wife buys it. But, when I discovered Tamayura, the flavour, the feeling and the serenity it gave inspired me to create a collection of new dishes using it, but not in your face", he insists, "delicate".
Tamayura was previously only available in Japan until two ladies, who are Masters of Tea, Yasuko Ono and Sayako Nisikawa decided to introduce their teas, and traditional hand-made objects, to Europe, so now you can buy on-line and concentrate on shopping for the latest Issey Miyake/Arakawa Shinchiro creations, next time you're in the land of the rising sun.
"Tamayura green teas (called "green" because they're non fermented) are cultivated in the south of Japan on Kyushu Island in the Yamé region, where the climate is perfect for tea-growing and the variations of temperature cause lots of lovely mist", explain the ladies.  Think terroir, basically it's the same principal as wine growing. 
"Just remember that Buddist monks were probably the first to infuse leaves making tea to help their meditation", say the ladies. "And please remember that delicate green tea should be tasted without milk or sugar, using a mineral water such as Volvic, at a temperature of 50-80 degrees, depending on the choice of tea. "Adding milk or sugar kills the flavour, as if you dilute wine with water", they giggle. Look for these names and you can't go wrong, as Eric demonstrated with his lunch. Gyokuro (to impress your guests), Houjicha soothes, Genmaicha with Matcha (contains Vitamins B, E low in caffeine) is a mix of grilled rice with hazelnut notes, refreshing during big meals, soothing at bed-time. Matcha, often used in tea-ceremonies, is used to make yoghurt, ice creams, little cakes and, considered the most healthy because, "you don't drink the infusion of basic leaves, but the leaves themselves which contain all the nourishment. Prepare Sencha in the morning and serve iced in the summer", suggest the ladies. "You'll feel the benefits, see your skin's texture improve and green
tea helps eliminate toxins, protects against free radicals and cholesterol because of the polyphenols", explain the ladies. And looking at them, I see why. They are sublime, tres zen. "But remember, it's only a drink, can help prevent, but not treat illness", they smile that zen smile.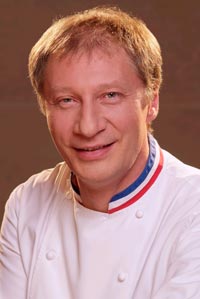 Meanwhile, back in the Bristol kitchens Frechon, whose brilliant book, Tout Ce Que Vous Devez Avoir Gouté au Moins une fois dans Votre Vie (amazon.fr) sums up his outlook on life. He continues his inspirational lunch with a white porcelain dish of Artichoke poivrade cuit au thé Houjicha, coquillages à la coriander et fleur d'ail, that is mopped up with warm green tea bread by the Bristol's in-house baker, the talented Wesley Tulwa. To follow, Bar de ligne, recouvert d'un tartare d'huitres, jus de thé Genmaicha et Matcha aux perles de Japon (tapioca). This paired with hot Sencha tea. The main was delicate Supreme de volaille poché au thé Gyokuro, mousseline de petits pois et mousserons. Yes, there was wine:  Chablis 1er Cru Fourchaume 2002 and an excellent Chateau Lalande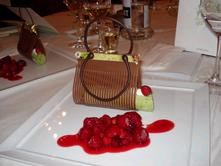 Borie, Saint Julien 2001 (not a great year according to my neighbour). Dessert was Parfait glacé au Matcha, strawberries and fraises des bois infused in Sencha. And, because we are all ladies who lunch, even the guys, uber-patissier Gilles Marchal, in a daring fusion of food and fashion, added a handsome chocolate handbag, no lipstick inside but a roulade of green-tea ice cream. "But it's not a Kelly, and my cell-phone won't fit in", grumbled my neighbour. No pleasing some folk is there?
Eric Frechon at Le Bristol,
112 rue du Faubourg Saint-Honoré, 8th (Metro:
T: 01 53 43 43 40
Read:
The Book of Tea by Gilles Brochard
The Tea Companion: A Connaisseurs Guide by Jane Pettigrew
---
---