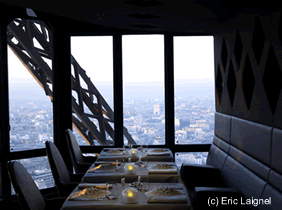 This is the time of the year for stars n'est pas? Michelin, movie and astrological ones.
French astrologer Meredith Duquesne warns Sarko his marriage with Carla is doomed! Seems he's Aquarius, like Franklin D Roosevelt, ruling sign: Uranus!  Ms Sarko is Capricorn (like Elvis) ruling sign: Saturn! Ms Duquesne told Journal de Dimanche. "2008 will be hot, passionate and stormy. The split is already in the stars – "September 2009", forecasts Ms D.
You can't help thinking of stars when you take the (private) lift to the 2nd floor of the Eiffel Tower and alight at The Jules Verne restaurant. This time it's Michelin, how will they react (if at all this year) to Alain Ducasse's transformation of the Iron Lady? The public have already made Jules Verne a star, you need to book two months ahead and they've only been open a month.
It took four months work to transform The Jules Verne, which originaly launched in 1980 with dull décor by Slavic. Ducasse worked with Patrick Jouin, they stripped the place down and because of the structure Jouin uses light new carbon-fiber and titanium materials. "Think working on a boat", explains Jouin. "And the lighting, very complicated, because at night diners must have a perfect view of the city". Everything had to be done without upsetting the (7 million annual) visitors. "We couldn't risk materials falling on people", says Jouin. The open kitchens are state-of-the-art, "like a submarine", thinks Ducasse.
Ducasse asked Pascal Féraud to head the kitchens. At 34 he has experience working for the group in London and Monaco, also honed his craft at L'Orangerie, LA. "Monsieur Ducasse's concept is to make Jules Verne a showcase for French cuisine and products", explained Féraud one day last week. "His instructions are precise: " lunching or dining with us a visitor to Paris must get a taste for authentic modern French cooking, wines and service".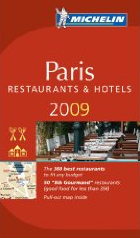 Féraud began work on the menu last November signature dishes include Coquilles Saint Jacques à la plancha, cream of cauliflower, raw cauliflower, hazlenut butter. Bresse roast chicken. Endive topped with ham/truffles/gruyere and jus. Sea-Bass Dugleré (onions, shallots, tomatoes, created by Adolphe Dugleré, chef at The Café Anglais,1880) or Tournedos of Beef with duck foie gras, pommes souffles, sauce Perigord. Wine mavens Jerome Moreau and Roberto Amadei have worked with Head of AD Wines, Gérard Margéon to produce a "selection of wines hexagonale 100% French".
Jean-Baptiste Priolet's patisserie is wild and wonderful. Palet Fraises des Bois and coconut, tangy lime sorbet. L'Ecrou au Chocolat et praline croustillant, hazlenut ice-cream, astringent Pink Grapefruit souffle. Savarin a l'armagnac, whipped cream: all brilliant with a 15-year old Pineau de Charentes. There's a fine Pomerol for the beef, La Gravette de Certan, Prefer white? Champagne Alain Ducasse Lanson or 2006 Meursault Limozin from Domaine Monnier.
Check out the "Lanvin 15 Faubourg" suits on Directors du Salle Frederic Rouen and Francis Coulon. Yes, jackets are required – pop into Lanvin on your way if you've nothing suitable. And as you leave, reluctantly because you're in a science-fiction bubble and will have left all your troubles on the ground, theres a bag of warm madeleines, so you won't need to get breakfast tomorrow.
"A restaurant service is like a theatre show, it must have a good cast and an enthusiastic public", notes Féraud. Looks like they've got a big hit on their hands, certainly quelques stars. Someone find Ms Duquesne.
Tour Eiffel,
Avenue Gustave Eiffel 7th
(Metro: Bir Hakeim)
T: 01 45 55 61 44
Open 7/7
Lunch 75€ Dinner 155 & 190€
Valet parking
Leave a reply
Your email address will not be published. Required fields are marked *