In Love and in Paris – Special Places To Share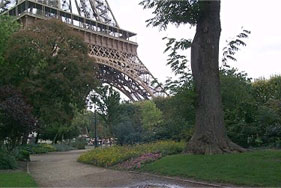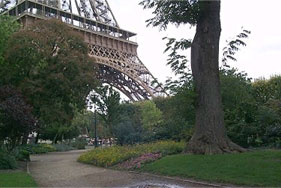 Paris is the city for lovers. If you are lucky enough to have someone special to share her with – whether the two of you are new or you have lasted past your youth and the adulthood of your children – and if you have just met my love, the lady Paris, let me take you by the hands and lead you to the places in La Belle Ville where I would take my special person, if I had one.
The City herself – all of her: Before taking you to specific places, let me first introduce you to the city herself – a city of beauty, history, art and emotion. Her old, narrow cobbled streets in the Fifth and Sixth Arrondissements, the Marais, Ile St. Louis, Montmarte and Ile de La Cite are perfect for walking slowly together, finding a solitary bench or quiet park to share; her churches reach up with joy and intense emotion into a blue sky ; her bridges cross a river that is sun spackled in the day, lit by stars and passing boats at night, and flanked by uncrowded below street-level walkways where couples can sit together and listen to the quiet lapping water or look up to a skyline that has not changed for centuries ; her parks and gardens are filled with quiet and wonderful corners in which to cuddle, and places to drink wonderful wine and breathe in the air of nature; and her two most famous cemeteries, Pere LaChaise and Montparnasse are landscaped and beautiful strolling grounds for lovers and final homes for famous historical lovers – some of whom are even buried together.
Yes, all of Paris is a place to be with someone you love, and I simply cannot choose the "best" places to go. However, let me list below just a few that are particularly special to me:
Le Pont Des Arts.: Carrie Bradshaw (Of Sex and the City ) spent the series looking for a "ridiculous, inconvenient, consuming, can't live without each other love" . She finally found it when her "Mr. Big" followed her to Paris and announced, at long last, that she "was the one" while he protected her from the cold by enfolding her in his jacket and arms and covered her face with soft kisses as she leaned against the west rail of the Pont Des Arts and the Institut de France shone behind them in the night sky. No wonder this bridge, exclusively for pedestrians (with benches for sitting and wonderful views of the river and the Louvre) , is a meeting place for artists and lovers. Its northern entrance is just across from the eastern end of the Louvre.
The Streets and Parks: Take each others hands and spend some time doing nothing special – just being together in this wonderful city:
(i) try just walking around in the streets surrounding the Pantheon in the fifth;
(ii) Walk around the streets of Iles St. Louis, gaze out at the water and look at the wonderful architecture, buy him or her something special in one of the shops, and then stop for a Berthillon ice cream ,
(iii)take a metro to the Sacre Coeur church at the top of Montmarte, hug each other closely while looking at the view of all of Paris from on high, walk behind the church and across Place de Tertre (you can stop and have portraits done for each other in pastel chalks by one of the many artists), and then stroll slowly down the winding streets behind Place de Tertre back to the bottom of the hill, stopping first for a meal and a wine at one of the cafes;
(iv) Sit by the oldest tree in Paris in the tiny park Square Rene Viviani next to St. Julien le Pauvre church (23 Quai de Montebello) and admire the spires of Notre Dame just across the river;
(v) Walk through the Luxembourg Gardens in the sixth arrondissement, stop at the Medicis Fountain (gaze at the carved stone depicting the story of the abduction of Leda by the Swan – and know that it was here where De Beauvoir and Sartre had their first rendezvous when they were students), skip some stones into one of the beautiful ponds, and stop at an outside table at one of the little restaurants to drink some champagne, feel the breeze in your hair, and look into each others eyes;
(vi) climb down the stairs to the Seine just across the plaza in front of Notre Dame (just west of the church) and sit or walk beside the water – this place is particularly nice at night;
(vii) come back to Notre Dame just before sunrise and watch the sky lighten to the east while the two of you stand at the east end of the bridge and then stop at Café Panis just across the river for a morning coffee alone together before anyone else shows up.
Pere LaChaise and Montparnasse Cemetaries: In the early 12th century, 17 year old Heloise (niece of a church canon named Fulmer) and the famous 39 year old philosopher Pierre Abelard, hired to tutor her, fell in love and met secretly for almost two years, even making love once in a church refectory. She became a nun – in charge of a convent in the Champagne region. After a 15 year separation, they reconnected in a now famous 8 letter correspondence. Within the last 20 years, a stash of 113 of their earlier letters (written during the affair) was found – letters very personal and sexy. Their final joint resting place is in Pere LaChaise Cemetary.
During the 20th century, the famous writers Simone de Beauvoir (author of "The Second Sex" and numerous other books) and Jean Paul Sartre (a founder of the existentialist movement), shared a friendship and a love (not always monogomous) for a half century. They edited each others books, argued, wrote, drank and ate together in cafes in the Sixth Arrondissement (including Café Flore on Boulevard St. Germain). De Beauvoir was bereft when Sartre died in 1980, photographed at his funeral in a stupor from grief and valium. In her 1981 book "Adieux, A Farewell to Sartre" written a year later, the first line is ' This is the first of my books – the only one no doubt – that you will not have read before it is printed.". She died in 1986, and now they are buried together in one grave in Montparnasse Cemetary.
These cemetaries of Paris (Pere La Chaise on the northeast – take Metro 6 to Edgar Quinet, and Montparnasse southwest – take Metro 3 to Pere Lachaise) are large and landscaped, Pere La Chaise heavily wooded, with narrow paths and benches, both built on hills on – perfect places for lovers to stroll hand in hand, sit, talk, and study beautiful carved graves and monuments, including the resting places of the likes of Abelard and Heloise, Sartre and De Beauvoir, Gertrude Stein and Alice B. Toklas (buried together in Pere Lachaise) , Simone Signoret and Yves Montand (also in Pere Le Chaise,). Others in Pere Lachaise are Chopin, Moliere, Oscar Wilde, Balzac and Proust, and Edith Piaf, and Samuel Becket is in Montparnasse.
Places To Share a Pastry, Dine with a View, or Have a Champagne with Class: Finally, if the weather is cold or you are tired from your wanderings, here are some special places where I would take my lover to share a pastry, a meal, or just a glass of champagne:
Kong at 1 Rue de Pont Neuf : On top of the Kenzo building is this cool and casual restaurant where you can sit in front at curved windows with a sunlit panoramic view of Pont Neuf, the Seine, and Montparnasse in the distance. The decor is a combination of modern and Japanese, clear lucite chairs painted with faces of beautiful women,the music pop, the food light, and a perfect place to feel chic and young and French and be together.
Hotel Crillon Bar (Hotel Crillon – 10 Place de la Concorde): Right at Place de Concorde is this elegant and historic hotel. It was a private home until 1909, is now owned by the Tattinger family , and was a favorite of the Kennedys, Elizabeth Taylor, and Madonna. . I love to sit on a couch in the tiny bar which is done up in red velvet and sometimes has a piano player, and order a glass of champagne (which last time I was there came with a tiered turntable full of nuts and other goodies – all gratis). This is a perfect and classy place to sit side by side and sip good champagne while quietly enjoying each others company. It is also only a couple blocks from the Hermes and other boutiques on Faubourg St. off Honore. Hotel Crillon is currently running specials in the tea room and on gourmet dinner. They also have a promotion that offers 20% off on many things, including rooms. NOTE: The hotel will be closing for a major renovation on March 30, so be sure to take advantage of this romanic old hotel while it's still there!
Leave a reply
Your email address will not be published. Required fields are marked *