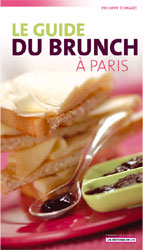 It took writer and journalist Philippe Toinard twelve months to research and write Le Guide du Brunch a Paris.  "Plus I gained 12 kilos," he admits, patting a now enviably flat six-pack stomach. "But it was worth it," he grins. Toinard is an award-winning, rugby-playing gastronome who dreams of writing the first-ever piece, on a restaurant, on the moon!  For the time being you can catch him in A Nous Paris, Infrarouge, Rugby Star, CB News, GaultMillau, Jean-Luc Petitrenaud, just about everywhere that's hip and happening. Brunch is Toinard's passion. 
It's chic to brunch in Paris, it's the new black. A mix of breakfast and lunch which Toinard prepares for, chez lui, religiously each Sunday before setting out for one of his favourite shrines. "It's much easier to gather a group of friends (Toinard dubs them bruncheurs) to bruncher than it is to make evening plans, which are often cancelled," he observes. Brunches are not always exciting, as at "Au Diable des Lombards" in the 1st.  When Toinard arrived, the waiter went to check with chef if brunch was served. On returning he said yes, but there would be no bread! "Lamentable," sighs Toinard.
But the Guide is written in French for heaven's sake!
Yes, but there are simple signs that can easily be deciphered, say, a chair and a table to signal an outside terrace. A 3-star system for excellence (Pershing Hall ** Laduree * Musee Jacquemart -Andre * Park Hyatt Vendome ** Le Ritz ** The Crillon ***). It's arranged by arrondissement and marked out of 20 for welcome, setting & food. Favourite recipes are included, and a section on how to dress, for brunch virgins bien sur.
So how does a mere Frenchman judge a good Brunch?
"It's in the welcome, the setting and the menu," he notes. Check there's a good selection of newspapers and magazines, fresh juices, jams and compôtes. The quality of tea, coffee and hot chocolate served "à volonté" is important, as are home-made products. Obviously the decibel level of music is important, if you've had a late night you don't want heavy metal. And quality/price, is it good value? Beware of being fobbed off with "lunch" when you want "brunch", some restaurant owners just don't get it.
Some addresses for literary brunches.
Les Editeurs, 4 carrefour de l'Odeon, 6th (Metro: Odeon) T: 01 43 26 67 76
L'Alcazar, 62 rue Mazarine, 6th (Metro: Mabillon) T: 01 53 10 19 99
Café BHV, 11 rue des Archives, 4th (Metro: Hotel de Ville) T: 01 49 96 38 91
How much is that then?
Expect to pay from about 12€ (O'Sullivans) www.osullivanspubs.com but Toinard reckons the average is about 23€ at, say, Eric Kayser where you can't book (85 boulevard Malesherbes 8th) so get there early. The new Hilton Arc de Triomphe* is excellent value at 39€ – 51 rue de Courcelles 8th. The Ritz **68€ children 35€ or The Crillon *** 60€ children 30€.
So where is your favourite Philippe?
"I really enjoy Le Winston Churchill * (5 rue de Presbourg 16th T: 01 40 67 17 37) with live music, lots of atmosphere, good Oeufs Benedict, but not a great menu for Winston junior. It depends, say I've had a late night, I'll look for something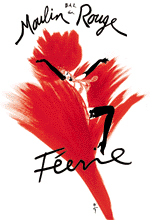 that won't give me a headache.  But remember a brunch without pancakes is not really a brunch! And if you discover brunches not in this book, please let me know, I'll include them in "Son of Brunch à Paris," coming soon to a bookshop near you, he promises.  
Le Guide du Brunch à Paris,
Philippe Toinard,
Editions de L'If,
14.50€
Available at all bookshops & FNAC