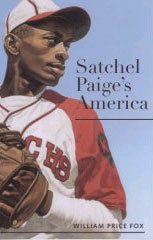 The Library Journal has just named William Price Fox's book, Satchel Paige's America as one of the top 25 best books of 2005. What makes this even more exciting is that Bill writes for Bonjour Paris!
Other writers who have praised Bill's work: Walt Kelly (the creator of Pogo), John Updike, P.G. Wodehouse, Pauline Kael, and, yes, even Bruce Springsteen (Springsteen's song, "Darlington County", was based on Fox's book, Dixiana Moon), Richard Yates, Michael Murphy (Golf in the Kingdom), and then some.
For those who have never been introduced to Fox's work, I highly recommend reading his collection of Short Stories: SOUTHERN FRIED. (Shel Silverstein wrote the music for a play based on this excellent work of fiction.)
Fox's book cover appears as the first book, and he is listed alongside other such notable writers: Joan Didion, Doris Kearns Goodwin and Susan Casey. The Library Journal is the trade publications that help librarians all across America determine the best books to put into their libraries. This is a great honor and Bonjour Paris wants to congratulate our very own writer for making this impressive list: William Price Fox!
For more on Satchel Paige's America, here are the Editorial Reviews from Amazon:
From Booklist
In 1970, on a magazine assignment, Fox spent a week with baseball Hall-of-Famer Leroy "Satchel" Paige, who took a shine to the young writer and shared his remarkable life with uncommon frankness. Paige came to the major leagues in 1948 at the age of 42, after many years in the Negro Leagues, where his triumphs attained an almost mythic stature. Fox and Paige wandered through Paige's adopted hometown of Kansas City, from KFC to Midas Muffler to barbecue joints. Paige was uneasy with being recorded and didn't like reporters taking notes, so Fox was left to capture his subject's voice only through memory. What emerges on the page is mesmerizing: a little bit Ali, a little bit hip-hop, a shade of bebop, a pinch of Reverend King, and a half a measure of Richard Pryor. Paige's baseball talent was undeniable, but Fox captures the intelligence and savvy framing the talent. Paige loved life and made the very best of a bad situation with shrewdness, acceptance, and an iron will. A very entertaining book about a unique man. Wes Lukowsky Copyright ©
American Library Association. All rights reserved
Review
"Enormously entertaining. . . . Could easily be titled 'Satchel and Me.' . . . Reading this book is like finding a treasure trove of letters and snapshots illuminating the life of perhaps the most colorful player in baseball history. It's an essential edition to any baseball library."–Allen Barra, author of The Last Coach: The Life of Paul "Bear" Bryant