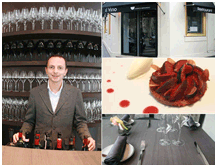 This week it's your turn: you do the homework. Before you book Enrico Bernardo's Il Vino ask yourself the following question. "Can I/we cope only knowing which wines are available for lunch/dinner – and not the food?" If the answer is "yes" the number's below.
Italian born Bernardo was voted Meilleur Sommelier du Monde (sans faute) in 2004 while Sommelier at The Four Seasons George V, at the tender age of 27. Impressive. You'd think he'd want to stay for ever, if only for Jeff Leatham's flowers, but no, Bernardo was already thinking outside the box. He dreamed of a restaurant starring wine, food more cutting-edge than a wine bar would accentuate the wines' notes. "Wine always come first with me", insists Bernardo, who trained as a chef.
Now happily installed on the left bank in the former Chamarré, celebrating his first Michelin star, Bernardo 's in no doubt that he's started a trend. The waiter hands you, not a menu, but a wine list with several possibilites, even a blind tasting. Then asks if you have any allergies, or food dislikes. Choose your wine, the kitchen, led by the Italian Davide Barilone (ex-Four Seasons George V) does the rest. It works well in Paris, but in the recently opened Courchevel Il Vino apres skiers want it to be about the food. "So we've had to adapt", admits Bernardo who launches in Seoul next.
The lunch menu is a great way to test Bernardo's concept. It changes daily but could include the Argentinian Torrontes – Bodegas Lurton 2997 (the Lurtons, from Bordeaux, also own Chateau Bonnet etc.) with creamy freebie starter soup of Jerusalem artichokes. Continue with the Lurton for the starter of Gnocchi Sorrentina. Bordeaux Superieur – Chateau del Bel 2005 follows and accompanies Dauraude with piquellas and saffran, sits on a bed of creamy polenta. F. Chidaine's 2003 Vouvray comes with the tropical fruit dessert.
Thinking of starting a cave of your own? Then consider buying from Bernardo.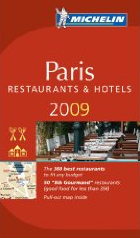 But which years? 1996, 1998, 2001 for the Bordeaux. 1999, 2002, 2003, 2005, for Burgundy. 1999, 2001, 2003, 2007 for the Rhone Valley. "Think 250 bottles to begin, 50% red", he suggests. And Bernardo's got exceptional world wines, or think Mediterranean: Croatia, Malta, Cyprus as in his book "Mes Vins de Mediterranée" (Editions Plon). The gentleman on the next table was reading one: an I-Pod remained in his ear throughout his lunch. Shades of Heston Blumenthal and his sea-music headphones?
In July 2005, Luc Ménier launched Vin Chai Moi with his partner Delphine,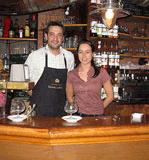 because, like Bernardo, he is fascinated by wine. Ménier's worked as sommelier at The Jules Verne (before Ducasse), chez Lasserre, La Marée and The Ritz, London, set up Chai 33, Bercy etc.
A graduate of the prestigious Ecole Hoteliére, Tours, Menier says: "I love wine, for its' sensations and pleasures I cannot find elsewhere. Only with Delphine, my love!" If he could be a wine Menier would arrive as a handsome bottle of Chinon 1955 de René Fagu. "Mature, smooth as silk, complex and generous. A wine that rests long in the mouth, with its' fragrant notes of game, leather, and forest, tender with a fantastic character. Unfortunately I just sold my last bottle!"
Chef Rippon Ghosh is in the tiny kitchen producing excellent dishes which change daily and are noted on the blackboard. Starters may include Croustillant of hot chévre, soupe du jour. Mains could be pan fried daurade royale, caviar d'aubergine. Parmentier d'agneau with green salad. Grilled entrecote with pommes sauté maison. Pudds: Moelleux au chocolate, three crème brulées or pears poached in red wine, vanilla ice-cream.
Wines and champagne are by the glass, or bottle, discuss with Menier, he's so savvy it hurts. Don't resist a starter cocktail, designed by Luc. Cherry Amaretto with Vins de pays de L'Herault. Green apple-ginger au Pinot blanc de Loire. Others with chocolate, rose, litchi (about 4€).
Chef Ghosh comes from Bangla Desh, sometimes cooks Indian food, certainly will to order. "I arrived in Paris, passionate to become a chef", he explains. "My first job was at La Tour d'Argent, I didn't really know how important it was", he grins. "I am very lucky to have had such wonderful opportunities". As are the happy eaters chez Vin Chai Moi.
13 Boulevard de la Tour Maubourg, 7th (Metro: Invalides)
T: 01 44 11 72 00
Menu Degustation 180€
Blind Tasting Menus 75€-1,000€
Lunch – En Vitesse 50€ including food!
Valet parking
Open 7/7
33 rue de la Chine 20th (Metro: Gambetta)
T: 01 40 33 48 01
Lunch formula 12.60€ Starter/main or main/dessert
Or 15€.60 Starter/main/dessert + A La Carte
LucMenier hosts wine tastings on Monday evenings, reserve ahead.
Shut Monday