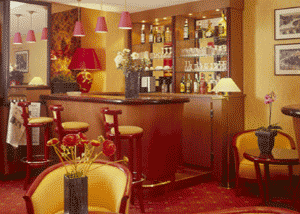 Star Trek the Next Generation meets The Brady Bunch; Paris' first Urban Resort is all about having good times. Fluorescent furry walls line one elevator, while the walls of the other one are a black and white optical illusion and appear to be made out of that same material as the slap-on bracelets from the early nineties.   Hidden amongst the busy streets of the up and coming République, at the edge of Le Marais, the motion-sensing, spotless sliding doors welcome you into the white avant-garde lobby, where colors are on a famine and the ones that have survived make a very bright statemen, such as the orange chair, or the silver waiting chair made out of rain-coat material. The Hotel Murano lobby is perhaps the only place where it is suitable to wear one's sunglasses indoors (other than the greater area of Los Angeles). And they had better be expensive: Versace won't do here—go with Oliver People's or Cartier.   A fireplace the length of the lobby adds warmth to the almost all-white room that could be set on Pluto. In fact, the vodka bar that connects to the lobby is so chouette, and the people in it so trendy, that you will feel like you're in outer space. When the sun goes down the bar and lobby are converted into a hot nightclub atmosphere with a D.J. seven nights a week. Reserve a table in the restaurant, in the back area that is exclusive and quiet, so you won't have to go far for a drink and a little dancing after your meal.   What's your favorite
color? Pick one, and let it shine. Each room at the Hotel Murano contains a manual light switch that changes the color filter on the light bulbs. Pink, green, orange…you name it, what color looks best on you? There is even a loop function that allows the colors to progress—you'll feel like you're sitting below a rainbow. On your first night in Paris, you're jet-lagged and don't feel like putting on your leather pants to go downstairs for an apple martini–have a bottle of wine and some room service ROOM SERVICE WHAT? sent up, set the lights on loop, and put a CD in the Bang and Olufsen stereo and you'll have your own disco going on.   No need to worry about getting too crazy if you accidentally fall off the bed while doing the Macarana–the white shag carpet provides a comfortable landing pad….and also a reminder that in a hotel room, perhaps /admin/story/story/18150/white wine is best. Famous movie stars look over you in Andy-Warhol-like interpretive paintings, black and white with splashes of color, like the rest of the hotel.   The rooms have plenty of storage space for all of the shopping bags that you'll fill in the designer boutiques warehouses near by. A trunk at the end of the bed, boasting giant pink and red flowers, provides more than adequate drawer space for two, and the closets have ample hanging space  There's a secure safe for the jewels and Oliver People's sunglasses.   For a special weekend in July, why not stay in one of the two suites with a swimming pool? Invite a few friends and make a party of it. If one of them can't swim, they can surely entertain themselves with the Bang and Olfusen equipment, or have them bring their laptop; the hotel is fully equipped with Wifi and ADSL.   Each of the 43 rooms and 9 suites is referred to by name rather than number. At the Hotel Murano, one is not staying in room 421, but at Adriano. Adriano doesn't require a key for your access, but your fingerprint. Now you feel like you're on a space voyage? When you arrive the concièrge will take your fingerprint and it becomes your room key. If you're one to forget your keys, this is the place for you.   One could spend 15 minutes exploring the bathroom. Upon discovering that the large white bubble is the toilet, one would move on to the paper-box pyramid near by only to discover that it is a tissue holder. The scale is high tech,yet surprisingly easy to use. There are a comfy robe and fuzzy black slippers, a full length mirror, a magnifying mirror, and rich lotions and conditioners for spoiling yourself in the bath.   If you really want to spoil yourself, hold off on your trip till April, when the spa at Hotel Murano is expected to be open. Nobody knows skin care like the French; just ask Yves Saint-Laurent, Chanel, Estée Lauder, L'Oreal, Lancome…etc.   The restaurant is poshy chic with a gossipy buzz for entertainment. The design is an extension of the rest of the hotel, immaculately white and simple with mad dashes of color for flair…it's actually "radical." The menu is simple (though more advanced than the 24-hour-room- service menu, which consists of about 15 simple but tasty items), offering more generic and always positive dishes such as seabass and risotto made with rich truffles. The restaurant offers live music about once a week. if you are interested in dining at the Murano, be sure to call for a reservation, as it is always packed.     The Hotel Murano is a new concept: innovative, technical and avant garde. As the first urban resort in Paris, it paves the way for luxury in the city with a fresh and…
SUBSCRIBE
ALREADY SUBSCRIBED?
BECOME A BONJOUR PARIS MEMBER

Gain full access to our collection of over 5,000 articles and bring the City of Light into your life. Just 60 USD per year.

Find out why you should become a member here.

Sign in

Fill in your credentials below.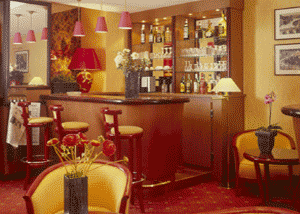 Star Trek the Next Generation meets The Brady Bunch; Paris' first Urban Resort is all about having good times. Fluorescent furry walls line one elevator, while the walls of the other one are a black and white optical illusion and appear to be made out of that same material as the slap-on bracelets from the early nineties.

Hidden amongst the busy streets of the up and coming République, at the edge of Le Marais, the motion-sensing, spotless sliding doors welcome you into the white avant-garde lobby, where colors are on a famine and the ones that have survived make a very bright statemen, such as the orange chair, or the silver waiting chair made out of rain-coat material. The Hotel Murano lobby is perhaps the only place where it is suitable to wear one's sunglasses indoors (other than the greater area of Los Angeles). And they had better be expensive: Versace won't do here—go with Oliver People's or Cartier.

A fireplace the length of the lobby adds warmth to the almost all-white room that could be set on Pluto. In fact, the vodka bar that connects to the lobby is so chouette, and the people in it so trendy, that you will feel like you're in outer space. When the sun goes down the bar and lobby are converted into a hot nightclub atmosphere with a D.J. seven nights a week. Reserve a table in the restaurant, in the back area that is exclusive and quiet, so you won't have to go far for a drink and a little dancing after your meal.

What's your favorite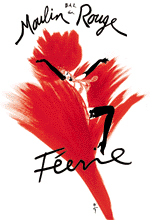 color? Pick one, and let it shine. Each room at the Hotel Murano contains a manual light switch that changes the color filter on the light bulbs. Pink, green, orange…you name it, what color looks best on you? There is even a loop function that allows the colors to progress—you'll feel like you're sitting below a rainbow. On your first night in Paris, you're jet-lagged and don't feel like putting on your leather pants to go downstairs for an apple martini–have a bottle of wine and some room service ROOM SERVICE WHAT? sent up, set the lights on loop, and put a CD in the Bang and Olufsen stereo and you'll have your own disco going on.

No need to worry about getting too crazy if you accidentally fall off the bed while doing the Macarana–the white shag carpet provides a comfortable landing pad….and also a reminder that in a hotel room, perhaps /admin/story/story/18150/white wine is best. Famous movie stars look over you in Andy-Warhol-like interpretive paintings, black and white with splashes of color, like the rest of the hotel.

The rooms have plenty of storage space for all of the shopping bags that you'll fill in the designer boutiques warehouses near by. A trunk at the end of the bed, boasting giant pink and red flowers, provides more than adequate drawer space for two, and the closets have ample hanging space  There's a secure safe for the jewels and Oliver People's sunglasses.

For a special weekend in July, why not stay in one of the two suites with a swimming pool? Invite a few friends and make a party of it. If one of them can't swim, they can surely entertain themselves with the Bang and Olfusen equipment, or have them bring their laptop; the hotel is fully equipped with Wifi and ADSL.

Each of the 43 rooms and 9 suites is referred to by name rather than number. At the Hotel Murano, one is not staying in room 421, but at Adriano. Adriano doesn't require a key for your access, but your fingerprint. Now you feel like you're on a space voyage? When you arrive the concièrge will take your fingerprint and it becomes your room key. If you're one to forget your keys, this is the place for you.

One could spend 15 minutes exploring the bathroom. Upon discovering that the large white bubble is the toilet, one would move on to the paper-box pyramid near by only to discover that it is a tissue holder. The scale is high tech,yet surprisingly easy to use. There are a comfy robe and fuzzy black slippers, a full length mirror, a magnifying mirror, and rich lotions and conditioners for spoiling yourself in the bath.

If you really want to spoil yourself, hold off on your trip till April, when the spa at Hotel Murano is expected to be open. Nobody knows skin care like the French; just ask Yves Saint-Laurent, Chanel, Estée Lauder, L'Oreal, Lancome…etc.

The restaurant is poshy chic with a gossipy buzz for entertainment. The design is an extension of the rest of the hotel, immaculately white and simple with mad dashes of color for flair…it's actually "radical." The menu is simple (though more advanced than the 24-hour-room- service menu, which consists of about 15 simple but tasty items), offering more generic and always positive dishes such as seabass and risotto made with rich truffles. The restaurant offers live music about once a week. if you are interested in dining at the Murano, be sure to call for a reservation, as it is always packed.

The Hotel Murano is a new concept: innovative, technical and avant garde. As the first urban resort in Paris, it paves the way for luxury in the city with a fresh and artistic point of view. An original point of view, shoot, they even let you change the décor colors on your own with the switch next to the bed. Now that's custom design.

Promotions:

Only Luxe
A private suite with terrace and swimming pool,VIP welcome, breakfast, lunch and dinner (alcohol is not included), room service, transport to and from the airport, transport inside of Paris, 2 350 euros per night for 2 people (minimum three-night stay).

Love'n'Luxe
A night in the "Honeymoon" suite, "Petrossian" caviar and "tzarcut" salmon, Champagne "Billecart-Salmon" rosé, flowers and gifts upon arrival, brunch in the suite, late checkout (4 pm), 1,000 euros for 2 people

Rock'n'Luxe
Two nights in a Deluxe room, breakfast, VIP welcome, 2 concert tickets (call to find out what's playing), transportation to and from the concert from the hotel, special dinner at the Murano, 1,600 euro for 2 people.

Classic room–350 to 450 euros
Delue room–550 to 650 euros
Junior suite–750 to 950 euros
Suite–1350 to 1150 euros
Deluxe suite–1800 to 2500 euros
13, blvd du Temple
Paris 75003
33 1 42 71 20 00
www.muranoresort.com
[email protected]
---
---
Comments