The Hotel du Commerce – An Insider's View of a Corsican in Gascony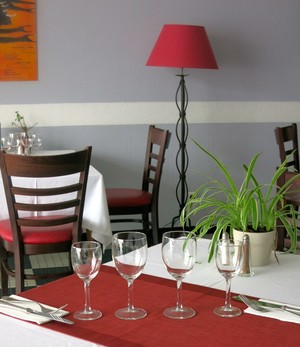 Eight years ago when I first arrived in the Gers (department 32) I stayed at the Lac des Courtes, a congenial, self catering campground, in the quiet village of Estang.  At that time, the village had one bakery, one small market, one tabac, one pharmacy, an esteemed charcuterie and a two star hotel – restaurant called the Hotel du Commerce. One evening my husband and I walked into the village to have dinner at the hotel.  On the front door, management posted a Friday night special menu: an entrée of homemade vegetable soup,  a main course of duck breast, a quarter of a carafe of house wine, crème brülée for dessert and coffee for 9 euros which could be followed by an after dinner digestive of a shot of local armagnac for an additional 2 euros.  We were greeted by a none too happy hostess who seated  us in the darkened back corner of the dining room.  In my most mellifluous French I explained that I was a vegetarian and wondered if they might be able to make something simple for me, such as an omelette accompanied by a small salad, but my husband would have the special menu.  The hostess never batted an eyelash and walked away.  What followed was an unforgettable meal – the entrée was delivered with a bad attitude and a cacophony of dishes being thrown in the kitchen, generously sprinkled with raised voices. My main course of suggested omelette and salad was a watery bowl of mashed potatoes and celeriac, while my husband's duck sat in an iridescent puddle of blood, a culinary oil slick, hastily prepared.  We sat in silence looking at our meals and each other for what seemed an eternity, then grabbed for the last piece of sliced baguette in the basket. Our plates sat untouched.  In hushed tones we discussed our options.  We chose another gauntlet of mellifluous French to ease our way out of the dining room and paid the bill while feigning an important rendezvous we'd forgotten about on our way out the door.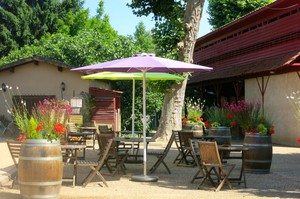 When we returned the following year, we were not surprised to learn the hotel had changed hands.  We heard the new owners were friendlier, but the kitchen hadn't improved very much, so over the ensuing months we only frequented their patio for a morning coffee on our way to somewhere else. Personal problems plagued the establishment, however, and they were forced to sell before they could hone their skills enough to attract a local clientele.  Then, in 2011, the village of Estang struck gold when Patrick Topin and his wife, Laetita, bought the Hotel du Commerce.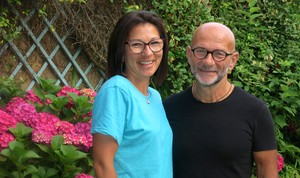 Patrick Topin was born in Paris, but raised in Corsica.  In his early twenties, suffering from island fever, he moved to London and worked as a waiter at the prestigious Mirabelle & Savoy Hotels.  His French roots proved to be too strong and he returned to France and worked in Alsace for the next twelve years at the Auberge de L'ill.  In 1992 he was voted the best waiter in France.  In 1994 he returned to Corsica, working at Le Belvedere with Bernard Bach, the now celebrated Toulousain chef.  In 2000 he married Laetitia, whom he met while working at Bach's restaurant, Le Puits Saint Jacques.  After the birth of their 2 children they moved to Auch, then purchased the Hotel du Commerce together in 2011.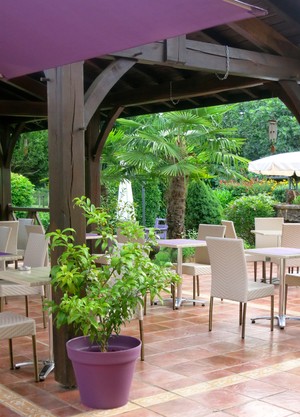 Patrick never attended cooking school nor went through the disciplined training which most chefs do today in order to compete for prized positions in Michelin starred restaurants, but he cooks beautifully with a mélange of Mediterranean and Gason flavors.  Everything he does has been absorbed from the styles of the people he's worked with, with an additional dash of Corsican fire thrown in. In the past 3 years his restaurant has developed a coterie of loyal diners and the hotel has been upgraded to three stars.  With the help of the British landscape designer, Deborah Hart, he has brought color and vitality to this property and the sleepy village of Estang has prospered.  There are new stores and musical concerts, in fact, there's a Flamenco guitar concert on the 12th of July in the village church, a 13th century building of classic Gersois style, and the village fete takes place the third week in August which runs for a rollicking week. Though it has been hard to crack the reserved veneer of the locals, his brash charm is irresistible and it won't be long before he has them eating out of their hands (pun intended). Patrick's philosophy is refreshing; every day there must be something new. So, every day he changes the menu, every week the flowers, every year the colors – next year he will upgrade the rooms and change the color scheme.  He and Laetita make a wonderful team and their invigorating spirit touches everyone who comes in contact with them.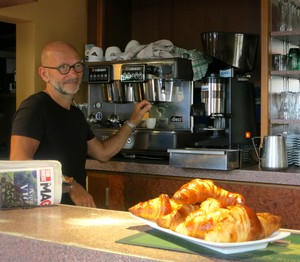 From my house in the village of Ayzieu the Hotel du Commerce is a quick 10 minute drive.  I can count on a buttery croissant or pain au chocolat with steaming coffee in the morning or a delicious, specially prepared and truly unforgettable, vegetarian meal in the afternoon or evening, sans breaking dishes and raised voices.  If you're planning a visit to the bucolic paradise of the Gers and hope to reserve a room it's best to book well in advance.  This summer Patrick and Laetitia have been kind enough to send his overflow to the Maison d'Hélène, a charming chambre d'hotes down the road. A bonnes vacances et bon appétit à tous!
Hotel du Commerce
Patrick & Laetita Topin
Place du Quatre Septembre
32240 Estang
05-62-09-63-41
Leave a reply
Your email address will not be published. Required fields are marked *