Home, Home on the Rhône: Cotes du Rhone Wine Region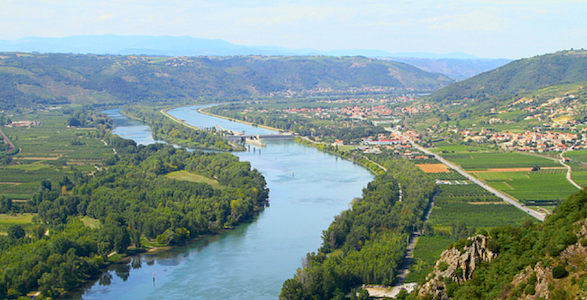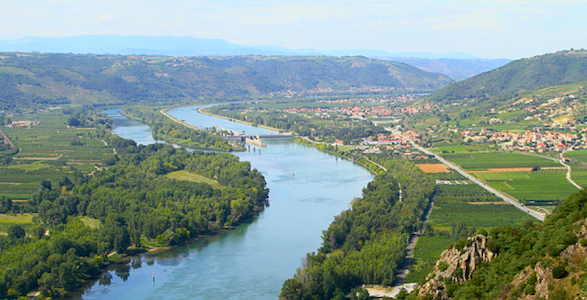 Côtes du Rhône Nord valley. Photo by jmarnaud.
Côtes du Rhône is the most diverse wine region in France. It produces full-bodied reds of Côte Rôtie in the north and Châteauneuf du Pape in the south. It's known for its memorable whites in the Condrieu region. People spend days going from one vineyard to another on tasting tours. Please remember to have a dedicated driver.
The vineyards are situated in the seven communes of: Limony, Chavanay, Malleval, Saint-Michel-sur-Rhône, Saint-Pierre-de Boeuf, Vérin, and Condrieu in the French departments of Ardèche, Rhône and Loire, on the steep slopes of the foothills of Château Grillet, and including the fruity red wines of Crozes Hermitage in the southern Rhône region.
More than 75% of Côtes du Rhône wines are red. Its range of grape varieties is very much influenced by the terroir as well as climatic conditions; the latter vary from year to year. Soil types influence which grapes are cultivated where. Each different variety has its own character; blending several grape varieties will result in well-balanced, finely tuned wines.
In the north, Grenache grapes dominate, however, Syrah must be used for certain appellation wines. Côtes du Rhône is the home of Viognier, a white grape used largely in the north. Clairette is the dominant white wine grape followed by Ugni Blanc and Grenache Blanc.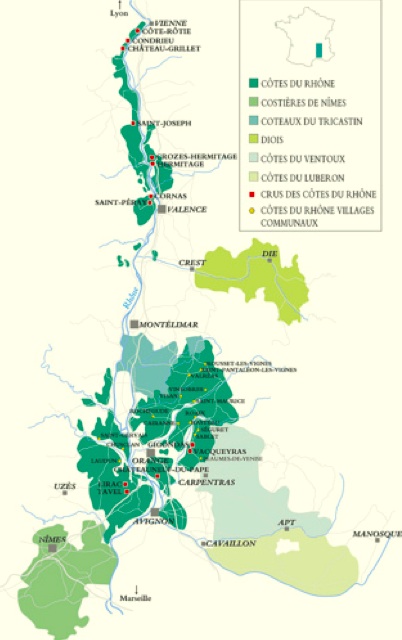 Map of Côtes du Rhône wine production area. Wiki map.
What this means is that truly wonderful reds, rosés and whites are dominated by Grenache or Grenache Blanc grapes. However, Grenache Noir, Syrah, Cinsault, Carignane, Counoise and Mourvèdre are other varieties that make up Rhône wines. That being said, to be labeled a Côtes du Rhône wine, there must be a minimum of 40% Grenache. A maximum of 5% of white grapes may be used when blending with red wines. Côtes du Rhône whites are blends (80%) of Clairette, Grenache Blanc, Marsanne, Roussane, Bourboulenc and Viognier.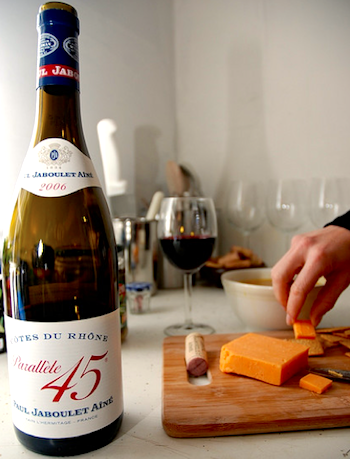 Domaines Paul Jaboulet Aîné Parallèle 45, Grenache & Syrah blend.
There are an estimated 1,900 private wineries and over 100 cooperatives plus approximately 50 négociants (wine producers and merchants). The Rhône Valley offers a variety of vino that few vineyard destinations can muster. Although there are no Grand or Premier Cru designations in the Rhône Valley, there are 8 AOC classifications in the northern Rhône and 12 AOC classifications in the southern Rhône. Crozes-Hermitage AOC in the north and Châteauneuf-du-Pape AOC in the south are two of the best-known AOCs.
In the year 1737, the King of France declared that all wine coming from the river port of Roquemaure (known as "La Capitale des Amoureux", or The Capital of Lovers) should have the brand CDR (Côtes du Rhône) on all casks. Thus the basic rules for the beginning of the AOC system was formed. Another interesting fact is that St Valentine's remains are housed in the 14th-century collegiate church to "protect" the vineyards from phylloxera. Each year "La Capitale des Amoureux" attracts over 20,000 folks to the St Valentine Festival of the Kiss…. French, Kiss and Valentine….are we starting to see a trend here?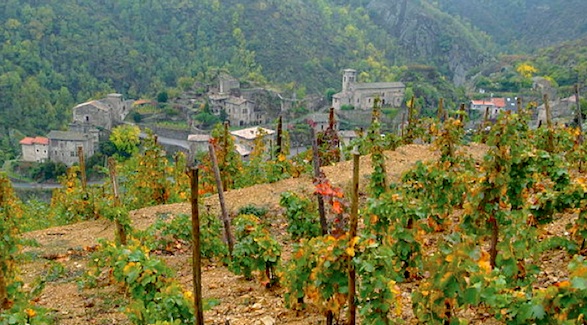 Malleval Côtes du Rhônes valley. Photo by Loire Tourisme.
There are two sub regions of Rhône wines:
1. Côtes du Rhône septentrional (means "of the north"), the region from Vienne to Valence. If you think picking grapes is difficult work then you should see the pickers in the septentrional—the grapes are all hand picked from extremely steep slopes and are carried up the hillsides on trolleys, making the price of each bottled wine more expensive.
2. Côtes du Rhône méridional southern region, from Montélimar to Avignon, allowing 123 communes to add to Côtes du Rhône. The great majority of these are cultivated on the eastern side of the Rhône.
Crimson, ruby and purple plainly advertise the full-bodied red juice that is Rhône varietals, although the right bank can produce lighter styles. Dry, citrus and tangy describe Rhône whites. One of the rarest whites in the world is in Condrieu, consisting of the notoriously difficult grape to vinify, Viognier.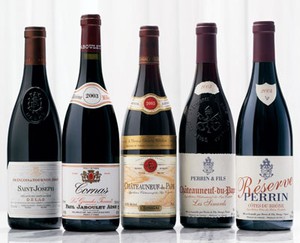 Côtes du Rhône AOC covers north and southern regions of the Rhône as mentioned above, but in reality most of the juice is a blend of grapes produced by commercial blenders who buy the grapes in bulk. This makes wine labeled Côtes du Rhône more of a table wine, albeit a terrific wine dominated by Grenache.
But Rhône-style wine is a major factor in vineyards all over the world. Years ago I was fortunate to meet Randall Grahm of Bonny Doon Vineyards, who was christened with the nickname "Rhône Ranger" for his mastery of the Rhône varietals in California. Labels showing a flying saucer, a child holding her mother's hand while stepping on a crack and many others show his humor plus showcased the juice inside. Bonny Doon Vineyards carry that promise of wonderful vino at nice prices to this day. Try these two examples of this "Hippie" Winemaker's juice (descriptions are from Bonny Doon):
2009 Clos de Gilroy – Certified Biodynamic®
The wine itself exhibits all the hallmarks of exceptional Grenache – bright raspberriosity; a strong suggestion of black pepper and cherry liqueur; and a piney, resinous quality that shows up in only the best vintages of Grenache from cooler climates. To those yearning of the past this vintage should induce a happy remembrance of Gilroy's past.
2009 Vin Gris de Cigare
Fresh and bright with a pale pink/salmon color reminiscent of a Côtes de Provence Rosé or perhaps even a Vin Gris from Burgundy. Hints of wild strawberry, white cherry, apple blossom, and the barest whiff of spearmint. Palate is quite dry and zesty with pale red fruits, blood orange, citrus and a lean yet supple finish.
So, on a crisp autumnal day, take a trip down to the river bank with your lover. Spread out that picnic blanket, and bring along some paté and regional cheeses and enjoy this wine. It tends to be romantic.
PRACTICAL INFORMATION:
Avignon Tourisme/Côtes du Rhône official tourism site
PHOTO CREDITS: Photos published per Creative Commons 3.0 license with publicity note or photographer credit in captions.
Mo Sussman has written several stories about wine for BonjourParis, which you can read by clicking on his name.

Subscribe for
FREE

weekly newsletters with subscriber-only content.
BonjourParis has been a leading France travel and French lifestyle site since 1995.
Readers' Favorites: Top 100 Books, imports & more at our Amazon store
We daily update our selections, including the newest available with an Amazon.com pre-release discount of 30% or more. Find them by starting here at the back of our Food & Wine section, then work backwards page by page in sections that interest you.
Especially for those seeking Côtes du Rhône sites and wine, bien sur….please click on an image for details.
Support our site by clicking on this banner for all your Amazon.com browsing. Merci!
Leave a reply
Your email address will not be published. Required fields are marked *