Hidden Treasures in Paris's 17th
Tourists, expats and locals alike can be made to feel like outsiders when not privy to the mysteries the city keeps. Coded doors and signs posting strict warnings can make any explorer feel like a foreigner. Sometimes, however, the key to discovering the city's most discreet streets is a tip from a friend who will let you in on the secret. The Villa des Ternes, a gated community in Paris's 17th district, is just such a treasure trove. Concealed between the Avenue des Ternes and the rue Guersant, this exclusive enclave will reward any dauntless explorer with rich architecture and opulent surroundings. All you have to do to access this affluence is to take the chance. Look for the gate at 96 Avenue des Ternes and slip beneath the sign warning, "Private Property. Strictly Regulated Parking. Non-Residents and Pets Forbidden." Ignore the admonition just as you should the comparison drawn between you and a domesticated animal—like any treasure worth discovering or any cache worth uncovering, a sense of adventure is key. On the digicode beneath the sign, simply press the button and push the door in the gate to penetrate the secluded garden. Sidestep the barrier and pass beneath a second sign repeating the same admonishments against uninvited visitors. (Don't worry, I have personally taken this same walk dozens of times and have never even been spoken to, let alone approached about leaving. On the off-chance that someone actually does say something to you, the best defense is to play tourist. Just smile, keep walking and apologize in English so rapid they have no idea what you're saying.) Turning the corner, just past the loge de gardien , your bravery will be rewarded with a sight seldom seen inside Paris, a tree-lined grove. Take advantage, as well, of another commodity sadly missing in the City of Light, that of time, and stroll through the golden silence. To best appreciate your good fortune, follow the central lane, the Avenue de Verzy (named after Monsieur de Verzy, the owner of the land when it housed another kind of leisure: the famous Luna Park parc d'attraction of Porte Maillot). Even more surprising than the foliage and the calm is the eclectic architecture. Admire the strange mélange of ceramic tiles, columns and frescoes, often all on the same house! The first building on the left has floral friezes hanging from its rooftop, while across the narrow avenue, a six-story building is covered with glazed bricks that must be seen to be believed. At the end of the street, rests a smaller, two-story abode that resembles some of the country homes that once filled this area in the first half of the 1800s. Just beyond this, on the wall to your right, you'll find a button set into the wall before another gate; by pressing it you'll be able to push through another door and back into harsh reality. Or not. If you chose to continue your adventure, just across the rue Guersant waits another treasure left undiscovered by all but the locals. The Bistrot Gourmand is one of the few real bistros left in this or indeed many a Parisian neighborhood. Inside you'll find an authentic zinc bar and décor consisting of a variety of urban antiques throughout the decades. There's an old gas pump with clear glass cylinders now used as a goldfish aquarium, while above the wooden booth along the back wall hangs the sign "Côté Dames", that once reminded patrons the comfortable seats were reserved for women. Hopefully, you didn't exhaust your supply of pluck in the Villa des Ternes, because you'll need a bit more here. The owner/bartender and wait staff of the Bistrot Gourmand don't speak English and the servers can be somewhat surly, though their bark is worse than their bite and partly put on for show. These quirks merely add to the genuine bistro dining experience, along with the anis flavored bread, a sinfully rich fondant au chocolat and French fries, all of which are made fresh daily in the kitchen. The menu selection includes pasta, fish, beef, lamb and more traditional dishes like beef tongue and andouillette. For under 20€, you'll have your choice between starter/main course or main course/dessert and a couple glasses of table wine. Watch out, though, the Bistrot is open only at lunch and reservations are recommended. After profiting from the wealth of Paris's 'buried' treasure and a bellyful of food so rich it's like gold-plated rubies, lift anchor and set sail for home and may even more marvelous surprises be waiting on your horizons. Bon vent! Bistrot Gourmand: 28, rue Guersant, 75019, Paris. 01 45 74 92 80 By
Paul Prescott
(
Paris Inspired Website
) All photos ©
Paul Prescott
  If you're coming to France (or for that matter anywhere) you can 
reserve your hotel here.
To rent a car, Bonjour Paris recommends 
Auto Europe
.
SUBSCRIBE
ALREADY SUBSCRIBED?
BECOME A BONJOUR PARIS MEMBER

Gain full access to our collection of over 5,000 articles and bring the City of Light into your life. Just 60 USD per year.

Find out why you should become a member here.

Sign in

Fill in your credentials below.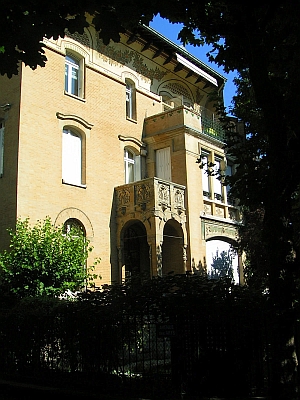 Tourists, expats and locals alike can be made to feel like outsiders when not privy to the mysteries the city keeps. Coded doors and signs posting strict warnings can make any explorer feel like a foreigner. Sometimes, however, the key to discovering the city's most discreet streets is a tip from a friend who will let you in on the secret.
The Villa des Ternes, a gated community in Paris's 17th district, is just such a treasure trove. Concealed between the Avenue des Ternes and the rue Guersant, this exclusive enclave will reward any dauntless explorer with rich architecture and opulent surroundings. All you have to do to access this affluence is to take the chance.
Look for the gate at 96 Avenue des Ternes and slip beneath the sign warning, "Private Property. Strictly Regulated Parking. Non-Residents and Pets Forbidden." Ignore the admonition just as you should the comparison drawn between you and a domesticated animal—like any treasure worth discovering or any cache worth uncovering, a sense of adventure is key.
On the digicode beneath the sign, simply press the button and push the door in the gate to penetrate the secluded garden. Sidestep the barrier and pass beneath a second sign repeating the same admonishments against uninvited visitors. (Don't worry, I have personally taken this same walk dozens of times and have never even been spoken to, let alone approached about leaving. On the off-chance that someone actually does say something to you, the best defense is to play tourist. Just smile, keep walking and apologize in English so rapid they have no idea what you're saying.)
Turning the corner, just past the loge de gardien , your bravery will be rewarded with a sight seldom seen inside Paris, a tree-lined grove. Take advantage, as well, of another commodity sadly missing in the City of Light, that of time, and stroll through the golden silence. To best appreciate your good fortune, follow the central lane, the Avenue de Verzy (named after Monsieur de Verzy, the owner of the land when it housed another kind of leisure: the famous Luna Park parc d'attraction of Porte Maillot). Even more surprising than the foliage and the calm is the eclectic architecture. Admire the strange mélange of ceramic tiles, columns and frescoes, often all on the same house!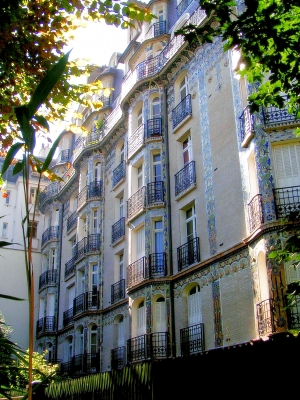 The first building on the left has floral friezes hanging from its rooftop, while across the narrow avenue, a six-story building is covered with glazed bricks that must be seen to be believed. At the end of the street, rests a smaller, two-story abode that resembles some of the country homes that once filled this area in the first half of the 1800s. Just beyond this, on the wall to your right, you'll find a button set into the wall before another gate; by pressing it you'll be able to push through another door and back into harsh reality.
Or not. If you chose to continue your adventure, just across the rue Guersant waits another treasure left undiscovered by all but the locals. The Bistrot Gourmand is one of the few real bistros left in this or indeed many a Parisian neighborhood. Inside you'll find an authentic zinc bar and décor consisting of a variety of urban antiques throughout the decades. There's an old gas pump with clear glass cylinders now used as a goldfish aquarium, while above the wooden booth along the back wall hangs the sign "Côté Dames", that once reminded patrons the comfortable seats were reserved for women.
Hopefully, you didn't exhaust your supply of pluck in the Villa des Ternes, because you'll need a bit more here. The owner/bartender and wait staff of the Bistrot Gourmand don't speak English and the servers can be somewhat surly, though their bark is worse than their bite and partly put on for show. These quirks merely add to the genuine bistro dining experience, along with the anis flavored bread, a sinfully rich fondant au chocolat and French fries, all of which are made fresh daily in the kitchen.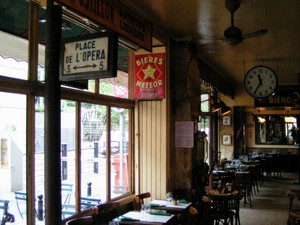 The menu selection includes pasta, fish, beef, lamb and more traditional dishes like beef tongue and andouillette. For under 20€, you'll have your choice between starter/main course or main course/dessert and a couple glasses of table wine. Watch out, though, the Bistrot is open only at lunch and reservations are recommended.
After profiting from the wealth of Paris's 'buried' treasure and a bellyful of food so rich it's like gold-plated rubies, lift anchor and set sail for home and may even more marvelous surprises be waiting on your horizons. Bon vent!
Bistrot Gourmand: 28, rue Guersant, 75019, Paris. 01 45 74 92 80
By Paul Prescott (Paris Inspired Website)
All photos ©Paul Prescott
If you're coming to France (or for that matter anywhere) you can reserve your hotel here. To rent a car, Bonjour Paris recommends Auto Europe.
More in Bonjour Paris, Food Wine, Neighborhood, Paris cuisine, Paris restaurants, Paris sightseeing
---
---