Gourmet Buzz: Provence Choice Restaus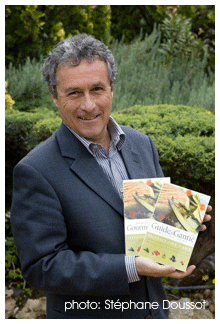 I'm not saying I'm definitely going to heaven when I snuff it, that would be pretentious, n'est pas? But after last night at Le Moulin de Mougins near Cannes, I know what to expect.




A Brad Pitt-lookalike helped us from the Porsche and we strolled through a fragrant secret garden where Johnny Halliday put glasses of perfectly chilled pink champagne into our hands. Onward, to be greeted by the gorgeous new owner of the Moulin, superchef Alain Llorca framed by his restaurant's sculpture gardens, long wooden tables dotted discreetly with the most divine designer hot and cold tapas. Waiters stand by to replenish everything, the crickets churrup, and there is just about every famous name in culinary history noshing next to you….Readers, I really thought I'd died and gone to foodie heaven.




Llorca and his brother, the talented patissier Jean-Michel, got together with Jacques Gantié, the food guru of the Riviera (and beyond) to throw a bash celebrating the birth of two guidebooks, jewels that you cannot possibly set foot in the South of France without.




And one is in English! Jacques Gantié's Gourmet Tables – Treasure of Provence (and Jacques' tables is one of those treasures). Together with his faithful band of dedicated journalists, this is Gantie's 12th year, so he must be doing it right, right? "Today, Provence, the Mediterranean and the South of France form a strong gastronomic trend, which was not so when we first began," he observes.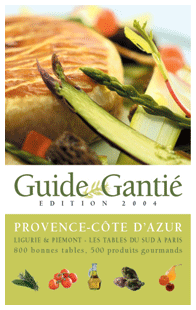 Restaurants are graded with olive branches; Le Moulin gets three out of four, and Llorca's oven-baked almond cake of Vaucluse asparagus, cooked and raw market vegetables, and Morille mushrooms, features on the cover and looks almost as delicious as Llorca himself.




So who gets four olive branches? Alain Ducasse at the Louis XV, Monte Carlo. There are unique addresses to discover: La Table de mon Moulin, (2 OBs) a transformed mill where Isabelle and Jean-Paul Silva receive 15 guests daily, just like a dinner party. (04 93 77 39 30) Or La Zucca Magica, Nice, probably the best vegetarian Italian food in the world (1 OB) and where lunch rarely costs more than 17€ (04 93 56 25 27). And tucked away in Le Suquet, Cannes, is Noel Mantel (2 OB's) (04 93 39 13 10), cooking wonderful Mediterranean food, inches from the market and the fishermen.




Each section, say Alpes-de-Haute-Provence, has "a selection of rooms" and a "sources of the south" selection, where to find the best olive oils, truffles, honey, pasta, and, worth the price of the guide (20€) "the glossary" containing all those culinary terms you had just on the tip of your tongue. Hands up who knows what en escabeche, coulis, cratons and totene are? That's why you need this guide; you can't afford not to buy it.




And when you've mastered all that, graduate to the more comprehensive Guide Gantié 2004 Provence-Cote d'Azur-Ligurie-Piemont-Paris (800 bonnes tables, 500 gourmet products listed – all for 22€).




From all French booksellers or contact:




ROM
19 Boulevard Carabacel, 06000, Nice.
www.guidegantie.com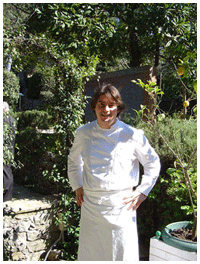 Meanwhile it was quite a week for Llorca at the Moulin. Which chef does not dream of welcoming Sharon Stone to his watering hole? That's just what Llorca did last week, during the Cannes Film Festival, the superchef welcomed superstars for the 11th annual black-tie AMFAR Aids Charity Benefit Gala dinner (without Elizabeth Taylor this year). Ms Stone raised $1 million as auctioneer of luxury goods, holidays, dinners and golf games with stars. A guest wanted to buy her underwear; "Everyone who can afford $7 knows I don't wear any," she sniffed. Neither does Scottish rocker Rod Stewart, who flipped his kilt several times. "That little punk, I've seen his ass twice already and haven't even had an appetiser!" Other guests such as Sir Elton John, David Furnish, Quentin Tarantino, Sophia Coppola, Sean Penn, Johnny Depp and Donatella Versace were less forthcoming about their underwear.




Sponsored by Miramax and Quintessentially, the event was also attended by Georgio Armani (one of the illustrious Chairs), one of ten guests who forked out $10,000 for Liza Minelli to warble a song. He also spent $40,000 on a print by Horst P. Horst to put in a cabin of his 50-meter yacht "Mariu" parked down the road in the port of Cannes. Miramax President Harvey Weinstein (also a Chair) was chic in his Armani tux. "Tom Ford told me I'd lose 20 pounds if I undid the top button", he confessed.




Heaven can wait!




The Moulin de Mougins
424 Chemin de Moulin
T: 04 93 75 78 24









---

Born in Britain and now based in Paris, Margaret Kemp graduated from The Cordon Bleu and spent a year working and watching in the kitchens of top chefs from Sydney, Australia via Bangkok, Hong Kong, California, New York and France. Realising she would never win the coveted 3-Michelin stars, she decided to write about the people who do, the "disciples of Escoffier."
Leave a reply
Your email address will not be published. Required fields are marked *