Zen à la parisènne: Vegetarian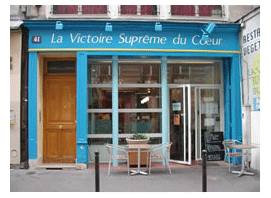 You've read Feng Shui for Modern Living five times, have incense burning at all hours of the day, and are currently wondering whether Buddha would have preferred Atkins to the South Beach diet.


Still, one morning, as you sit in the lotus position at your local café, you realize something is missing. At the table to your right, smokers are polluting the air, while to your left a fighting couple dirties the atmosphere with their harsh words and anger. Outside the café, cars honk mercilessly as they inch past the Seine.
Oh where, in the City of Light, can you find refuge from such negative energy?
Have no fear, Western Buddhist! Bonjour Paris is here to save you and your chakra!
In fact, there are plenty of zen-friendly establishments in Paris where you can grab a bite to eat, discover your spirituality, and commune with other like-minded individuals:
Bioart

Located alongside the Bibliothèque Nationale, Bioart touts itself as the only organic restaurant in the world that takes "bio" to heart. As it says on the business card, Bioart features "ecological building, feng shui, filtered air, anti-UV windows, diminished sound and vibration." And oh yeah, organic food.
The night I ate at Bioart the place was nearly empty, and my dining partner and I felt the need to whisper so as not to upset any yin or yang. Perhaps noticing our discomfort, the waiter decided to turn on the mood music: thousands of tropical birds chirping away, accompanied by the gentle trickle of a waterfall. However, the effect was anything but zen: squawking birds are not relaxing.
We tried to tune the music out and focus on our dishes. The vegetarian platter was full of the usual suspects: legumes, raw vegetables, and lettuce leaves, with little creative thinking in terms of arrangement or mixture. (Contrary to popular belief, vegetarians do eat things other than hippie mush and lettuce.) Equally straightforward but slightly more successful were a scallop terrine and a duck main course. But the real winner was Bioart's bread, which was dark, fresh, and wheaty—a nice alternative to the baguette fare one normally sees in the bread basket.
While the cuisine may not be the most innovative, such a straightforward approach to cooking may be very much part of Bioart's M.O.: to show normal folks that organic cuisine need not be weird to taste good. Still, as much as I wanted to give Bioart a five-Buddha rating, I left the restaurant a bit disappointed…And wouldn't you know that an aggressive bonsai tree—no doubt picking up on my bad vibes—decided to poke a small hole in my sweater as we walked out.
Po Mana
Friends were singing the praises of Po Mana long before I made my first trip to this ayurvedic restaurant, which is located in the 10th near the trendy Canal St-Martin area. The principles of the ayurvedic way of life have been advanced by new-age guru extraordinaire Deepak Chopra. The ayurvedic approach to cooking ignores such ho-hum aspects as fats, carbs, proteins, and calories, and instead targets body tissues, water and salt levels, the properties of the individual, and the body's assimilation of food. A meal typically uses six tastes (or "rasas," as the Po Mana waitress informed me): sweet, sour, salty, bitter, pungent, and astringent.
At Po Mana, this translates into a series of small, creatively-prepared dishes that bring a new twist to Indian food. The highlights of my most recent visit included a delicately-seasoned carrot and celery salad and a spice cake reminiscent of my grandma's own. But this new-age nourriture has its down side, namely pricey plates for little food. So while the 24-Euro prix fixe manages to encompass all of the ayurvedic rasas, one inevitably leaves feeling as lean as a lima bean. In fact, I had to complement my last Po Mana meal with a not-so-bio Snickers bar, which likely upset the ayurvedic eden established in my stomach.
Still, for those up for the adventure, Po Mana is a fun night out in a lively neighborhood. Make sure to book in advance.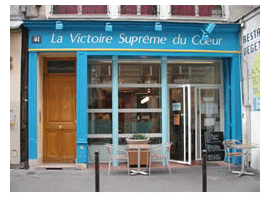 La Victoire Suprême du Coeur

For our last taste of Parisian zen, we turn to La Victoire Suprême du Coeur (supreme victory of the heart), conveniently located in central Paris. While its cafeteria-style décor is hardly inspirational, Victoire takes top prize for its low prices and superb fake meat dishes. The faux turkey with shallot gravy seems to please even carnivores, while the seitan scallops with mushroom sauce turned one of my vegetarian friends into a Victoire regular. The vegetable pakoras, mashed peas, and hearty Victoire salads are also well worth a taste—and at these prices, you can afford to taste all you want. With a lunch and dinner prix fixe that runs from 10-13 Euros, the Victoire is certainly cheaper than an hour with your yogi, and perhaps just as rewarding.
Lest you think the Victoire is simply a straightforward vegetarian restaurant, let me reassure you that there's plenty of spiritual fulfillment hidden amongst your tofu delight. The restaurant was founded in 1995 by followers of Sri Chinmoy, a Bengali athlete, philosopher, and all-around nice guy who is the spiritual guide to students in over 60 countries around the world.
So while you're slurping your vegetable soup, you can watch Sri on the Victoire's TV, where he lifts cars and people above his head to prove the importance of transcendence and progress. You can even join the Sri Chinmoy Marathon Team, or inquire about his "Lifting Up the World with a Oneness-Heart" program. In this latter program, Sri lifts a special, transcendent individual above his head with one or both arms in order to symbolize their uplifting achievements.
You think you'd get that kind of encouragement from old McDonald?
I didn't think so. So tie up those vegan boots of yours, hop into your Smart car, and discover zen à la parisiènne.
Addresses:
Bioart

3 quai François Mauriac
01-45-85-66-88
Po Mana
39 rue des vinaigriers
01 40 37 19 19
La Victoire Suprême du Coeur
41 rue des Bourdonnais
1 40 41 93 95
http://www.vscoeur.com/
---

After working as a reporter and translator in New York, Spain, and Portugal, Jessica Powell moved to Paris to become the editor of an intellectual property magazine. She spends most of her free time trying to make the perfect chocolate dessert.
Leave a reply
Your email address will not be published. Required fields are marked *