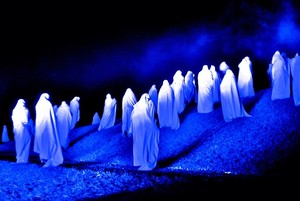 The ghosts of St Fargeau castle rising from the vaults
1,000 years of Burgundy history
For the past 35 years ghosts have risen each summer from the depths of St Fargeau castle, two hours south of Paris in the Puisaye region of France, totally off the tourists' beaten track.  Held every Friday and Saturday evening, this year from July 13th to August 24th 10:30pm to midnight in the park of the château, the production brings together over 600 participants.  With 60 horses and riders, thousands of costumes, twenty vehicles dating from WWII, professional stuntmen and even hounds accompanied by French horn players in their typical red and black uniforms, the ensemble makes it one of the largest sound and light presentations in France, second only to the famous Puy du Fou production in the Vendée region near Brittany.
After Académie Française writer and philosopher, Jean d'Ormesson, inherited the château in the mid 1950s, he tried to offer it to the French government.   Considering its size and ramshackle condition, the Minister of Culture under de Gaulle, André Malraux, quipped ironically that d'Ormesson might maybe also think to add a million francs to the offer.  A Belgian company ended up actually buying the château, while d'Ormessson went on to write "Au Plaisir de Dieu", based on childhood memories of summers spent at the castle.  Plaisir became a well-known novel subsequently adapted for French television in 1976.
The château's lake serves as a night-time reflecting stage for music, fire and light.
When current owner, Michel Guyot, acquired the château in 1979 for 100,000 francs, he began by redoing the 2.5 acres of roof! While renovating the dilapidated structure's walls, the new owner discovered the remains of a 13th-century fortress under the brick and ordered an archaeological study by medieval historians, architects and archaeologists.  With no government subsidies to help cover costs, he tried opening the castle to the public and renting out rooms as artist studios to help cover costs, but, however impressive it might be, few people took any real interest in the château.  In 1980 Guyot pulled together a festival, inviting the famous Comédie Française and the Paris Opera, but the experiment was also a flop.  Still Guyot wasn't one to give up easily.  The following year the present day sound and light show made its debuts and it's been going on full swing ever since.
Over 600 locals bring 1,000 years of history alive.
Today over 20,000 visitors regularly attend the event.   Crêpes and other snacks, but also dinners for €5 and up, are available at stands in the park starting at 7pm.  During that time, guests can stroll around and visit the myriad of horses, farm animals and props used in the show while they watch, speak to and take photos of the costumed participants preparing for the presentation.  They can also visit close-up and free of charge an impressive collection of ancient locomotives and railway cars on display in the park, some weighing over 80 tons.
Then, come 10:30pm, bathed in blue light, the ghosts arrive from all sides at once and from the château's beginnings in the 9th-century, 1,000 years of local history begin to unfold.  Across the crusades, the Hundred Years war, Joan of Arc, the Renaissance, the stupendous escape of Jacques Coeur from the top of the château, the French Revolution through two world wars, it's all there and all in wrap-around sound, fire and light until the final return of the ghosts to their vault beneath the walls of the château.
The inner courtyard of the château
Especially difficult to forget is the arrival on stage of "La Grande Mademoiselle, the Duchess of Montpensier, the richest noble in France of her time.  Banned in disgrace to St Fargeau by her cousin Louis XIV in 1652 for fomenting a revolt against the king in the French Parliament, she would transform St Fargeau into a palace worthy of the court at Versailles.   And when the evening finally comes to a close, it's with a remarkable fireworks display over the lake during curtain call, followed by a live concert of French horns as visitors leave the park through the château's illuminated inner courtyard.
You can read more about the dates, times and tickets for both the château and the show in English and get a glimpse of the spectacle on video.  Past experience tends to prove that you don't need to know French to appreciate the evening.  I've accompanied totally non French speaking guests there and they've all come home raving about their show as "the high point" of their visit to France.
Just in passing, during the day, children and parents can also visit the château's nearby farm.  It's a sort of pedagogical petting zoo and they can even ride in an authentic French stagecoach.  But the Puisaye region is also just a hop, skip and a jump away from both Northern Burgundy and the Loire River.  It holds a treasure throve of attractions rarely known to non-French visitors.  We'll continue to explore its wealth of possible visits in up-coming articles.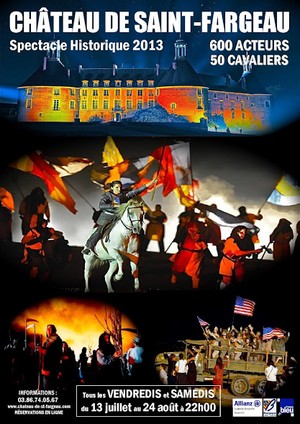 Official poster of this year's sound and light presentation
Visit to the castle
Opening
From March 20 to November 11 inclusive
Every day, from 10:00 to 12:00 and from 14:00 to 18:00
Every day, from 10:00 to 12:00 and from 14:00 to 19:00
Adults €10
Sound and light show
Friday and Saturday evenings from July 13th to August 24th 2013
Adults €17 (€15 if you show a ticket to neighbouring Guédelon's medieval site), children 6 to 15 €10, under 6 (on parents' knees) free. Note: Because of the numerous stunts involving horses, no animals are allowed.
Special thanks to Laurent Pandini and to the Château de St Fargeau site for the photos.

Subscribe for
FREE

weekly newsletters.
BonjourParis has been a leading France travel and French lifestyle site since 1995.
Readers' Favorites: Top 100 Books, imports & more at our Amazon store
We update our daily selections, including the newest available with an Amazon.com pre-release discount of 30% or more. Find them by starting here at the back of the Travel section, then work backwards page by page in sections that interest you.
Current favorites, including bestselling Roger&Gallet unisex fragrance Extra Vieielle Jean-Marie Farina….please click on an image for details.
Click on this banner to link to Amazon.com & your purchases support our site….merci!