Monet's Garden & Jardin des Plumes : Giverny : Armani Caffe Brunch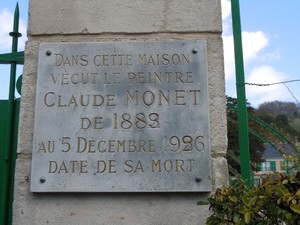 Today half a million garden lovers visit Monet's house and gardens between April and November, the setting looks familiar, of course, you've seen it all before, in Monet's paintings! "When is the best time to visit", I ask James Priest, the English head gardener. "Today", he smiles.
So how come, since February 2011, an Englishman is chef jardinier? Priest, who grew up in Lancashire, studied at The Royal Botanic Gardens, Kew, UK, originally moved to France to work for Baron Elie de Rothschild at the Palais Abbatial de Royaumont, near Chantilly and stayed for 17 years until he was approached by Hugues R. Gall of Fondation Monet.
And how was/is he accepted by the French? "Quite well really, except that if they don't agree with something I want they tell me they don't understand my French", he grins.
Priest says he paints in his spare time, the better to understand the gardens. He discovered Monet when he was student on holiday in Paris. 'I saw the Water Lilies in the Jeu de Paume and was struck by the emotion: this was about Monet wanting to recreate an emotional response to his subject. Later, I realised how, in attempting to capture light in paint, Monet was obsessed by the truth of what light revealed to him.
We walk through the gardens, under the Walter Annenberg tunnel, towards the wisteria-covered Japanese Bridge and Priest explains that in 1892, Claude Monet bought this piece of land, adjacent to the house, where he created the oriental water garden, the subject of so many paintings.
"To create the large pond, Monet diverted part of the Ru creek and planted the banks with willow trees, azaleas, bamboo, alders, irises, and of course, the water lilies. The hardy and tropical water lilies were planted in tubs and placed in the pond. That way, Monet could harmonize the colors and get growth where he wanted it. In season the water lilies range in colour from red to copper to yellow to white and pink. They need warm water so they'll be late this year, like everything else", sighs Priest.
Why not plant Monet's lilies in your garden?
The artist's original plant order with Latour-Marliac still survives, he began with a pink variety, Nymphaea 'Laydekeri Rosea' (sold as N. 'Laydekeri Rosea Prolifera') and two yellow ones, Nymphaea 'Odorata Sulphurea Grandiflora' and Nymphaea mexicana.
To order, go to the website and click on the £ for English.
Also on this site.
Fondation Claude Monet,
84 rue Claude Monet, 27620, Giverny,
T: 02 32 51 28 21
Open 7/7 from 9.30 am – 6pm
April 1st-November 31st. 9€50
45 minutes by train from Gare Saint Lazare to Vernon Station
Then take the shuttle bus

Restaurant les Nymphéas
Rent bikes and tour the village, visit the church and Monet's grave. The Hotel Baudy, where Monet and friends used to meet (I'm talking his BF's Cezanne, Renoir, Rodin, Sisley, Pissarro etc.). Take a boat/walking trip and visit the art galleries. Tourist Office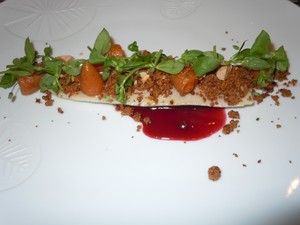 Is young talent Eric Guérin's second maison, his first, the Michelin starred La Mare aux Oiseaux is in Brittany. Guérin's a nature-loving Normandy boy, his mother, who has an art gallery in Giverny, is a talented interior designer.  So, when a beautiful anglo/normande style villa (built in 1912) which once belonged to Armand Picard, a pupil of Gustav Eiffel, went on the market Guérin decided it was for him.
Guérin and his team worked on the house for two years and opened last November. The theme's art- déco meets contemporary country house hotel. "Everyone wants to buy the furniture", says directrice Nadia Socheleau. Add magnificent gardens, a terrace for warm days and note that Monet's house/ gardens are just a few minutes away.
A quirky guy, Guérin loves hunting, shooting, fishing and birds of a feather. He's named his 4 rooms and 4 suites for his favourite plumed animals so book: La nègre soie: La Sultane: La Javanaise (my room!) La Faverolle: La Cotentine: La Courte Patte: La Brahma or La Coucou. "Jardin des Plumes: one of the good surprises of this autumn", says Figaro.
In the semi-open kitchen Joackim Salliot, who worked with Guérin at La Mare aux Oiseaux, insists his style is different, concentrates on sending out the freshest ingredients interpreted in his young style, lots of technique, lots of flavour and passion.
Tiny starters such as a Tiramisu of cauliflower, gambas and baby blinis. Warm home-made bread and Bordier butter. Low temperature cooked trout, carottes des sables, vinaigrette acidulée au jus de raisin. Variations on Burrata. Sommelier Francesco Occulto suggests Chinon Blanc 2010 by Beatrice et Pascal Lambert (50€). 80% of Jardin's wines are bio-dynamic or try the Vin de Pays des Bouches du Rhone 2009 from Minna Vineyard (49€). For Ashton: Joue de boeuf confite, pomme de terre confite, chou pak-choi et jus à la citronelle or Barbue, semoule végetale, broccoli and in a china pot, fragrant bouillon au parmesan. Local cheese and then dessert, light constructions, spins on the classic lemon and chocolate mousses and tarts. A tour round the gardens, a wish made under the centuries old trees and so to bed.
I rue du Milieu, 27620 Giverny,
T: 02 32 54 26 35
8 Rooms and Suites from 180-320€
Breakfast 17-22€
Lunch 29-36€ + A La Carte
Dinner from 46-80€ + wine
Shut Monday and Tuesday lunch
Caffe Armani Brunch Milanese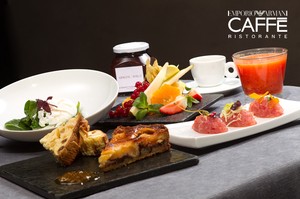 Massimo Mori and his famiglia run the best Italians in town. "Le chic dans les vêtements, le chic dans l'assiette", says Le Figaro. There's a warm welcome, some slebs to spot and after a hard days night a carbohydrate calorie packed brunch to set you up for an afternoon of museums, window gazing or joining/watching/getting stuck in the demonstrations that are part of dimanche in Paris. Buy newspapers from Ali Akbar when he arrives at Caffe Armani and shouts out his fake scoops like, "Hollande resigns, it's official".
On the Milanese Brunch menu there could be the following, but "we change it nearly every week", says Massimo. To begin: Pandoro Armani/Dolci servi avec son sabayon: Armani jams and honey: Baccala' fresco mantecato, polenta de "Blave": Cappuccino de Mozza de Bufflonne D.O.P et tomates Pachino: Gnocchi "tricolore" sauce Gorgonzola de Novara et noix ou à la sauce tomate: Oeuf poché aux asperges. Dessert du jour, ananas marinato. Generoso e deliziosa. Ci vediamo lì
149 Boulevard Saint-Germain
M: Saint Germain des Pres
T: 01 45 48 62 15
Brunch Milanese – From 12 noon-16h
39€ 45€ with a flute of prosecco
Open 7/7
Leave a reply
Your email address will not be published. Required fields are marked *