Celebrating Russian Easter in Paris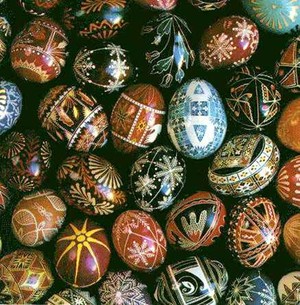 Ukrainian style Easter eggs One Easter, two dates Ever wonder how one Easter could have two dates depending on where you live? Well, it was all Pope Gregory XIII's fault five centuries ago. In both the East and the West Easters vary each year anyway since the date depends on the phases of the moon and the March 21st spring equinox. But when, in 1582, Pope Gregory drew up what we call today the "Gregorian calendar", the Orthodox Church decided not to follow in stride and to keep the traditional "Julian calendar" established by Julius Cesar in 46 BC. As a result in 2013 Orthodox Easter doesn't fall on March 31st, but on Sunday, May 5th and the Russian Easter celebration will begin on Wednesday, May 1st. Of course May 1st happens to be the one day of the year when hundreds of thousands of French "hit the streets" to demonstrate full force with trade union symbols, banners, horns, slogans and cries in the best of the Bastille tradition. But if this French "Fête du travail" tradition dates back to 1889, the celebration actually began three years earlier in Chicago and was intended to demand an 8 hour workday. May Day is also the one day of the year when no-one, adult or child alike, needs a vendor's licence to sell bunches of "muguet" (Convallaria majalis) on street corners all over the country. Here in northern Burgundy we are lucky enough to live on the edge of a forest where this sweet smelling (and very toxic) flower grows everywhere. But if you pick or buy a bunch of muguet, lily of the valley in English, try and remember, especially if you have children, that every part of the flower is poisonous and it's best to wash your hands once you've placed it in the vase! In Europe lilies of the valley also go by the name "larmes de Sainte Marie" (Saint Mary's tears) and have a deeply religious significance. Where to celebrate Russian Easter in Paris In Paris, the 150 years old Alexander-Nevsky Cathedral, rue Daru in the 8 tharrondissement, is the main Russian church, though there are 17 other Russian churches or around the city and another 47 elsewhere in France. Most Russian people are Christian Orthodox and they have a unique way of saying "Happy Easter" on Easter Day. One person greets another with 'Christ has risen." to which the other person responds, "Indeed, he has risen." If you're in Paris, why not celebrate Russian Easter with blinis, borsch and vodka at one of the local restaurants before attending Saturday evening Russian midnight mass? The candle light procession and deep bass voices will sweep you away to the age old traditions of the mother country where baskets of red eggs, koulitch cakes and cream cheese paskas were brought to church before the priest's candle lit all of the other candles and the baskets set outside the church received the Easter blessing. You can see a short version of what you'll be attending here in Paris
here
. Alexander-Nevsky Cathedral in Paris (8°) Cathédrale Saint Alexandre Nevsky Patriarcat de Constantinople 12, rue Daru 75008 Paris Métro : "Ternes" ou "Courcelles" (2ème ligne) You'll find a list of Russian churches at and a program various Russian events going on this spring and summer both in Paris and in other cities in France including a presentation of Stravinsky's Sacré du Printemps at the Théâtre des Champs Elysées at two addresses – 
in French
and
in English
, just click on the language version.  You'll also find Russian grocers, restaurants, Easter markets, Russian language and conversation courses as well as places to buy koulitch and paskhas.  If, on the other hand, you're into making the cake yourself, here's also an
address
in English with a photo and recipe for your own koulitch and paskhas. Candle-lit procession outside of Alexandre-Nevsky Cathedral Fabergé Easter eggs and the Russian Tsars It is impossible to speak about Russian Easter without mentioning the fabulous Fabergé Easter eggs. Born in St Petersburg into a Franco-Danish family who immigrated to Russia in 1830, when Louis XIV cracked down on the protestant minorities in France by revoking the Edit of Nantes, Pierre-Karl Fabergé (1846 – 1920) followed in his family's footsteps and became a renowned jewellery maker. When the family moved to Dresden, Germany, the young Pierre-Karl attended a major German arts and craft school before touring Europe to perfect his craftsmanship and returning to St Petersburg to continue perfecting his trade. The House of Fabergé became above all famous for its Russian, jewel incrusted Easter eggs. Their first egg was made for Tsar Alexander III in 1885, who offered it to his wife, and the Tsar, Nicola II, had a standing order for two Fabergé gem encrusted eggs every year. What made the Fabergé eggs unique was not only the jewels, but, like the chocolate eggs Louis XIV offered to his courtesans, the unique surprises hidden inside each one. You can see Fabergés magnificent eggs by clicking on the videos
here
. The Fabergé family was forced to leave Russia in 1917, but Pierre-Karl's great granddaughters still live in France today. In 2010 the family opened their first "boutique" in Geneva, Switzerland and displayed their first jewellery collection since 1918. The Madona's Lily clock, created by Fabergé in 1899 pour Nicolas II. Note that if you're looking for the connection, as I was, between Russia and Fabergé perfume, it's what the French would call a bit "tordu" or twisted. An American oil magnate of Russian descent by the name of Armand Hammer acquired several of the House of Fabergé's jewel incrusted eggs when Stalin needed money badly and was selling several of them off for scarcely more than $400 each.  Once Hammer decided to create the now famous cosmetics company, he neglected, however, to inform the Fabergé family that he was "borrowing"…
SUBSCRIBE
ALREADY SUBSCRIBED?
BECOME A BONJOUR PARIS MEMBER

Gain full access to our collection of over 5,000 articles and bring the City of Light into your life. Just 60 USD per year.

Find out why you should become a member here.

Sign in

Fill in your credentials below.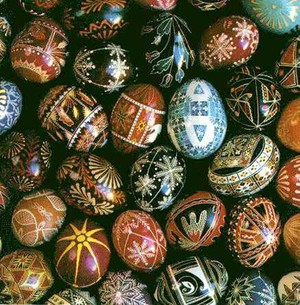 Ukrainian style Easter eggs
One Easter, two dates
Ever wonder how one Easter could have two dates depending on where you live? Well, it was all Pope Gregory XIII's fault five centuries ago. In both the East and the West Easters vary each year anyway since the date depends on the phases of the moon and the March 21st spring equinox. But when, in 1582, Pope Gregory drew up what we call today the "Gregorian calendar", the Orthodox Church decided not to follow in stride and to keep the traditional "Julian calendar" established by Julius Cesar in 46 BC. As a result in 2013 Orthodox Easter doesn't fall on March 31st, but on Sunday, May 5th and the Russian Easter celebration will begin on Wednesday, May 1st.
Of course May 1st happens to be the one day of the year when hundreds of thousands of French "hit the streets" to demonstrate full force with trade union symbols, banners, horns, slogans and cries in the best of the Bastille tradition. But if this French "Fête du travail" tradition dates back to 1889, the celebration actually began three years earlier in Chicago and was intended to demand an 8 hour workday.
May Day is also the one day of the year when no-one, adult or child alike, needs a vendor's licence to sell bunches of "muguet" (Convallaria majalis) on street corners all over the country. Here in northern Burgundy we are lucky enough to live on the edge of a forest where this sweet smelling (and very toxic) flower grows everywhere. But if you pick or buy a bunch of muguet, lily of the valley in English, try and remember, especially if you have children, that every part of the flower is poisonous and it's best to wash your hands once you've placed it in the vase! In Europe lilies of the valley also go by the name "larmes de Sainte Marie" (Saint Mary's tears) and have a deeply religious significance.
Where to celebrate Russian Easter in Paris
In Paris, the 150 years old Alexander-Nevsky Cathedral, rue Daru in the 8 tharrondissement, is the main Russian church, though there are 17 other Russian churches or around the city and another 47 elsewhere in France. Most Russian people are Christian Orthodox and they have a unique way of saying "Happy Easter" on Easter Day. One person greets another with 'Christ has risen." to which the other person responds, "Indeed, he has risen." If you're in Paris, why not celebrate Russian Easter with blinis, borsch and vodka at one of the local restaurants before attending Saturday evening Russian midnight mass? The candle light procession and deep bass voices will sweep you away to the age old traditions of the mother country where baskets of red eggs, koulitch cakes and cream cheese paskas were brought to church before the priest's candle lit all of the other candles and the baskets set outside the church received the Easter blessing. You can see a short version of what you'll be attending here in Paris here.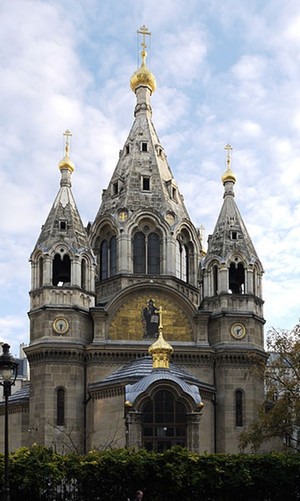 Alexander-Nevsky Cathedral in Paris (8°)
Cathédrale Saint Alexandre Nevsky
Patriarcat de Constantinople
12, rue Daru
75008 Paris
Métro : "Ternes" ou "Courcelles" (2ème ligne)
You'll find a list of Russian churches at and a program various Russian events going on this spring and summer both in Paris and in other cities in France including a presentation of Stravinsky's Sacré du Printemps at the Théâtre des Champs Elysées at two addresses – in French and in English, just click on the language version.  You'll also find Russian grocers, restaurants, Easter markets, Russian language and conversation courses as well as places to buy koulitch and paskhas.  If, on the other hand, you're into making the cake yourself, here's also an address in English with a photo and recipe for your own koulitch and paskhas.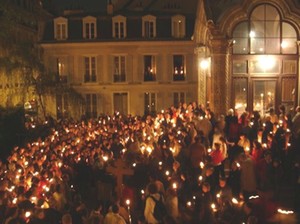 Candle-lit procession outside of Alexandre-Nevsky Cathedral
Fabergé Easter eggs and the Russian Tsars
It is impossible to speak about Russian Easter without mentioning the fabulous Fabergé Easter eggs. Born in St Petersburg into a Franco-Danish family who immigrated to Russia in 1830, when Louis XIV cracked down on the protestant minorities in France by revoking the Edit of Nantes, Pierre-Karl Fabergé (1846 – 1920) followed in his family's footsteps and became a renowned jewellery maker. When the family moved to Dresden, Germany, the young Pierre-Karl attended a major German arts and craft school before touring Europe to perfect his craftsmanship and returning to St Petersburg to continue perfecting his trade.
The House of Fabergé became above all famous for its Russian, jewel incrusted Easter eggs. Their first egg was made for Tsar Alexander III in 1885, who offered it to his wife, and the Tsar, Nicola II, had a standing order for two Fabergé gem encrusted eggs every year. What made the Fabergé eggs unique was not only the jewels, but, like the chocolate eggs Louis XIV offered to his courtesans, the unique surprises hidden inside each one. You can see Fabergés magnificent eggs by clicking on the videos here. The Fabergé family was forced to leave Russia in 1917, but Pierre-Karl's great granddaughters still live in France today. In 2010 the family opened their first "boutique" in Geneva, Switzerland and displayed their first jewellery collection since 1918.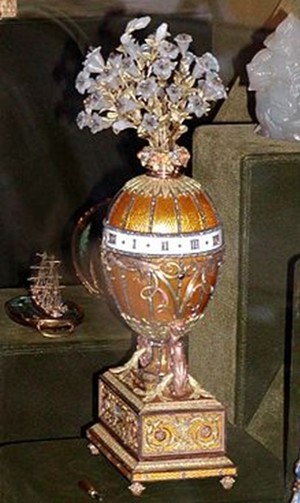 The Madona's Lily clock, created by Fabergé in 1899 pour Nicolas II.
Note that if you're looking for the connection, as I was, between Russia and Fabergé perfume, it's what the French would call a bit "tordu" or twisted. An American oil magnate of Russian descent by the name of Armand Hammer acquired several of the House of Fabergé's jewel incrusted eggs when Stalin needed money badly and was selling several of them off for scarcely more than $400 each.  Once Hammer decided to create the now famous cosmetics company, he neglected, however, to inform the Fabergé family that he was "borrowing" their name for his products. The family didn't have the means to afford long proceedings, so the matter was settled out of court and the word "Paris" was added to the cosmetic trademark.
And by the way, just in case you're tempted by the idea of investing in and offering a dozen or so of those magnificent Fabergé eggs to your spouse, we should probably warn you that the "Rothschild egg", a clock made by Pierre-Karl for Beatrice Rothschild in 1902 containing a gem studded bird that rises up out of the top of the egg, flaps its wings and sings the hours, sold at Christie's in London in 2007 for $18.4 million and that didn't even include the commission. But it's ok, if you're not all that rich, you can always offer him or her homemade cream cheese paskhas, koulithis cake, a good bottle of authentic Russian vodka and, maybe, a little bunch of lily of the valley? I'm sure they'll understand.
More in Easter, Fabergé, Madona's Lily clock, Russian Easter
---
---