When I was at the airport during the volcanic eruption there was a charming, organized, affluent American couple trying to get home. They were the first in line at the check-in for what would be the first flight out of CDG in days. Naturally, the flight was delayed and naturally, they were both armed with Blackberrys that they were using to contact travel agents, computer-savvy friends and the airlines for alternatives home, while their less-equipped European counterparts (me included) had to just sit there and hope for the best. An announcement or two later, world traveler that I am, I realized that the best plan of action was to proceed directly to the ticket sales counter. I was the second person in line. As I waited, an altercation unfolded. A local gentleman had slid up to the counter, cutting in front of our tech-savvy travelers. The American was irate and started spewing off about "these French" and how they are always queue jumping. He had a point. On the other hand, isn't that exactly what he and his wife had been doing with their mobile phones? And hadn't I done the same by getting myself to the ticket counter before anyone else had had time to understand what was necessary? And it came to me, we are all always trying to be first in line, it is just that our approaches are very different. At the market you will see a dozen people waiting to purchase fish, while a neighboring fishmonger's stand is virtually empty. My American guests invariably head to the empty stall where the fish looks just as fresh. I intervene, explaining that either the busy stand has a particular specialty that those in the know find worth waiting for, or it has the best prices at the market, or the staff is incredible generous with their pricing. Whatever it is, the French don't stand in line for nothing, so I recommend jumping in the long queue and watching carefully to discover the why. This begs the question, do the French stand in line at all? Not if they can help it. They love queue jumping as much as the rest of us, and they can get away with it more because no matter what anyone says, the class system still exists. A well-dressed Parisienne, her head in the air, can walk straight to the front of the line as if the rest of us simply do not exist. And she gets away with it because everyone is convinced she is a VIP, with a special pass that gives her that superior air and the right to enter without queuing.  rankly, they don't give it a second thought. Then there is the fear of "getting involved", which is directly related to the fear of being "wrong". What if we stop her and she is a VIP? Not such a big deal now, but imagine the scandal it could have been when Marie Antoinette was sneaking into town with her pals. Could have cost somebody their lives. That was 200 years ago, but old habits die hard, so today, it is the lonely American who conjures up her Boston Tea Party courage to shout, "Hey, that's not right!" despite the local glares. At least that is how I used to handle the situation; now I just walk right up there, pretending to be one with Madame and hoping to avoid the line myself—at least until somebody wises up and asks for my head! For more French cultural tips from Sylvia and others go to
www.girlsguidetoparis.com
. Sylvia also conducts market tours, art and antique buying tours and family museum visits. For more info email
[email protected]
. Paris Shuttle is the leading provider of pre-bookable airport transfers in Paris. Book your airport transfer with 
Paris-Shuttle.com
and save up to 30%. Please post your comments or questions and let them flow. Register 
HERE
to do so if you need a Bonjour Paris user name and password.
SUBSCRIBE
ALREADY SUBSCRIBED?
BECOME A BONJOUR PARIS MEMBER

Gain full access to our collection of over 5,000 articles and bring the City of Light into your life. Just 60 USD per year.

Find out why you should become a member here.

Sign in

Fill in your credentials below.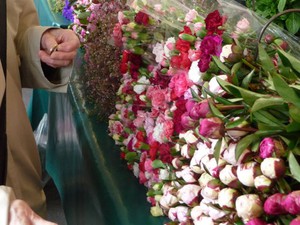 When I was at the airport during the volcanic eruption there was a charming, organized, affluent American couple trying to get home. They were the first in line at the check-in for what would be the first flight out of CDG in days. Naturally, the flight was delayed and naturally, they were both armed with Blackberrys that they were using to contact travel agents, computer-savvy friends and the airlines for alternatives home, while their less-equipped European counterparts (me included) had to just sit there and hope for the best.
An announcement or two later, world traveler that I am, I realized that the best plan of action was to proceed directly to the ticket sales counter. I was the second person in line. As I waited, an altercation unfolded. A local gentleman had slid up to the counter, cutting in front of our tech-savvy travelers. The American was irate and started spewing off about "these French" and how they are always queue jumping. He had a point. On the other hand, isn't that exactly what he and his wife had been doing with their mobile phones? And hadn't I done the same by getting myself to the ticket counter before anyone else had had time to understand what was necessary? And it came to me, we are all always trying to be first in line, it is just that our approaches are very different.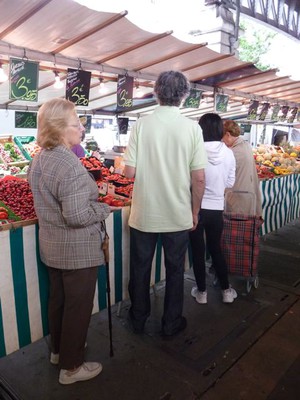 At the market you will see a dozen people waiting to purchase fish, while a neighboring fishmonger's stand is virtually empty. My American guests invariably head to the empty stall where the fish looks just as fresh. I intervene, explaining that either the busy stand has a particular specialty that those in the know find worth waiting for, or it has the best prices at the market, or the staff is incredible generous with their pricing. Whatever it is, the French don't stand in line for nothing, so I recommend jumping in the long queue and watching carefully to discover the why.
This begs the question, do the French stand in line at all? Not if they can help it. They love queue jumping as much as the rest of us, and they can get away with it more because no matter what anyone says, the class system still exists. A well-dressed Parisienne, her head in the air, can walk straight to the front of the line as if the rest of us simply do not exist. And she gets away with it because everyone is convinced she is a VIP, with a special pass that gives her that superior air and the right to enter without queuing.  rankly, they don't give it a second thought.
Then there is the fear of "getting involved", which is directly related to the fear of being "wrong". What if we stop her and she is a VIP? Not such a big deal now, but imagine the scandal it could have been when Marie Antoinette was sneaking into town with her pals. Could have cost somebody their lives. That was 200 years ago, but old habits die hard, so today, it is the lonely American who conjures up her Boston Tea Party courage to shout, "Hey, that's not right!" despite the local glares. At least that is how I used to handle the situation; now I just walk right up there, pretending to be one with Madame and hoping to avoid the line myself—at least until somebody wises up and asks for my head!
For more French cultural tips from Sylvia and others go to www.girlsguidetoparis.com.
Sylvia also conducts market tours, art and antique buying tours and family museum visits. For more info email [email protected].

Paris Shuttle is the leading provider of pre-bookable airport transfers in Paris. Book your airport transfer with Paris-Shuttle.com and save up to 30%.
Please post your comments or questions and let them flow. Register HERE to do so if you need a Bonjour Paris user name and password.
More in cultural differences, French etiquette, Museum, Paris, Paris airports, Paris cell phone, Shopping, travel
---
---