Everything I read about public transportation in Paris before a May trip advised against taking the métro with a wheelchair. Many trains and stations aren't accessible, warned the web sites and bloggers, and where there are elevators, they often break down. The general consensus was that buses are better. So when fellow traveler Fred and I were planning an afternoon excursion from the Renaissance Paris Vendôme Hotel near the Louvre, our home for two nights, to La Cinémathèque Française in Bercy, we tried to map out a bus route. But just as we were figuring out how many times we'd have to transfer, the concierge came up with a better idea: Métro Line 14. Originally opened in 1998–I learned from later research–Line 14 cuts across the center of Paris and currently runs between the Saint-Lazare and Olympiades stations with a total of nine stops, though extensions are planned at both ends. It's the deepest of the regular métro lines, apparently because when it was built, the city's higher subterranean levels already were crowded with other lines and infrastructure. Besides elevators at every station, amenities for people with disabilities include visible indicators near train doors to alert the hearing-impaired to door closure. Stations are audibly announced twice at each stop on the line. Sets of glass doors at the platform edges are kept closed when there's no train at the station, preventing passengers from falling onto the track–or committing suicide. All the trainsets are continuous, so you can walk from one end of the train to the other while inside. The concierge recommended taking the train from Pyramides, the stop nearest the hotel, but we headed for Madeleine instead to check out the sights (more about these in another story). There are several entrances to the métro, and we had trouble finding the one that didn't involve long flights of steps until we saw a very tall glass box rising from the sidewalk near the back of the famous Church of the Madeleine. Down we went in the box-enclosed lift, which was large by Parisian standards but small by American ones. (A wheelchair and a few people fit, but not a wheelchair and baby stroller.) Then down, down, down in more elevators, sensibly located near the escalators so we didn't get lost. When we finally got to the platform, the train came quickly. It wasn't crowded, maybe because it was Sunday, and the ride was enjoyable. The highlight: an indoor tropical garden we could see through the train windows at the Gare de Lyon. Our stop was Bercy, home of the Ministry of Finance and the Paris-Bercy Sports Arena, as well as of the Cinémathèque. If we'd continued two more stops, we could have gone to the Bibliothèque Nationale de France, the city's biggest library. And for a minute we thought we were going to have to get back on the train, because the sortie wide enough for wheelchairs was locked up tight and clearly not in use, a problem we also encountered at the Madeleine station on the return trip. Fortunately, someone was on duty at the ticket booth to unlock a different gate and let us out. After asking directions at a newsstand, we rolled the few blocks to La Cinémathèque Française (52 rue de Bercy), passing the sports arena and a few cafés along the way. Located on the edge of the tranquil Bercy Park, the goofy-looking honey-toned building was designed by Frank Gehry and constructed in 1994 for the American Center, which closed two years later. It became the permanent home of the peripatetic Cinémathèque in 2005, and after a €34 million renovation, facilities include several floors of museum space, four screening rooms, a multimedia library, and a bookstore–the better to carry out the mission of film pioneer Henri Langlois, who founded the first institution of its kind in 1936 to preserve important films and make them available to the public. The museum's permanent collection, dramatically installed by Italian designer Massimo Quendolo, traces the history of motion pictures from the earliest shadow puppets and stereoscopic viewers to modern props and clips, both silent and talkie. Among the most valuable items is a 1778 camera obscura bearing the arms of King George III. Louise Brook's sparkly silver flapper dress and Mae West's serpent-topped headdress are among the sumptuous costumes. For hands-on fun, you can turn a wheel and watch a seagull fly or spin a dial and see a ballerina dance. The audio guide is free with admission, but we preferred to wander, stopping to listen to old filmed interviews, laugh at Charlie Chaplin being hurled through the assembly-line cogs and wheels in Modern Times (1936), and marvel at Fritz Lang's haunting vision of a female robot starting to move in Metropolis (1927), with the gold-painted wooden version "watching" from a nearby cabinet. The current special exhibition, entitled "Tournages: Paris-Berlin-Hollywood 1910-1939," explores the relationships among these hotbeds of early movie-making and the visionaries who made it all possible. Organized partly by aspects of film (studios, sound, lights, décor, cameras) and partly by famous directors (D.W. Griffith, Cecil B. DeMille, Ernst Lubitsch, Erich von Stroheim, etc.), it brings together a wealth of information and marvelous old photographs. I especially loved some of the behind-the-scenes shots on the set and staged snaps of movie stars like Clark Gable and Myrna Loy pretending to be behind the camera even if they didn't have a clue how to operate one. The special exhibit continues through August, and the website (
www.cinemathequefrancaise.com
) has the schedule of related screenings, programs, and other relevant information, such as admission charges. Because of my wheelchair, admission was free for Fred and me, and the Cinémathèque was completely accessible. This included the adjacent gardens, which were in full bloom with lovely floral arrangements and relatively smooth pathways. We considered relaxing over a coffee at the café, which has outdoor seating overlooking the park, but we still had so much to see and do in…
SUBSCRIBE
ALREADY SUBSCRIBED?
BECOME A BONJOUR PARIS MEMBER

Gain full access to our collection of over 5,000 articles and bring the City of Light into your life. Just 60 USD per year.

Find out why you should become a member here.

Sign in

Fill in your credentials below.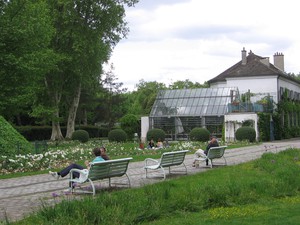 Everything I read about public transportation in Paris before a May trip advised against taking the métro with a wheelchair. Many trains and stations aren't accessible, warned the web sites and bloggers, and where there are elevators, they often break down. The general consensus was that buses are better.
So when fellow traveler Fred and I were planning an afternoon excursion from the Renaissance Paris Vendôme Hotel near the Louvre, our home for two nights, to La Cinémathèque Française in Bercy, we tried to map out a bus route. But just as we were figuring out how many times we'd have to transfer, the concierge came up with a better idea: Métro Line 14.
Originally opened in 1998–I learned from later research–Line 14 cuts across the center of Paris and currently runs between the Saint-Lazare and Olympiades stations with a total of nine stops, though extensions are planned at both ends. It's the deepest of the regular métro lines, apparently because when it was built, the city's higher subterranean levels already were crowded with other lines and infrastructure.
Besides elevators at every station, amenities for people with disabilities include visible indicators near train doors to alert the hearing-impaired to door closure. Stations are audibly announced twice at each stop on the line. Sets of glass doors at the platform edges are kept closed when there's no train at the station, preventing passengers from falling onto the track–or committing suicide. All the trainsets are continuous, so you can walk from one end of the train to the other while inside.
The concierge recommended taking the train from Pyramides, the stop nearest the hotel, but we headed for Madeleine instead to check out the sights (more about these in another story). There are several entrances to the métro, and we had trouble finding the one that didn't involve long flights of steps until we saw a very tall glass box rising from the sidewalk near the back of the famous Church of the Madeleine.
Down we went in the box-enclosed lift, which was large by Parisian standards but small by American ones. (A wheelchair and a few people fit, but not a wheelchair and baby stroller.) Then down, down, down in more elevators, sensibly located near the escalators so we didn't get lost. When we finally got to the platform, the train came quickly. It wasn't crowded, maybe because it was Sunday, and the ride was enjoyable. The highlight: an indoor tropical garden we could see through the train windows at the Gare de Lyon.
Our stop was Bercy, home of the Ministry of Finance and the Paris-Bercy Sports Arena, as well as of the Cinémathèque. If we'd continued two more stops, we could have gone to the Bibliothèque Nationale de France, the city's biggest library. And for a minute we thought we were going to have to get back on the train, because the sortie wide enough for wheelchairs was locked up tight and clearly not in use, a problem we also encountered at the Madeleine station on the return trip. Fortunately, someone was on duty at the ticket booth to unlock a different gate and let us out.
After asking directions at a newsstand, we rolled the few blocks to La Cinémathèque Française (52 rue de Bercy), passing the sports arena and a few cafés along the way. Located on the edge of the tranquil Bercy Park, the goofy-looking honey-toned building was designed by Frank Gehry and constructed in 1994 for the American Center, which closed two years later. It became the permanent home of the peripatetic Cinémathèque in 2005, and after a €34 million renovation, facilities include several floors of museum space, four screening rooms, a multimedia library, and a bookstore–the better to carry out the mission of film pioneer Henri Langlois, who founded the first institution of its kind in 1936 to preserve important films and make them available to the public.
The museum's permanent collection, dramatically installed by Italian designer Massimo Quendolo, traces the history of motion pictures from the earliest shadow puppets and stereoscopic viewers to modern props and clips, both silent and talkie. Among the most valuable items is a 1778 camera obscura bearing the arms of King George III. Louise Brook's sparkly silver flapper dress and Mae West's serpent-topped headdress are among the sumptuous costumes. For hands-on fun, you can turn a wheel and watch a seagull fly or spin a dial and see a ballerina dance. The audio guide is free with admission, but we preferred to wander, stopping to listen to old filmed interviews, laugh at Charlie Chaplin being hurled through the assembly-line cogs and wheels in Modern Times (1936), and marvel at Fritz Lang's haunting vision of a female robot starting to move in Metropolis (1927), with the gold-painted wooden version "watching" from a nearby cabinet.
The current special exhibition, entitled "Tournages: Paris-Berlin-Hollywood 1910-1939," explores the relationships among these hotbeds of early movie-making and the visionaries who made it all possible. Organized partly by aspects of film (studios, sound, lights, décor, cameras) and partly by famous directors (D.W. Griffith, Cecil B. DeMille, Ernst Lubitsch, Erich von Stroheim, etc.), it brings together a wealth of information and marvelous old photographs. I especially loved some of the behind-the-scenes shots on the set and staged snaps of movie stars like Clark Gable and Myrna Loy pretending to be behind the camera even if they didn't have a clue how to operate one. The special exhibit continues through August, and the website (www.cinemathequefrancaise.com) has the schedule of related screenings, programs, and other relevant information, such as admission charges. Because of my wheelchair, admission was free for Fred and me, and the Cinémathèque was completely accessible. This included the adjacent gardens, which were in full bloom with lovely floral arrangements and relatively smooth pathways. We considered relaxing over a coffee at the café, which has outdoor seating overlooking the park, but we still had so much to see and do in Paris that we took the now-trusted Métro Line 14 back to the heart of town.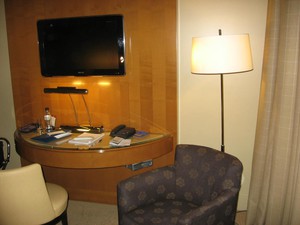 The Renaissance Paris Vendôme Hotel, 4 rue du Mont Thabor (www.renaissancehotels.com), was one of the three hotels we stayed at on this trip to Paris. It has a great location on a quiet street near the Louvre and charming public spaces including the adorable Bar Chinois, a lobby that's candlelit at night, and a little guest lounge with a fireplace, couches, and art books for browsing as you sip free nonalcoholic beverages and snack on candy from big jars. Chef Alain Dutournier's restaurant, Pinxo, is popular for its Basque-Asian fusion cuisine, and though we didn't have dinner there, we enjoyed the generous breakfast buffet with everything from smoked salmon and cured meats to a jam bar. Unusual amenities include an indoor, heated swimming pool, but it's not accessible because of several steps.
We'd requested a wheelchair-accessible room with twin beds and a roll-in shower, but the helpful staffer who showed us to Room 301 admitted that all that made it accessible was slightly wider doorway. Basically, she was right, and the space was so tight, we couldn't even get my wheelchair next to the bed. We moved to Room 215, which wasn't any bigger but at least had a separate shower stall (one small step) in the compact bathroom. The door to the room was wide enough for my small-wheeled chair.
The hotel joined Marriott International's portfolio–and was branded a Renaissance–in 2005, so hopefully improvements will be made in the area of accessibility. Like so many other hotels, it could start by lowering at least part of the reception/concierge desk, though the concierge was sensitive enough to come out from behind it to talk to us.
* All photos by Fred Swanson
Take trips, not chances. For peace of mind each and every time you travel, enroll for MedjetAssist evacuation services.
Please post your comments or questions and let them flow. Register HERE to do so if you need a Bonjour Paris user name and password.
More in France accessibility, Paris exhibitions, Paris hotels, Paris metro, Paris museums, Paris sightseeing
---
---