Le Gamin au Velo: The Other Film at Cannes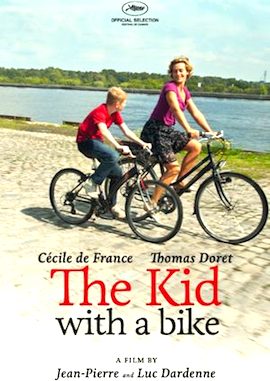 It's startling how much attention this year's Festival de Cannes devoted to the hype for The Tree of Life (whatever that film's genuine qualities). Yet there was another important film at Cannes, Le Gamin Au Vélo (The Kid with a Bike), directed by the Dardennes brothers, Jean-Pierre and Luc, which won the Grand Prix.
Gamin plunges us into the story of Cyril (Thomas Doret), a motherless young boy whose father Guy has dumped him in a prison-like institution. Cyril is ferociously desperate to go back to his father. His most precious possession is the bike his father gave him, and when the film opens he's desperate to get it back from a boy who supposedly stole it (in fact the father sold it). When the boy runs away from caretakers he crashes into Samantha (Cécile de France), a beautician. Feeling sorry for Cyril, she buys the bike back for him and agrees to take him in on weekends. She gradually becomes deeply involved with him, which costs her a good deal of anguish and even her partner.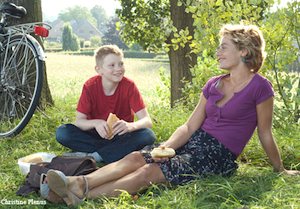 The Dardennes brothers are masterful, assured filmmakers. Their camerawork is clean, yet has the intimate, saturated quality of 16mm. The filmmakers know how to bring out the evocative side of the drab Belgian setting, calling to mind the great Flemish painters. You might not want to live there, but you don't mind visiting for a couple of hours.
The directors are especially good filming Cyril speeding on his bike.  Cyril's bicycle becomes an embodiment of sheer energy and freedom. It's also Cyril's link with his father and normal boyhood. Yet the material thing is also constant bait for thieves, and gets him into trouble. It's a multi-faceted image, somewhere between Bicycle Thief and Breaking Away.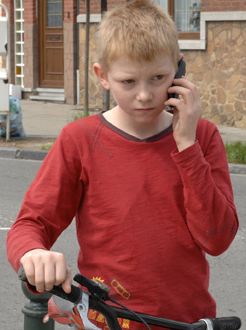 Thomas Doret as Cyril gives a very powerful performance, very similar to Hunter McCracken in The Tree of Life. He dominates the film, burning a hole in the screen and in your heart. Cécile de France, the Belgian actress who's achieved renown in French films like L'Auberge Espagnol, is sympathetic and soulful, believable whether she is toughing out a miserable situation or momentarily breaking down. Cyril gets entangled with a drug-dealer played by Egon di Matéo, who effectively plays a clichéd role. He looks like Sal Mineo playing the bad boy in an old-fashioned juvenile delinquent tearjerker.
The one role strong enough to counterbalance the character of Cyril is ironically that of Jérémie Renier, playing his irresponsible father. Looking a bit like a young Jon Voight, Renier turns weakness and fecklessness into positive qualities—at least performance-wise. It's painful watching Guy's pained, pathetic indifference to his own child expanding into a filial black hole.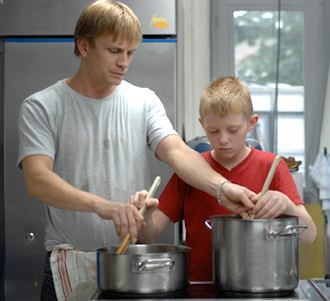 The Dardennes brothers made their reputation in depicting neo-realistically grim slices of Belgian life (Rosetta). But this movie harkens back to the Hollywood films of the 50s (and even the 30s and 40s) about troubled youths helped by some good-hearted adult. In fact Kid with a Bike goes back even further, to Dickensian melodrama—all those novels from Oliver Twist to Little Dorrit about abandoned, parentless children left to a pitiless society.
Cyril's search for his deadbeat dad (a darker version of Mr. Micawber) has a primal pull on our emotions. But the melodrama turns implausible and contrived with Samantha's "me or him" confrontation with her boyfriend, Cyril's entanglement with the dealer (a combination of Artful Dodger and Fagin), and a violent showdown with a young man he robbed. At least the Dardennes brothers depict Cyril as hapless in the most melodramatic episodes, just as they leave the ending open-ended, rather than coming to any neat conclusions.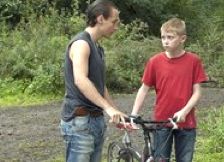 The Tree of Life left Cannes on a roaring publicity campaign bandwagon. Whether Fox can make a box-office or Oscar success out of a difficult film remains to be seen. In contrast, the Kid with a Bike opened quietly in Paris. Whether it gets the proper US release it deserves also remains to be seen.
Dimitri Keramitas is a Paris-baser film writer who reviews the latest film releases for BonjourParis twice monthly. Most recently he reviewed Cannes Film Festival winner, The Tree of Life.
Official website for Le Gamin au Vélo [trailer with English subtitles]
Produced by: Les Films du Fleuve/Archipel/Lucky Red
Distributed by: Diaphana Films (France), Sundance Selects (US)
Watch the movie trailer (Version Originale) & clips from Cannes
Film Synopsis & more
Not yet subscribed to BonjourParis? Sign up for your free subscription to French travel guides, news from France, French lifestyle articles and more delivered to your in-box twice weekly.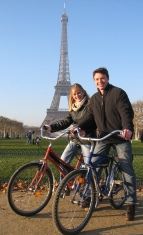 You could be soaring like a kid on a bike in Paris. . .
See Paris safely in the company of an expert guide and super-comfortable bike from Fat Tire Bike Tours of Paris. You'll get great tips and advice about what to see and do in Paris as you meet other travelers on an exciting, informative and educational experience.
Did you know you can buy travelers' essentials like luggage, guidebooks, cameras plus imported gifts for Francophiles at our Amazon.com French Marketplace? You benefit from competitive pricing and speedy delivery as your purchases support costs of keeping BonjourParis your most complete online France travel resource. Merci in advance for your support.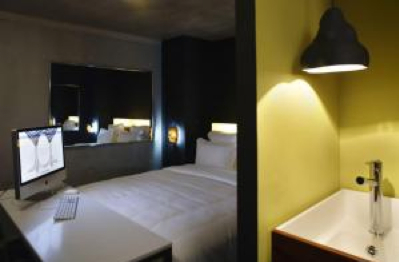 Mama Shelter is stylish hotel situated in the Paris 20th. Philippe Starck designed modern rooms equipped with iMacs and high-quality MyBed bedding. Mama Shelter is located in the bustling Saint Blaise district by the trendy Flèche d'Or music venue; the world's most famous cemetary Pere Lachaise is nearby, as are cafes, bars & boutiques. On-site restaurant & Chic-Chic bar on-site offers a range of cocktails in a laid-back setting. Please consider reserving your stay with our hotel partner, Booking.com, a Priceline company famous for this guarantee: if you book your room and later find the same room for less, Booking.com will match the price. To view details about MAMA SHELTER and the thousands of hotels in the Booking.com portfolio, click HERE.
Leave a reply
Your email address will not be published. Required fields are marked *