Diner en Blanc 2011: Secret "Pop up" Picnic for Thousands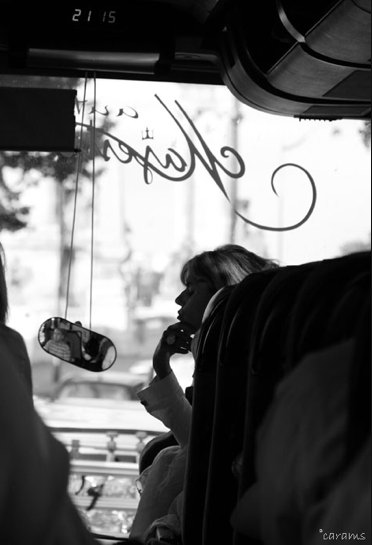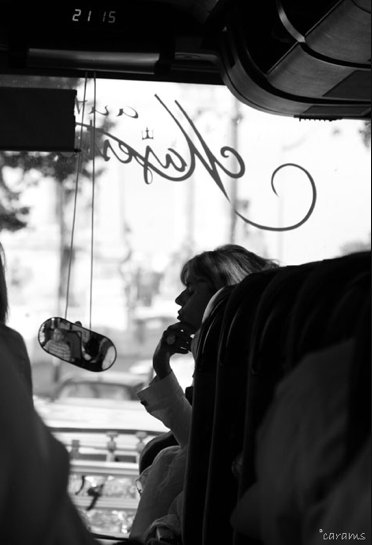 Last week I carried privileged information, guarded in the deepest secrecy: I was one of the thousands sworn to secrecy as an invited guest at Dîner en Blanc in Paris, an event that started 23 years ago as a simple dinner with friends.
The eve before last Thursday's top-secret "pop-up" dinner in Paris, the annual Dîner en Blanc, I felt overwhelmed and anxious as a child on Christmas Eve. It's hard to contain the excitement knowing that the following day, you'll wake to a surprise that will thrill you to bits.
The only details on the invitation-only event indicated a meeting place with very specific instructions for boarding place and departure time. Dress code was white and elegant—must be white. No further information would be given until en route.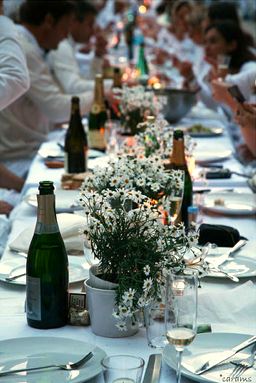 At 9pm on Thursday evening, we finally arrived at the moment where the wrapping paper is torn off. We made our way through Paris traffic, passing busloads of fellow diners in white on buses with curtains drawn to veil their "attack." We started to learn of our destination and some of the details: 6,500 people would be arriving, the majority by bus, all closely guarding the same secret.
Excitement swelled and laughter flowed through the seats and down the aisles, knowing we'd soon be at our point of débarquement. In six minutes flat the bus was emptied of passengers carrying tables, chairs, table decorations, food and beverage. Arriving in front of the Louvre, the footpaths along the Seine became the color of snow with those pulling their picnic fare to meet at the gates.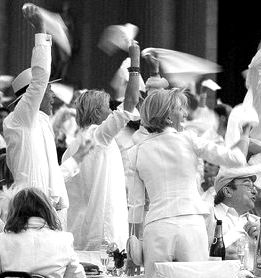 And then we were part of a sea of blanc at the Cour Carrée du Louvre, which became an instant dining room surrounded by hundreds of years of history. Tables were set, flowers arranged, candles lit and by 9:36pm on the dot, Champagne flowed.
Music struck up in each quadrant: from tango to musique of Edith Piaf's era to the big brass band in our corner. Toe-tapping, skirt-twirling dancing took over and the scene was nothing short of stunning, not only visually but in ambiance as well. It was an evening of striking proportions. The crowd that came together to laugh, dine and dance filled the carré with a sense of warmth, a unity against the unseasonable chill of a June evening. The friendship, laughter, cooperation, precision and perfection with which everything was carried out was a beautiful experience to behold.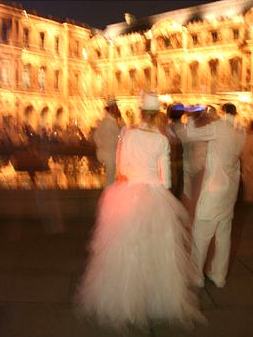 What began as a chic picnic amongst friends twenty-three years ago is now an annual event in Paris, Montreal, Quebec, Hamburg, and soon in New York. Since the very first gathering of friends dressed in white met in the Bois de Boulogne on the lawns of Bagatelle back in June 1988, the picnic has grown in epic proportions. The blanc dress code initiated then stands today.
The event grew every year, quickly outgrowing the Bagatelle gathering. In 1992 the first secret Dîner en Blanc was held on the Pont des Arts and people began talking about the mythical dîner en blanc.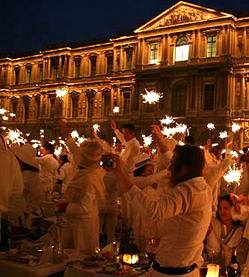 All these years later, François Pasquier should be proud of the legacy he started on the pelouse of Bagatelle, for it truly has become a remarkable event with an ambiance unlike any other.
It was, without doubt, sophistication at its finest.
*****
Footnote: This year two dinners were held, one in the Cour Carrée du Louvre, and a second with thousands more diners at Notre Dame Cathedral. You can see more of Carina's photos on Flickr.
Carina Okula is a photographer and writer who lives in Paris. In her last BonjourParis story she wrote about Family Travel in France and next year we want to go to Dîner en blanc with her.
Not yet subscribed to BonjourParis? Sign up for your free subscription to French travel guides, news from France, Paris lifestyle articles and more delivered to your in-box twice weekly.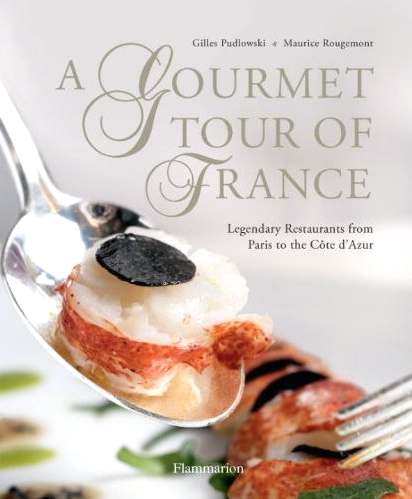 A Gourmet Tour of France: Legendary Restaurants from Paris to the Cote d'Azur
A beautiful book about the finest restaurants in France by prominent French restaurant critic Gilles Pudlowski. Take a culinary tour of 35 gourmet restaurants in France, see the beautiful decor, read menu selections & the stories behind accomplished chefs, including: Paul Bocuse, Alain Ducasse, Guy Savoy, Michel Bras, Franck Cerutti, Hélène Darroze, and the famed Maison Troisgros in Roanne, which Zagat lists as the best restaurant in the world. Enticing photographs, a finely-researched bible of French gastronomy offers a feast for the eyes. Featured chefs divulged a few of their signature recipes to enjoy at home. A list of addresses allows readers to create their own gourmet tour. Author Gilles Pudlowski is a food and literature critic for Le Point who annually publishes his guides Pudlo Paris and Pudlo France. [Click on the title above for more info or to order.]
Did you know you can buy travelers' essentials like luggage, guidebooks, cameras plus imported gifts for Francophiles at our Amazon.com French Marketplace? You benefit from competitive pricing and speedy delivery as your purchases support costs of keeping BonjourParis your most complete online France travel resource. Merci in advance for your support.
What if you could sleep on Île Saint-Louis, the most exclusive island in Paris?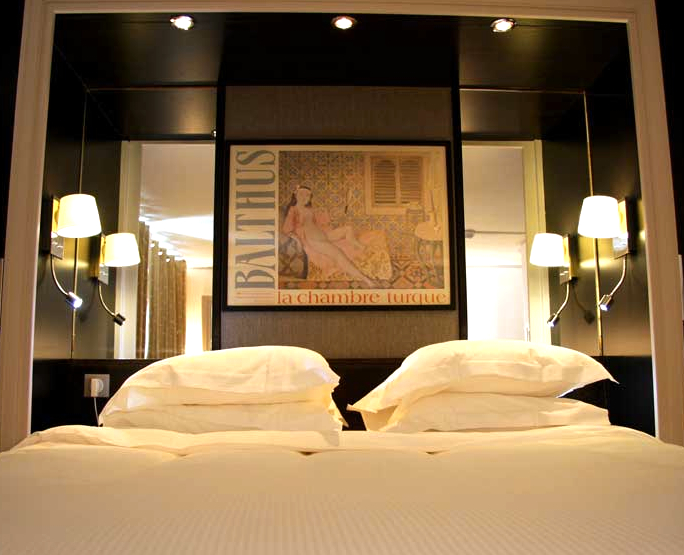 Hôtel du Jeu de Paume is a luxurious, intimate hotel on the charming Île Saint-Louis. The 30 suites are beautifully decorated with comforable elegance in mind. Located just steps from the Seine quais, Notre Dame, le Marais, shopping, culture and more. Flat-screen TVs and free Wi-Fi in the heart of Paris's oldest district. Garden terrace and on-site bar. Métro: Saint-Paul is near; RER B/C Saint Michel station is a quick ride to/from Roissy Charles de Gaulle airport. Please don't delay—small hotels with such charm fill quickly. Consider reserving your stay with our hotel partner, Booking.com, a Priceline company with competitive prices and a price match guarantee. If you book this room and later find the same room for less, Booking.com will match the price. Click for more info about Hôtel du Jeu de Paume , or to check other hotels in the Booking.com international collection, click here.
Leave a reply
Your email address will not be published. Required fields are marked *