Variations on a Theme: Three Different Brut Champagnes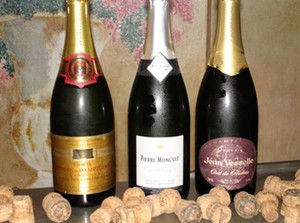 Pop that cork! It's the holidays, and what better way to get in the ultimate mood than to taste real Champagne. The only sparkling wine that can call itself "Champagne" is that which is created in the Champagne region of France, where seventy four thousand acres produce over two hundred and seventy million bottles each year.
Join me as we visit three unique, distinct examples of French Champagne, each made of different blends and varietals. We will taste each one in the order of complexity, from the least to the most complex, to avoid dulling the palate and to build a "taste memory" of each Champagne.
Many people say they do not like Champagne because of an unpleasant experience that literally left them with a bad taste in their mouths. It's time to get out there and taste from the hundreds of available producers. I will help you narrow it down but give you some choice. Begin with a decent pour of the first Champagne, and taste with your eyes, mouth and mind, while taking notes. Continue with the second in the same way, and finish your tasting with the third selection. As in any wine tasting, never go backwards to retaste previous Champagnes. Afterwards, you may be tempted to revisit, but most likely your palate will be fatigued and the taste will be confused. Do not rinse your flûte or glass with water. Instead, pour a bit of the next Champagne into the stem, swirl and empty. Now you are ready to taste again.
First, a little background: Champagne contradicts the philosophy of most French wines, which are ruled by the credos of the feared and revered appellation d'origine contrôlée (the top designation of quality issued by the French government guaranteeing a wine's origin, grape varieties and production methods).  Many big-name Champagne Houses are today owned by couturier and parfumier conglomerates, who care more about a one-dimensional "House Style" and advertising photo shoots than about the quality of grapes they purchase from different vineyards to create blends for their millions of bottles. I tend to prefer the small "garage" family-owned organic producers who grow their own grapes, or the smaller "Houses" that support high-standard hands-on production, without the stress or high cost of publicity.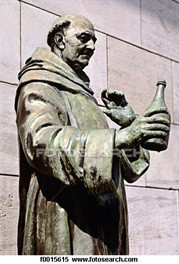 Modern Champagne owes to the 17th century abbot Dom Pérignon, who developed the art of blending wines from various parts of the region, thus rebelling against the method of the Burgundians, who kept their varietals separate. However, Dom Pérignon's wines did not bubble, as still wine was the custom. Fizz was considered something to avoid, as it could lead to exploding bottles. Given time, stronger bottles were developed, and better blending and superior production techniques created the now-desired fizz. Dom Pérignon cared nothing about the bubbles, which, ironically, have become the signature feature of Champagne. Who doesn't know the sound of a popped Champagne cork?
Our first Champagne, the NV Comte Audoin de Dampierre Cuvée des Ambassadeurs Brut is a dry non-vintage blend of 50% Chardonnay Grand Cru (literally a Great Growth classification/index for the finest 17 Champagne villages rated 100%) and 50% Pinot Noir Premier Cru (another quality indicator just below that of Grand Cru ranging from 90-99%), from the village of Chenay. The Champagnes of Comte Audoin de Dampierre continue a 700-year family winemaking legacy and the House is run by the current Comte, who, like his great-great grandfather, selects only wines from Grand Cru and Premier Cru designated vineyards.  You can read more about his Champagnes on his website.
This particular Champagne is served at French embassies and consulates around the world, most likely because of its ver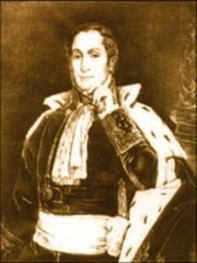 satility and stand-alone quality. Do not swirl, as aeration will destroy the bubbles, but get your nostrils onto the top of your flûte and inhale that honey, brioche nose. Note the light straw color and marvel about the blend of grapes in this Champagne. How can the Pinot Noir not turn this bubbling liquid pink or red, or alter the taste? The answer is in the skins: they are removed at a specific time to maximize the release of flavor and avoid a tint. So for all you "Red Wine Only" purists out there, who only drink Pinot and would never touch Champagne, you can drink your Pinot with bubbles in a blend (or in our third Champagne, which is 100% Pinot Noir).
The bubbles in the Cuvée des Ambassadeurs Brut are non-aggressive, supporting a full-mouth feel without being overwhelming, thanks to smooth subtle fruit flavor, a dry, tart mid-palate and a crisp lingering finish. All those perfect bubbles go for $50 a bottle.
The second Champagne, the NV Pierre Moncuit Grand Cru Blanc de Blancs Brut is a dry non-vintage 100% Chardonnay "White of Whites", from the revered village of Le Mesnil-sur-Oger.  Nichole and Yves Moncuit own and manage their own vineyard, which has been in their family for over a century. Having taken over the vineyard from their father in 1977, the brother and sister team has elevated their Champagnes from superior to extraordinary. Hand-harvested from old vines planted in chalky soil, the grapes are placed in stainless steel tanks to avoid wood contact that can interfere with the minerality and delicacy of the Chardonnay. From the moment you inhale the pronounced apple nose and take the first taste, you can only conclude that this is an "in your face" fruit-driven blend. Does lip-smacking come to mind? How about classy and sophisticated! By the third taste, the flavor is more intense but shows some floral notes. This is an elegant Champagne that dances on the tongue. The astringency is well balanced with the acidity, which produces a clean and bright mid-palate with an elegant finish. Subtle bubbles contribute to a crisp, full, delicious mouth-feel in this classic quality Champagne for $50.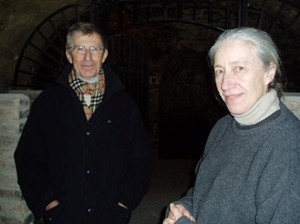 Our last selection is the unique NV Jean Vesselle Œil de Perdrix Blanc de Noirs, a dry non-vintage 100% Pinot Noir Cuvée from the village of Bouzy, made entirely with red grapes. Named for the color of the "eye of the partridge", the tint of this Champagne is a pale, golden pink.  Delphine Vesselle is the "next generation" winemaker and daughter of owner Jean Vesselle, who continues the tradition of this family estate that has grown Pinot Noir and produced Champagne for over three hundred years, staying strictly with the local tradition of making Champagne from the Pinot Noir grape.
When you get into this Champagne, you are immediately aware of the aggressive bubbles tickling your nose. But then, you catch an aroma that you may question.  Is it anise? Is there a scent of strawberry or ripe raspberry? Is there a floral element? There is no doubt that this is a full-bodied presence on the mid-palate. Rich, mature and distinctive, it evolves into a silky finish. With such flavor, the bubbles don't seem so distracting anymore. $65 is a small price to put on such Champagne filled with so much history and finesse.
FINAL COMMENTS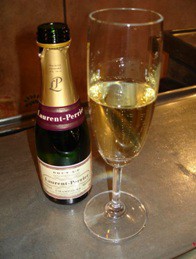 People ask us all the time to recommend the best "mini" Champagne available.  We have tasted them all. But our Number One choice is NV Laurent-Perrier, a blend of 45% Chardonnay, 40% Pinot Noir and 15% Pinot Meunier. Is it out of this world fabulous? No, but it is decent and consistent, with a toasty, yeasty nose and even mid-palate. At $15 you have to think about value and taste, but it is a great stocking stuffer or place setting gift for holiday luncheons and dinners.
Food pairings? Got Osetra Caviar? The number one cheese match in France for Champagne is Mimolette. Dry, carrot-orange and cheddar-like, shaved curls of this unique 17th-century Normand cheese offer a great counterpoint to any dry Champagne. Hors d'Œuvres from saucissons to Pâtés en Croûtes also nicely compliment Brut Champagne. Also the vinegar and sea salt of handmade potato chips is a revelation as you sip. The French often serve Champagne as a dinner "wine", a different one matching each course. Think creamy seafood, chicken or game birds, haricots verts and buttery whipped potatoes. And potages of onion, beef and the Burgundian pot-au-feu. And, the most amazing and magical thing about Champagne is that it can cross all ethnic boundaries of people and food. It stands alone with great pride, uniting a world with one common denominator.
So in this spirit, may Hope, Health, Happiness, Peace, Kindness, and Renewal be yours. My best wishes to each of you for the New Year. À Votre Santé et Bonne Année!  And keep sipping great wine.
Sallie Robbins-Druian
If you're coming to France (or for that matter anywhere) you can reserve your hotel here. To rent a car, Bonjour Paris recommends Auto Europe.
Paris Holiday Walk, Culinary Traditions: Take in the holiday cheer with one of our gastronomic experts. We will visit a traditional Christmas market and food shops, savoring the delicious holiday specialities.
Louvre French Masters: Escape the cold and the crowds in the Italian wing of the Louvre by learning about the evolution of French art from the late Gothic period to the monumental 19th-century paintings of David and Delacroix, accompanied by an art historian.