D'Orsay's Post-Impressionist Masterpieces: A Stunning Exhibit in San Francisco
As I stood in the first gallery of this exhibition, on loan to San Francisco's de Young Museum from the Orsay in Paris, I thought – If I don't advance another step, this will have been worth the price of admission. Everywhere I looked, was something iconic:  Renoir's "A Dance in the Country" side by side with "Two Young Girls at the Piano"; "Pissarro's "Rouen Sunset, Misty Weather," and Monet's "Frost," so rarely seen and a welcome respite from his ubiquitous water lilies. Familiar masterpieces all, but still so awesome that one has to pause, linger, marvel.  And eventually move on. This exhibit picks up where the first of the two exhibits on loan from the Orsay, "The Birth of Impressionism," left off, and explores the groundbreaking artistic developments that followed in its wake. The show includes 120 paintings from the Orsay's permanent collection of Post-Impressionist artists, featuring the works of Bonnard, Cézanne, Gauguin, Monet, Renoir, Rousseau, Seurat, Toulouse-Lautrec and, of course, the show's headliner, Van Gogh. It was the friendship of Fine Arts Museums of San Francisco director John Buchanan and Orsay director Guy Cogeval that paved the way for San Francisco to host both these collections, rarely seen outside of France. Combined with the "Impressionist Paris: City of Light" exhibit recently at the Legion of Honor Museum, the Bay Area has had access to a comprehensive study of one of the world's best-loved art periods, and breathtaking displays of the wonders that period produced. Highlights Van Gogh: I wasn't expecting any surprises or thrills from this master whom I had studied in art history classes and viewed on both sides of the Atlantic. When I came to the crush of people blocking "Starry Night," I thought them inconsiderate for staying so long. When it was my turn to stand in front of this mesmerizing masterpiece, vibrantly alive in its magnificent lighting, I didn't want to move either. More personal, and touching, is the heartbreaking "Bedroom in Arles," said to be Van Gogh's favorite of all his paintings. I've always thought this painting sad, seeing in it the artist's downward mental spiral. It's hard for me to view it without associating it with the stormy path his personal life took in Arles. Cézanne: There's more to Paul Cézanne than his still life paintings. "Kitchen Table" and "Still Life with Onions," on view at the de Young, illustrate that he did indeed set the standard for this genre for artists who followed. The surprise here is that Cézanne's late works were an inspiration for Picasso's early works in Cubism. Shown in the same gallery, it's easy to see how these paintings opened the door to Cubism, inspiring Picasso to say, "He was the father of us all." Gauguin: I eavesdrop in museums, and standing in front of "Still Life with Fan," a comment I overheard repeatedly was, "I never would have guessed that was a Gauguin." The surprising fact is, one sixth of Gauguin's work was still life. I would never have picked "Washerwomen at Pont Aven" as a Gauguin either – depicting as it does a beautiful landscape, subdued colors and subjects, so unlike the bold Polynesian images we associate him with. Renoir: There's no mistaking a Renoir portrait – the women are beautiful and life is joyously filled with dancing, dining, and drinking. He is known as a celebrator of beauty in art, and in life – he married the model in "A Dance in the Country."  You couldn't find two lovelier children than those in "Two Young Girls at the Piano."  Beauty being universally revered, his paintings are some of the most well-known and frequently reproduced works in the history of art. The exhibition ends with a host of "isms" – Cloisonnism, Intimism, Symbolism, etc., which wall panels attempt to clarify, but at this point, I stopped taking notes. The show is too much to absorb in one visit. There are so many highlights that I expected, and so many surprises. For the viewer, it is truly an emotional tour de force. This is not an exhibit one can rush through. I was in the galleries for an hour and a half and many times along the way I moved on out of consideration for others – though I would have liked to slow down, take longer looks, and savor this remarkable collection, knowing that it will never come this way again. If you're coming to France (or for that matter anywhere) you can 
reserve your hotel here.
To rent a car, Bonjour Paris recommends 
Auto Europe
.
SUBSCRIBE
ALREADY SUBSCRIBED?
BECOME A BONJOUR PARIS MEMBER

Gain full access to our collection of over 5,000 articles and bring the City of Light into your life. Just 60 USD per year.

Find out why you should become a member here.

Sign in

Fill in your credentials below.
As I stood in the first gallery of this exhibition, on loan to San Francisco's de Young Museum from the Orsay in Paris, I thought – If I don't advance another step, this will have been worth the price of admission. Everywhere I looked, was something iconic:  Renoir's "A Dance in the Country" side by side with "Two Young Girls at the Piano"; "Pissarro's "Rouen Sunset, Misty Weather," and Monet's "Frost," so rarely seen and a welcome respite from his ubiquitous water lilies. Familiar masterpieces all, but still so awesome that one has to pause, linger, marvel.  And eventually move on.
This exhibit picks up where the first of the two exhibits on loan from the Orsay, "The Birth of Impressionism," left off, and explores the groundbreaking artistic developments that followed in its wake. The show includes 120 paintings from the Orsay's permanent collection of Post-Impressionist artists, featuring the works of Bonnard, Cézanne, Gauguin, Monet, Renoir, Rousseau, Seurat, Toulouse-Lautrec and, of course, the show's headliner, Van Gogh.
It was the friendship of Fine Arts Museums of San Francisco director John Buchanan and Orsay director Guy Cogeval that paved the way for San Francisco to host both these collections, rarely seen outside of France. Combined with the "Impressionist Paris: City of Light" exhibit recently at the Legion of Honor Museum, the Bay Area has had access to a comprehensive study of one of the world's best-loved art periods, and breathtaking displays of the wonders that period produced.
Highlights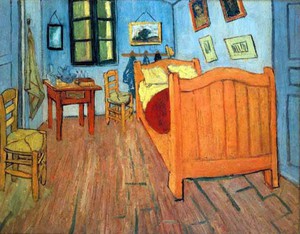 Van Gogh: I wasn't expecting any surprises or thrills from this master whom I had studied in art history classes and viewed on both sides of the Atlantic. When I came to the crush of people blocking "Starry Night," I thought them inconsiderate for staying so long. When it was my turn to stand in front of this mesmerizing masterpiece, vibrantly alive in its magnificent lighting, I didn't want to move either. More personal, and touching, is the heartbreaking "Bedroom in Arles," said to be Van Gogh's favorite of all his paintings. I've always thought this painting sad, seeing in it the artist's downward mental spiral. It's hard for me to view it without associating it with the stormy path his personal life took in Arles.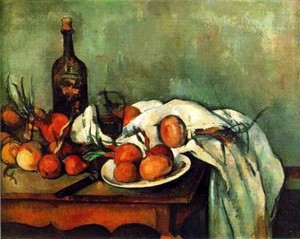 Cézanne: There's more to Paul Cézanne than his still life paintings. "Kitchen Table" and "Still Life with Onions," on view at the de Young, illustrate that he did indeed set the standard for this genre for artists who followed. The surprise here is that Cézanne's late works were an inspiration for Picasso's early works in Cubism. Shown in the same gallery, it's easy to see how these paintings opened the door to Cubism, inspiring Picasso to say, "He was the father of us all."
Gauguin: I eavesdrop in museums, and standing in front of "Still Life with Fan," a comment I overheard repeatedly was, "I never would have guessed that was a Gauguin." The surprising fact is, one sixth of Gauguin's work was still life. I would never have picked "Washerwomen at Pont Aven" as a Gauguin either – depicting as it does a beautiful landscape, subdued colors and subjects, so unlike the bold Polynesian images we associate him with.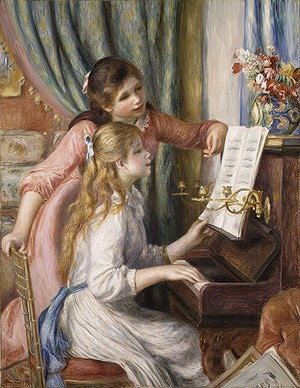 Renoir: There's no mistaking a Renoir portrait – the women are beautiful and life is joyously filled with dancing, dining, and drinking. He is known as a celebrator of beauty in art, and in life – he married the model in "A Dance in the Country."  You couldn't find two lovelier children than those in "Two Young Girls at the Piano."  Beauty being universally revered, his paintings are some of the most well-known and frequently reproduced works in the history of art.
The exhibition ends with a host of "isms" – Cloisonnism, Intimism, Symbolism, etc., which wall panels attempt to clarify, but at this point, I stopped taking notes. The show is too much to absorb in one visit. There are so many highlights that I expected, and so many surprises. For the viewer, it is truly an emotional tour de force. This is not an exhibit one can rush through. I was in the galleries for an hour and a half and many times along the way I moved on out of consideration for others – though I would have liked to slow down, take longer looks, and savor this remarkable collection, knowing that it will never come this way again.
If you're coming to France (or for that matter anywhere) you can reserve your hotel here. To rent a car, Bonjour Paris recommends Auto Europe.
More in Exhibitions, French artists, Museum, Paris art museums
---
---