French Cooking: Pieds de Porc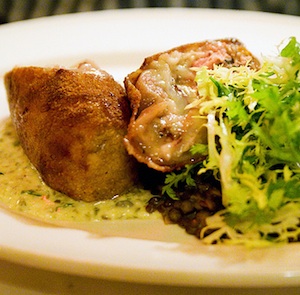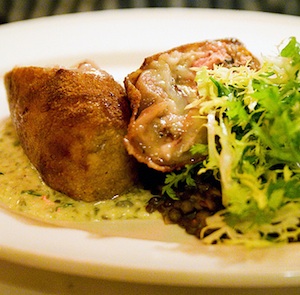 Pig's feet are like frog legs, snails or tripe – you either like them or not, there is no halfway about it. My first week in Paris, my husband took his American boss and me to a restaurant in the 15th arrondissement.  I opened la carte and saw "Grilled Pig's Feet" and I didn't need to study the menu further.  I LOVE PIG'S FEET!!!!  And so did our guest. We both ordered the dish and we were squealing with delight!  Being in France, of course, I wanted to be chic but there is no way to eat pig's feet with style. Eventually, you do have to use your fingers to gnaw around the bones. It is said that the French use every part of the pig except its "oink".
The charcuterie is a specialty shop offering all the prepared pork products that the French adore.  Here are some of the items you might find:  boudin noir (blood sausage), fromage de tête (head cheese), Jambon de Bayonne,  saucisse and saucisson ( smoked ham, small and large sausages that are fresh, cooked or air-dried), Petit Salé (similar to American salt pork), rillettes (pork spread) and, of course, pieds de porc (pig's feet).  Trotters (as the British call them) are a favorite around the world.  They have a delicious flavor, tender texture and a pleasing gelatinous quality.  Because they are bony and sinewy, pig's feet require long, slow cooking.
In 1820 a restaurant named Le Pied Rare located in Sainte Menehould (a village in the Argonne region) became well known for their pig's feet. It is said that in 1791 when Louis XVI tried to flee France, he was undone by his love of pied de porc.  He stopped in Sainte Menehould to dine on pig's feet and was arrested by the revolutionary guards.
If you are in Paris and you love "trotters" you must stop at Le Pied Rare. I have never dined there but it is said that they offer the true pieds de cochon à la Menehould.  I have heard that the café's décor is French provincial kitsch – displays of plastic and ceramic pigs, pig postcards, pig dolls, piggy banks, etc.
There is also a wonderful restaurant called Le Pied du Cochon and it is NOT TO BE MISSED!!
This week I am offering a recipe for pig's feet in the style of Sainte Menehould.  I love them especially when served with mustard on the side.
Pieds de porc à la Sainte-Menehould ~ Oven Grilled Pig's Feet

Servings: 4
Cooking time:  2 hrs. 45 minutes
Ingredients:
4 pig's feet (cut in half lengthwise)
2 cups beef broth (canned, cubes, or fresh)
1 cup dry white wine
2 whole carrots (peeled)
2 whole onions (peeled)
2 cloves
2 bay leaves
2 sprigs parsley
1 ½ tsp. Thyme
1 stick butter
3 eggs
1 cup fine bread crumbs
salt and pepper, to taste
mustard
Tie together 2 halved pig's feet. (You will have 4 pig's feet).  Put the bouillon and the wine in a big pot. Stick one clove in each onion. Add the onions, carrots, bay leaves, parsley and thyme to the pot. Bring to a boil Add the pig's feet. Lower heat and skim the top until the broth is clear. Let cook over medium-low heat for 2 ½ hours. When cooked, remove the feet from the pot, untie them and let cool. (NOTE:  this can be done a day in advance).  Heat the oven to 375 F.  Melt the butter in a small skillet. Beat the eggs in a wide flat bowl. Add salt and pepper to the eggs. Pour the breadcrumbs in another flat bowl. Dip the pig's feet in the eggs and then roll them in the bread crumbs. Place them on a baking sheet. Spoon the butter over them on all sides. Put in the oven and cook until lightly brown for about 15 minutes. Turn them often and spoon on remaining butter. Serve them hot with mustard on the side.
Et voilà!
Leave a reply
Your email address will not be published. Required fields are marked *