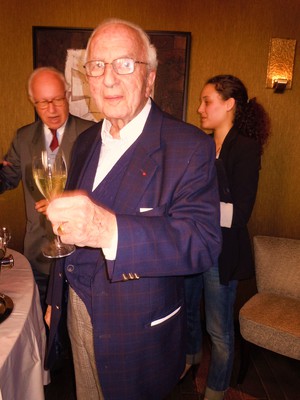 If you've tuned in to this week's BUZZ, have high cholesterol and are on statins you may want to give it a miss and move directly on to Talbott. It's all about eggs, but hold on before you go, they may not be that bad for you after all. Claude Lebey, France's doyen of restaurant critics, President and founder of ASOM (see below), is 80+, and for Lebey a day without egg mayo is a day without mellow yellow, "ҫa ne s'explique pas, ҫa se mange", he says.
Lebey was chez Flottes this week presenting Olivier Flottes (who's as bald as a boiled egg) with Le Classe Croute 2011 du Meilleur Oeuf ASOM (Association for the Preservation of the Egg Mayo). Previous winners have been the talented Ghislaine Arabian at Les Petites Sorcières (14th) and Le Voltaire, achingly chic left-bank canteen where the likes of Kenzo and KL have their favourite tables (7th).
"The Oeuf Mayo is as useful in the kitchen as a paper-clip in an office", proclaimed Lebey. It goes best with a glass of champagne (see photo). It's also good for cholesterol, in case you don't have enough", he joked. "Any hints for cooking the eggs, Monsieur Le President?" "Oui, bien sûr. The precise time for cooking an average 60g egg is 9 minutes in fast-boiling salted water. Don't overcook the eggs, it kills the protein". Who knew?
President Lebey insists the legend of Egg Mayo must be taken with a pinch of salt, but:
John Doeuf was an English nobleman living in Paris around 1914-18 during WWI. "Time passes, only the egg lasts", was the family motto. Doeuf would eat his eggs daily Chez Eugène, rue des Capucines, near the Ritz Hotel, where he was staying. One day, the legend continues, Doeuf met William Jones Mayo, the young doctor at the US Embassy. They got to discussing eggs and Doeuf complained that, although he loved to eat them, he found the hard boiled variety rather dry. Mayo suggested Doeuf ask the chef to cut them in half and top them with the sauce "mayonnaise", invented by his grandfather. Thus was born "oeuf mayo". The young doctor subsequently returned to the USA and founded the famous Mayo Clinic, specializing in the treatment of cholesterol.
A delighted Olivier Flottes said: "I didn't get many diplomas at school, so I'm thrilled to have this one in my restaurant for everyone to see. We didn't win easily, Monsieur Lebey gave us a hard time, the vegetables were not crunchy enough (in the macédoine), the mayo had too much mustard, it took about a year until finally we got it right. I'm delighted for my team, who worked so hard on the project. I know what it must feel like to win an Oscar", he grinned. So, there's good news and bad news, I hope you're still there and haven't gone over to Talbott too early. Remember Flottes is a great address and Olivier's waiting to show you his diploma.
Flottes and Flottes O-trement,
2 rue Cambon, 1st
Metro: Concorde (Line 1)
T: 01 42 60 80 89
Oeuf Mayo 7€
Open 7/7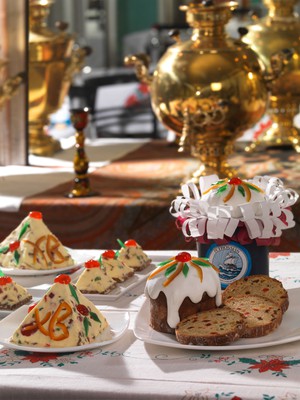 And talking eggs, it's nearly that time again, Easter. Petrossian's celebration of eggs and traditional goodies of all sizes, from tiny shiny grains of caviar to the giant variety, often in chocolate, is awesome. Chez Petrossian's a colourful treasure trove of great gifts, which you'll probably eat on the way home, but hey you only live once. Prices from about 4€50 for something quite unique. And, while you're there, check out the smoked salmon, best in town. And the restaurant where Rougui Dia serves a luscious lunchtime menu at 29€. You can't afford not to darling. Definitely see you there.
144 rue de l'Université, 7th
Metro: Invalides
T: 01 44 11 32 32. Shut Monday, Valet Parking
Alain Parodi, the south-of-France superchef (ex-Lou Cigalon) who put Valbonne on the map, is consulting at Velvet, the contemporary restaurant and wine bar on rue Colisée. "I'm transforming this interesting space into a showcase for South of France products and cuisine", he said. The hotel's been re-shaped by the superb Grace Leo and looks like becoming the hot Paris location. More in a future BUZZ.
Velvet,
A l'Hotel Beauchamps,
20 rue du Colisée, 8
Metro: Franklin D. Roosevelt
T: 01 53 89 58 58
Lunch only Mon-Friday
About 35€
Diary Date:
Through 29th May – Joachim Mogarra – Une Vie Aventureuse is a joyous journey through the life of the artist, thoughtfully presented at the Eric Lapierre designed state-of-the-art exhibition centre of Le Point du Jour, 107 avenue de Paris, Cherbourg-Octeville. Right near the fish market or book lunch or dinner at Le Pily, Pierre Marion's 1-star.  In Paris Mogarra is represented at Galerie Vallois.
Need to know:
Terroirs des Femmes is a new concept, created by women for women, with a bit of male testosterone thrown in. Flora Mikula (ex- Les Saveurs de Flora), Michel Portos (Le Saint-James, Bordeaux) and 20 women agriculturists, artisans, winemakers, and négociantes unite under a banner of excellence to showcase the treasures of terroir franҫais.
—-
Fat Tire Bike Tours are another great way to see the city. You'll get the company of an expert guide, the use of a super-comfortable bike, great tips and advice about what to do while in town and an exciting, informative and educational experience.
Auto Europe is the savvy visitor's best bet for planning a trip to Paris. Whether you're looking for the best deals in car rentals or air travel, hotels or GPS rentals, just go to Auto Europe and you're on your way.
Booking.com, part of Priceline.com, is Europe's leading online hotel reservations agency by room nights sold, attracting over 20 million unique visitors each month via the Internet from both leisure and business markets worldwide. Established in 1996, Booking.com offers competitive rates for any type of property, ranging from small independent hotels to five-star luxury. The site is available in 18 languages and offers over 52,000 hotels in 69 countries.