Poulet de Janzé et Poule Coucou de Rennes ~ Brittany's Chickens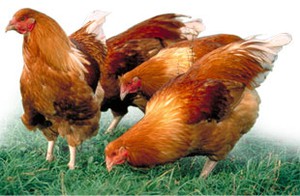 In the 18th century the small Breton town of Janzé had over 200 chicken farmers and their chickens were sold to the best restaurants in France. There has been a renewed interest in many of these old breeds and the Janzé chickens and Coucou de Rennes are being raised again. You may see them featured on menus in Brittany as well as at the market. And speaking of chicken, here is an easy recipe to make during the week, et voilà:
Chicken Salad with Spicy Vinaigrette
INGREDIENTS:
meat from one chicken (either poached, grilled or rotisserie)
For the Dressing:
5 Tablespoons extra virgin olive oil
1 Tablespoon white wine vinegar
2 Tablespoons Dijon mustard
1 garlic clove, peeled and pressed
1/2 teaspoon Frank's Red Hot or Tabasco Sauce
salt and freshly ground black pepper
Boston lettuce leaves
PREPARATION:
1. Remove the meat from the chicken. Discard the skin. Save the bones for stock or discard.
2. Place the meat in a bowl and shred it.
3. In another bowl, whisk together the vinegar, mustard, garlic, hot sauce, salt and pepper.
4. Continuing to whisk, slowly add the olive oil.
5. Pour the vinaigrette over the shredded chicken and toss to coat.
To serve:
Arrange the lettuce leaves on 4 salad plates. Mound the chicken salad in the middle and serve.
More chicken recipes to try:
Suprême de Volaille Véronique ~ 
Chicken Cutlets Véronique: boneless, skinless chicken breasts and grapes in a white wine and cream sauce
Poulet au Champagne ~ Chicken in Champagne Cream Sauce
Photo courtesy of Poulet-de-janze.
For Paris tours:
Context

is a critically acclaimed network of scholars and experts who organize small group and private walking seminars in Paris on art, history, architecture and gastronomy. All of our walks are capped at 6 people, providing an intimate and in-depth learning experience. Context is offering a special to Bonjour Paris readers on a selection of our walks. Please note BonjourParis when booking.
A chicken in every pot and pan: