Eric Kayser's Xmas : Lucas Carton : Bistro du Sommelier & Left Bank Diary Date
Maison Kayser :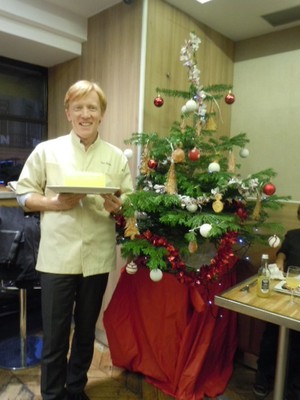 Friday 13th, 1996, rue Monge, the date Eric Kayser, son, grandson and great-grand son of Alsace bakers, launched his first bakery. Word soon got round the 'hood and people made new besties waiting in the never-ending line to buy Kayser's warm « Monge » long-fermented baguettes, straight from the oven. The rest, as they say, is history.
Kayser honed his craft with Les Compagnons du Tour de France, nothing to do with the bicycle race, an organization of craftsmen and artisans dating from the Middle Ages, still active today. Their traditional, technical education techniques include taking a tour Tour de France, as apprentices. Compagnonnage is an original way to learn a trade while developing character by experiencing community life and traveling. The community live in Compagnon houses, there are more than 80 in France, until recently all male! Today they're in 49 countries across 5 continents learning a multitude of different trades.
"Rue Monge was the beginning of a beautiful story", said Kayser one day last week in the rue d'Echelle bakery/brasserie where, as at each address, all bread is hand kneaded and baked in-house. For each month, each dish, there's a delicious seasonal bread, curcuma, mendiant, nutty, multigrain etc. with the recent addition of Gluten Free.
There's 120 Kaysers (30 in France) in 15 countries worldwide, from Dakar to Tokyo via NYC, Seoul, Beirut, Kiev.  Each has its' own identity and Kayser trained bakers, who have taken a year to master his production techniques.
For Christmas Kayser's particularly proud of his Büches, especially the limited edition Citron, made with lemons from Menton. "We opened there recently and I created it as an homage to the beautiful riviera town", he says. Of his galettes he advises, "eat them with your fingers!"
So, call in at Maison Kayser, there's one near you (even if you are in NYC). Not only bread, but, freshly made sandwiches, affordable lunch formulas, salads, quiches, pastries, signature plain, chocolate or pistachio financiers, Kouglof, cakes.
"Good bread doesn't lie, it says everything about the quality of its' ingredients and the expertise of the person who creates it", he says.
Read, L'Atelier Gourmand d'Eric Kayser,
70 Recipes
Editions Larousse
Lucas Carton :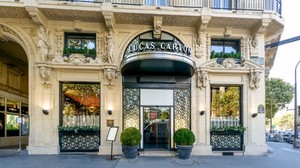 There's a new toque on the block at the former Alain Senderens restaurant, place Madeleine, and it's looking delicious. Julien Dumas ex- Domaine des Andéols, Alain Ducasse's Auberge at Saint-Saturnin-lès-Apt, Vaucluse, then chez Rech, Paris. After time in Quebec the musketeer's back in Paris to continue the Lucas Carton adventure. It can't be an easy toque to bear following Alain Senderens, one of the greatest and most innovative chefs in the world but Dumas seems unphased.
To-day, invited by Olivier Clarins and the team at Royal Palm Marrakech, Dumas strutted his stuff with a nod and a wink to Lucas Carton culinary history. Of course, true to the Master, there are wine pairings with the market driven lunch, to-day it read:
Champagne Pommery "Silver" with vegetable financiers: Steamed cabbage- wrapped foie gras de canard: sweet Domaine CauhapéJurançon "Symphonie de Novembre" 2003: Cabillaud de "Petit Bateau" fenouil et burrata/La Chapelle Gordonne blanc 2013, Château La Gordonne : And the signature Senderens chocolate dessert: Coulant de "Samana" millésimé 2013 with Porto Terras do Grifo 2006.
Olivier Clarins and the Clarins organization celebrate their 60th anniversary this year. "Our products are made from the finest plants and flowers, we identify with a concept such as Lucas Carton and salute their commitment to using only the best", he reflects.
For a weekend break, 3 hours 15 minutes from Paris check out the Royal Palm resort located on on the plains of the Atlas region. Lush 4200 square meter spa, in the fragrant calm of an ancient olive grove. Clarins spa has 15 treatment rooms and all the bells and whistles. There's also a 74-hectare Cabell Robinson designed golf course. And, wearing the whites in the four charismatci restaurants, MOF chef Philippe Jourdin ex- Moulin de Mougins, Tour d'Argent etc.
The Royal Palm,
Marrakech, Morocco.
Le Réveillon des Wine Lovers :
New Year's Eve with World Top Sommelier Philippe Faure-Brac :
"This is the first year we're open", says Faure Brac who has created the menu with his chef Guillaume Saluel. "Gourmandises, surprises and music", he promises. As in:
Flûte de champagne Dom Ruinart 2004 et amuses bouche
Compression de foie gras grillé aux fruits jaunes confits.
Noix de coquilles Saint-Jacques rôties Caviar Avruga et crémeux aux amandes.
Filet de chevreuil aux épices, glacé au Porto, Pommes de terre à la truffe noire.
Fromages.
Craquant à la mangue confite et sa glace. Café et mignardises.
165€ – 195€ with wine pairings
Diary Date : 12th Night – Epiphany
For the 10th year running rendez-vous Saturday 10th January 2015, Place St. Germain des Pres with The Disciples of Escoffier including : Pierre Gagnaire, Eric Kayser, Michel Troisgros, Alain Dutournier, Guy Savoy, Hôtel Meurice, Le Sanngri-La, Sucré & Cacao (James Berthier) Le Moulin de la Vierge, Potel & Chabot, Helene Darroze, La Grand Epicerie, Saint Clair le Traiteur, Le George V, Michel Rostang, Lucas Carton, Les Bistronomes, Thierry Burlot, William Ledeuil, La Closerie des Lilas, Jean-François Rouquette (Hyatt Vendôme) Jérôme Gengneux (6 New York) Boulangerie Thierry Senlis etc.
Taste and buy the very best and innovative Galettes des Rois, made by super-chefs, to benefit a children's charity. Profits will go to Les POIC Pseudo-Obstructions Intestinales Chroniques. Last year the chefs raised 10.500 euros.
Where's the feve ? For this edition, Israeli artist Mona Oren has designed 300 precious gold leaf good luck beans that will be hidden in the galettes and guarantee a good and healthy year. Bonne Annee !
Place St. Germain des Pres 6th
M : St. Germain des Pres
Saturday 10 January, 2015
Between 9am & 12 noon
Leave a reply
Your email address will not be published. Required fields are marked *