How to Plan the Perfect First Day in Paris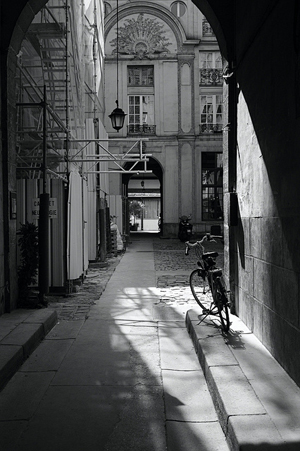 You know the saying, "I need a vacation from my vacation", it could very well been invented by someone who has been a visitor to Paris. With so many attractions to see, places to eat, and activities to enjoy, it's no wonder why so many tourists feel completely exhausted on their once in a lifetime trip. Coupled with lingering jet lag, a visit to the City of Light can become one big blur. I've spent many years on popular travel forums reading the ambitious itineraries that people create for themselves. Running from one end of Paris to the other is no way to enjoy the city nor is timing every attraction down to the last minute (yes, I've seen potential itineraries look like this: Notre Dame: arrive 10 am, leave at 10:40, Eiffel Tower arrive at 11:00 am, leave at 11:30, etc, etc!). It's also amazing to me that even some popular guide book's suggested itineraries are simply too much to tackle. But with a little smart planning, you need not run ragged through the crooked streets of the city. Set the tone of your entire trip by logically organizing that very first full day and I promise you, the wonderful memories of what you did and saw will be crystal clear. Even if you have an aversion to "touristy" attractions, the ones in this city are definitely worth a look, and you don't need to linger for long. But I wouldn't skip them just because everyone else will show up too. These popular attractions will help you to understand French culture from its beginnings to the present day.  And so when you are sipping your cafe and crunching your croissant, the smell and the taste will be enriched by your experiences of the day. For the perfect first day without overtaxing yourself, I always suggest to start where Paris "grew up".  You will spend this day in and around the two center islands, I'le de la Cite and Ile Saint- Louis. Everything is grouped together, making for a gentle first day of touring. According to history, around 52 BC a tribe known as the Parisii inhabited what is known today as I'le de la Cite. The island remained an important political and military center throughout the Middle Ages and in the 10th century, a cathedral, the predecessor of the famous Notre Dame was erected.  And so here is where you will start.  Don't worry, La Tour Eiffel will still be there tomorrow, after all, you want to "remember" your trip. Your day begins…… Notre Dame After a good night's rest and some breakfast, get yourself on Paris time and start your day at a reasonable hour in the morning.  I'm a regular visitor to Paris and I have yet to actually climb Notre Dame to get an up close view of the imposing gargoyles adorning the edges of the rooftop (frankly they scare me a bit!) If you want to climb Notre Dame and be among the gargoyles, then prepare to line up before 9am to the left of the church entrance. Entry begins at 10am. If you wish to skip this, then simply arrive when you wish to explore the interior of the famous church, with it's beautiful stained glass and carved figures behind the altar. First, I'd admire the three portals on the exterior front facade. You'll notice that the portals are actually not symmetrical. Symmetry was not an important architectural style in medieval times. The first portal on the left is of the life of the Virgin Mary, the center portal depicts the Last Judgement and the right portal displays the Virgin Mary on a throne with the Christ child in her arms. Stay outside the cathedral just a bit longer to admire the west side exterior rose window. It was the largest rose window ever attempted at the time and it depicts Adam and Eve on the outer rim. As you enter Notre Dame you'll notice the interior is not ornate, it's rather somber. However, it has some very beautiful features. First, take a look at the three mesmerizing stained glass rose windows. View the grand organ which is one of the largest in France, and in the rear of the cathedral is the Treasury containing many crowns and crosses made of gold.  Before you leave Notre Dame, you might want to visit the very interesting archaeological crypt below. Here you will find part of the wall that once surrounded Paris as well as the early worship places that stood where Notre Dame stands today. Enjoy a rest… Exit the cathedral and go around to the lovely park behind the church, named John XXXlll for some great people watching. It's the park in the wonderful movie, "Midnight in Paris" where Owen Wilson's character, Gil spends time talking with the tour guide played by Carla Bruni, the former First Lady of France. Sit here for a bit, rest your feet and soak in the atmosphere. Sainte-Chapelle After your respite, cross over the square from Notre Dame and make your way to the stunning Sainte-Chapelle. Along the way, stop at the bird and flower market walking towards the spire of this medieval Gothic chapel. You will enter Sainte-Chapelle through the Palais de Justice so you will need to go through security. Once you enter the chapel, your mouth will literally drop in awe of this amazing place. The panorama stained glass is beyond breathtaking.  At night, there are marvelous music concerts held right there amongst the stained glass. I've attended many times.  It's a lovely experience.  You can buy tickets across from Sainte-Chapelle. I'le Saint-Louis Now, cross over the Pont Saint-Louis, the bridge that in essence connects Notre Dame to Ile Saint-Louis. This magnificent part of Paris straddled between both the left and right banks is filled with 17th century homes and wonderful little boutiques, galleries and cafes. I'd have…
SUBSCRIBE
ALREADY SUBSCRIBED?
BECOME A BONJOUR PARIS MEMBER

Gain full access to our collection of over 5,000 articles and bring the City of Light into your life. Just 60 USD per year.

Find out why you should become a member here.

Sign in

Fill in your credentials below.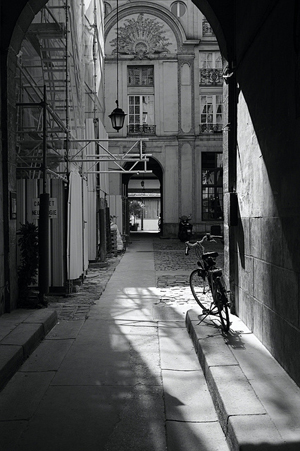 You know the saying, "I need a vacation from my vacation", it could very well been invented by someone who has been a visitor to Paris. With so many attractions to see, places to eat, and activities to enjoy, it's no wonder why so many tourists feel completely exhausted on their once in a lifetime trip. Coupled with lingering jet lag, a visit to the City of Light can become one big blur. I've spent many years on popular travel forums reading the ambitious itineraries that people create for themselves. Running from one end of Paris to the other is no way to enjoy the city nor is timing every attraction down to the last minute (yes, I've seen potential itineraries look like this: Notre Dame: arrive 10 am, leave at 10:40, Eiffel Tower arrive at 11:00 am, leave at 11:30, etc, etc!). It's also amazing to me that even some popular guide book's suggested itineraries are simply too much to tackle.
But with a little smart planning, you need not run ragged through the crooked streets of the city. Set the tone of your entire trip by logically organizing that very first full day and I promise you, the wonderful memories of what you did and saw will be crystal clear.
Even if you have an aversion to "touristy" attractions, the ones in this city are definitely worth a look, and you don't need to linger for long. But I wouldn't skip them just because everyone else will show up too. These popular attractions will help you to understand French culture from its beginnings to the present day.  And so when you are sipping your cafe and crunching your croissant, the smell and the taste will be enriched by your experiences of the day.
For the perfect first day without overtaxing yourself, I always suggest to start where Paris "grew up".  You will spend this day in and around the two center islands, I'le de la Cite and Ile Saint- Louis. Everything is grouped together, making for a gentle first day of touring. According to history, around 52 BC a tribe known as the Parisii inhabited what is known today as I'le de la Cite. The island remained an important political and military center throughout the Middle Ages and in the 10th century, a cathedral, the predecessor of the famous Notre Dame was erected.  And so here is where you will start.  Don't worry, La Tour Eiffel will still be there tomorrow, after all, you want to "remember" your trip.
Your day begins……
Notre Dame
After a good night's rest and some breakfast, get yourself on Paris time and start your day at a reasonable hour in the morning.  I'm a regular visitor to Paris and I have yet to actually climb Notre Dame to get an up close view of the imposing gargoyles adorning the edges of the rooftop (frankly they scare me a bit!) If you want to climb Notre Dame and be among the gargoyles, then prepare to line up before 9am to the left of the church entrance. Entry begins at 10am. If you wish to skip this, then simply arrive when you wish to explore the interior of the famous church, with it's beautiful stained glass and carved figures behind the altar.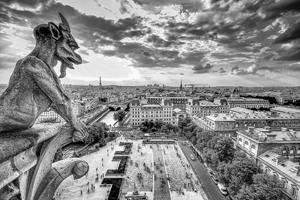 First, I'd admire the three portals on the exterior front facade. You'll notice that the portals are actually not symmetrical. Symmetry was not an important architectural style in medieval times. The first portal on the left is of the life of the Virgin Mary, the center portal depicts the Last Judgement and the right portal displays the Virgin Mary on a throne with the Christ child in her arms. Stay outside the cathedral just a bit longer to admire the west side exterior rose window. It was the largest rose window ever attempted at the time and it depicts Adam and Eve on the outer rim.
As you enter Notre Dame you'll notice the interior is not ornate, it's rather somber. However, it has some very beautiful features. First, take a look at the three mesmerizing stained glass rose windows. View the grand organ which is one of the largest in France, and in the rear of the cathedral is the Treasury containing many crowns and crosses made of gold.  Before you leave Notre Dame, you might want to visit the very interesting archaeological crypt below. Here you will find part of the wall that once surrounded Paris as well as the early worship places that stood where Notre Dame stands today.
Enjoy a rest…
Exit the cathedral and go around to the lovely park behind the church, named John XXXlll for some great people watching. It's the park in the wonderful movie, "Midnight in Paris" where Owen Wilson's character, Gil spends time talking with the tour guide played by Carla Bruni, the former First Lady of France. Sit here for a bit, rest your feet and soak in the atmosphere.
Sainte-Chapelle
After your respite, cross over the square from Notre Dame and make your way to the stunning Sainte-Chapelle. Along the way, stop at the bird and flower market walking towards the spire of this medieval Gothic chapel. You will enter Sainte-Chapelle through the Palais de Justice so you will need to go through security. Once you enter the chapel, your mouth will literally drop in awe of this amazing place. The panorama stained glass is beyond breathtaking.  At night, there are marvelous music concerts held right there amongst the stained glass. I've attended many times.  It's a lovely experience.  You can buy tickets across from Sainte-Chapelle.
I'le Saint-Louis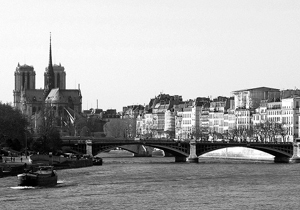 Now, cross over the Pont Saint-Louis, the bridge that in essence connects Notre Dame to Ile Saint-Louis. This magnificent part of Paris straddled between both the left and right banks is filled with 17th century homes and wonderful little boutiques, galleries and cafes. I'd have a little lunch here and make sure to leave room for the famous Bertillon ice cream.  Don't worry if you can't get into the original sweet shop located on the main drag, practically every restaurant on the island sells this indulgence, so you could combine lunch and dessert into one.  The ice cream is very intensely flavored (try the cassis or chocolate), so even one scoop is plenty! Wander all over Ile Saint-Louis as it's small and quaint enough to take it all in. Stand on the glorious quays and linger for awhile for a panoramic view. It will give you a real sense of the size and scope of Paris.
Vedettes du Pont Neuf
Then finally wrap up your day with a dusk cruise on the Seine which is much more romantic than a daytime one. My favorite boat or bateaux mouche is Vedettes du Pont Neuf. Pick the boat up on the western tip of I'le de la Cite (where you visited Notre Dame and St Chapelle).  At this end of the island, you will find Pont Neuf bridge.  Take the set of stairs on the western side of the bridge, descend and then turn right and the boat is docked there.  This boat does not serve dinner, but that's an advantage. Typically the bateaux mouches serve mediocre meals.  Enjoy your leisurely boat ride, passing by attractions you'll see in coming days and reflect on your first magical day in Paris.  Have a fine finish to the entire day by booking a sweet table at a lovely bistro and have a toast to tomorrow. You'll have plenty of energy leftover to enjoy it!
Robyn Webb is an award winning cookbook author, nutritionist, magazine food editor and culinary instructor. Her new ebook The Paris Vacation Apartment Guide: Rent With Confidence-Learn Where To Stay Without Getting Overwhelmed, Ripped Off Or Scammed debuted in NYC on Times Square in the fall and hit #1 on Amazon's French Travel Books. She strongly believes Parisian apartment living is the only way to experience the City of Light. For more information visit her website.
photo 1 by r.g-s [CC BY-SA 2.0] via Flickr
photo 2 by Stefano Montagne [CC BY 2.0] via Flickr
photo 3 by Jean-François Gornet [CC BY-SA 2.0] via Flickr
More in Basilique Notre-Dame, Ile Saint-Louis, notre dame, Paris sightseeing, Paris tourism, Paris tourist tips, Paris travel, Pont Neuf, sainte chappelle, sightseeing
---
---