Eating Where You Always Do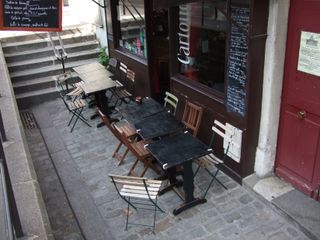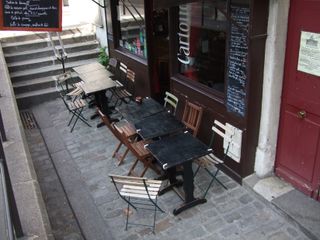 Eating where you always did/do: I don't get it.
I started thinking about this a few decades ago when Colette and I ate out with a colleague/friend who invited us to the Balzar, well before the Adam Gopnik brouhaha, and after we'd had 80% of the meal, I asked him "So, how did you come to pick this place?"  "Oh," he said, "I came when I was a student and just never stopped."
I thought that a bit weird; the places I ate at in school would never occur to me as possibilities today.  And then another couple invited us out, this time to Lipp, and again, being polite we went, but after a mediocre (at best) meal asked why: "Oh we thought you'd like a real Parisian place and besides we've been coming for years."  Real Parisian? It was full of American Sartre-wannabies even then.
Over the years living here, I've discovered this is as normal as ordering the same table wine from the same vintner year after year or driving the same route home—why change?
After about four years of going to all their old haunts, though, with one slight digression to a place (Le Totem in the Musee de l'Homme) recommended by a colleague's 20-year-old branché secretary where none of us could hear due to the deafening music, they began to go where I suggested.  To this day, when one of them introduces me to speak before a Parisian audience, he says here's John, who knows more about  Parisian restaurants than I do.
But it really hit me today when I ate at the relatively new (since March) Cartouche Café near Bercy.  Leaving out the chains, etc., at the Cour St Emilion, if you walk from the Bercy Metro to the Cour St Emilion Metro, you pass a good dozen and a half restaurants that don't look bad but certainly have no reputation or outside recognition, and they're filled with workers from the area.
But the Cartouche Café, sister of the Repaire de…, sitting in the same corridor, had essentially the same prices as all the other places, an innovative menu, great wines, a nice setting, but it was relatively empty. I just don't get it.
My favorite that day certainly was:
Cartouche Café
4, rue de Bercy, 12th (Metro: Cour St Emilion)
T: 01.40.19.09.95
Closed Saturday noon and Sundays
A la carte about 30 €
©2009 John A. Talbott
Please post your comments or questions and let them flow. Register HERE to do so if you need a user name and password.
Leave a reply
Your email address will not be published. Required fields are marked *