Easter Events 2011: What's Open, What's Closed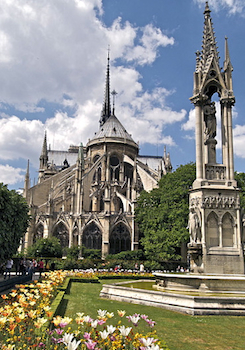 All across France Christian and Jewish families will celebrate Pâques (Easter) and Pesach or Pâque juive (Passover) holidays in April. This year, the national public holidays of Easter Sunday and Easter Monday fall on April 24 and 25 respectively. Here's our visitors' guide to what's open, what's closed and what's happening Easter weekend 2011.
Public holidays, Easter weekend April 23-25:
Good Friday isn't a holiday in France and it will be business as usual. Locals may leave early to create the first four-day weekend since Christmas. Train stations and public transportation will be packed with Parisians skipping town and visitors entering.
Saturday isn't a public holiday, but expect groceries, department stores, chocolate and wine boutiques to be slammed. If renting an apartment, stock enough food to get through to Tuesday because boulangeries and some mini-marts close Sunday and Monday. Shop early on Saturday to avoid traditional closing time pre-holiday jams.
Easter Sunday and Easter Monday are public holidays; government offices, banks and most small cafés and businesses will be closed. Public transportation will operate with limited schedules; delays can range from a few minutes to longer for the RER runs out to suburban sightseeing destinations. The Louvre and some other museums will be open. Check before you go.
Worship:
Travelers are welcome at most worship services and as a large, diverse city Paris has a wide variety of religious sites. Nôtre Dame, Sacre Coeur and Saint-Sulpice will be packed; go early. Here's a link to our list of practical information for places of worship in and around Paris: Places of Worship in Paris.
Restaurant tips for the holiday weekend:
Place your restaurant dinner reservations now or upon arrival and expect popular restaurants are already complet. Restaurants at large hotels or restaurants with holiday menus are in the best position to accommodate walk-in guests without advance reservations—check hotel websites in your budget range. If all else fails, many of the Asian restaurants (take-away or dine-in) will be open and they're often a better choice than the overly touristic joints open every day of the year.
Shopping for chocolate and traditional holiday food: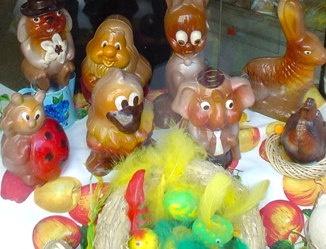 Don't miss elaborate displays in pâtisserie, boulangerie, food specialty and department store windows. French Easter chocolate comes in every color, flavor and shape. Yes, there will be chocolate bunnies and traditional baby animal shapes, but watch for ornate chocolate creations. In recent years chocolatiers have created everything from chocolate dinosaurs and safari animals to a chocolate homage to writer Balzac that copied his fountain pen and inkwell on a stack of books.
Lamb is featured at traditional Easter dinners. By the way, if invited to a private holiday event, bring the hostess a gift-wrapped box of the best chocolate you can afford. Tell the sales clerk your purchase is un cadeau and you'll likely be waved to the gift-wrapping queue set up to accommodate such requests.
Paris Flea Market (Brocante): The market at Aligre
What: 5th Annual Easter flea market
When: Monday, April 2; Opens at 8 a.m
Where:  12th arrondissement, Place d'Aligre
Métro: Ledru-Rollin
Bus: 87
Easter Egg hunts, family activities and special holiday events:
This is only a sample of what's happening around Paris—visitors should venture into appealing scenes in parks, neighborhood squares, street markets, bars and churches.
What: 53 national monuments throughout France. In Paris, La Conciergerie and Notre-Dame are recommended.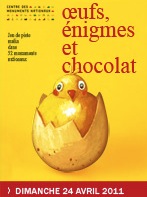 Activities: Easter egg hunts, puzzles, games, chocolate eggs and more for children aged 5-12 years.
When: Easter Sunday
Where: See the National Monuments of France website
Admission:  Free for children; adult prices vary 
Activities: Chocolate fondue and chocolate making for children; free candy for children.
When: Easter Sunday and Easter Monday, 2:00 p.m. to 6:00 p.m
Where: Bercy Village 28, rue François Truffaut, 75012 Paris
Métro: Bercy
Admission: Free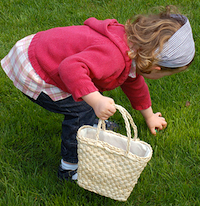 Activities: Easter egg hunt in palace gardens that will be familiar to movie fans. Event details were not online when this article was written.
When: April 9-25
Activities: Easter egg hunt with 35,000 hidden eggs, chocolate making, origami, face painting, pony rides and more
When:  Easter Sunday and Easter Monday, 10:00am-6:00pm
Admission fee:  16€ adults   13€ children aged 6-16   Free for children under age 6 accompanied by adult
Activities: Easter Egg Hunt for children aged 3-6 years of age; "Easter Egg Labyrinth" for 7-10 year olds. Street performers throughout park.
When: Easter Sunday and Easter Monday. Registration at 3:00pm; events begin at 4:00pm
Where: In front of Disney Parks 
77 Marne-La-Vallée
Métro: RER A4 from Paris, Thalys or Eurostar to station: Marne La Vallée – Chessy
Activities: Easter egg hunt at one of the largest parks in Paris; face painting, carnival games
When: Easter Sunday
Where: Via Manin Street and Botzaris Street Crimean, 75019
Métro: Buttes-Chaumont and Botzaris
©Dali Wiederhoft
Now that you're in the know, you probably want to go . . . so we recommend Auto Europe for your quick escape to the French countryside or just about anywhere in 130 countries worldwide!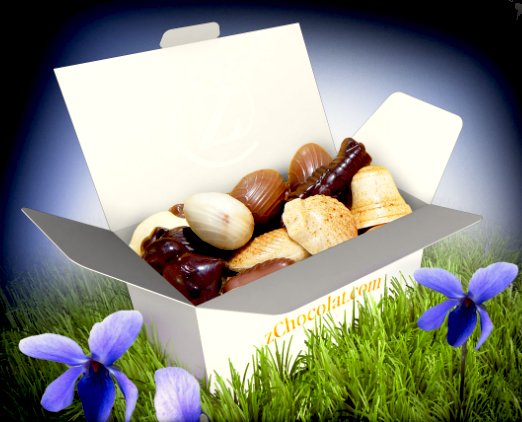 Meet "Violet," just one of the zChocolat Easter collections for 2011. zChocolat's exclusive selection of handmade French chocolates are prepared by French chocolatiers under the direction of Pascal Caffet, winner of the prestigious Meilleur Ouvrier de France award. Even if you won't be in Paris anytime soon, you can always order right here: zChocolat
Leave a reply
Your email address will not be published. Required fields are marked *