Daytrip to Monet's Giverny Spring Gardens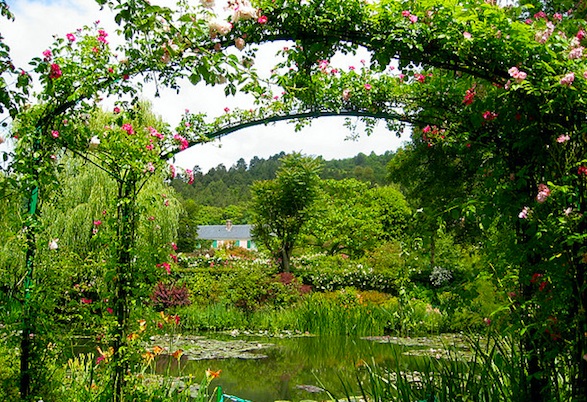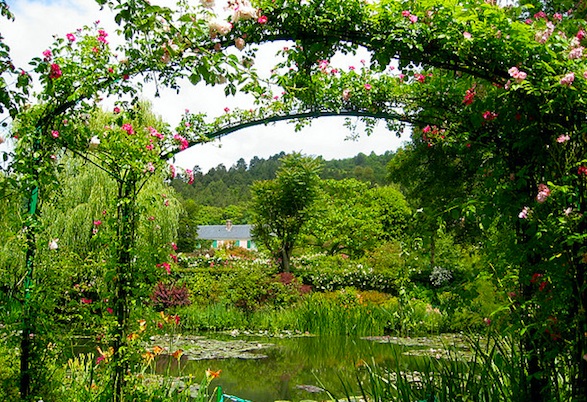 Monet's gardens at Giverny in spring. Photo by Cchristine.
Begin your visit to Giverny by booking your rail in advance from Paris to Vernon. In 2012, fares are under 30E round-trip for second-class seats, which are more than adequate for a 55-minute ride in which you'll have a better chance of observing locals than if you sat in the stuffier first-class seats.
Arrive at Gare St-Lazare, which hasn't changed much since Claude Monet painted it in 1877. Arrive early so you can enjoy an espresso and croissant at a café table while watching for your train's voie (track) to be posted. The fastest trains from Gare St-Lazare to the town of Vernon take about 55 minutes. From Vernon, it is a short bus, taxi or rental bike ride to Monet's gardens.
Take a camera. Even a simple digital point and shoot will capture incredible reflections of the sky between lilies floating near the famous green bridge seen in many of Monet's paintings of his beloved le jardin d'eau, Japanese water gardens. You can't miss the thickets of weeping willow leaves dangling over quiet waters. The pink walls and green shutters of the house that abuts the Clos Normand garden filled with spectacularly colored flowers and shrubs is also photogenic.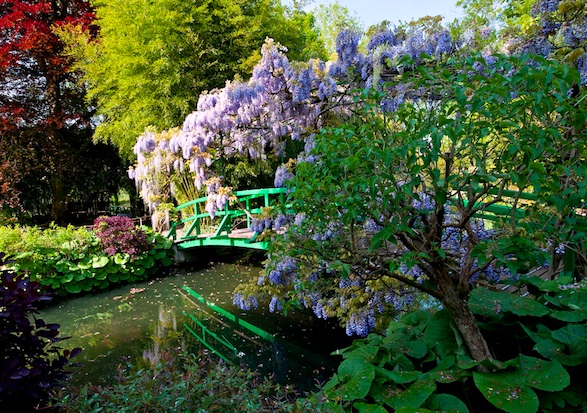 Bridge on the Japanese water lily pond at Giverny. Photo by rosarian49.
You may only enter the house once, but after that you can go back and forth from the garden to the lily pond (through a tunnel under the road) as often as you like.
In the house, you'll feel the warmth of Monet's home decorated in rich deep yellows and blues and dark woods. People come from all over to see Monet's collection of oriental art that includes Japanese wood-block prints. Reproductions of his canvasses hang in his workroom as they probably did when he worked there, documented by the displayed photograph. The country kitchen is pleasantly cluttered and filled with family photos. Plan to spend about 90 minutes or less in the house, especially if it is crowded.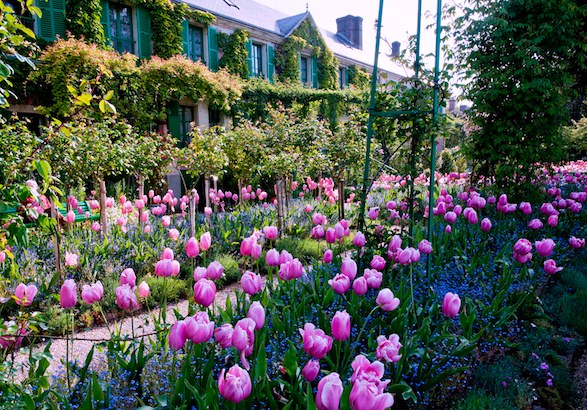 Monet's residence at Giverny in spring. Photo by rosarian49.
Visit the gift shop. If you read French, purchase a biography entitled Claude Monet (French Edition) written by Georges Clemenceau, France's WWI Prime Minister, who reassured the artist when he despaired about his failing eyesight. The book is full of photographs, personal recollections and conversations between the two friends. It was Clemenceau who carried out his friend's instructions to donate Monet's last paintings to the city of Paris and they're now displayed at L'Orangerie. [Ed: book is sometimes available at amazon.com link above.]
You might want to linger in Giverny and visit the many local artists' ateliers. Consider eating in the dining room of the historic Ancien Hôtel Baudy , referred to as "The American Painter's Hotel" after an influx of American artists followed Monet to Giverny, then a farming village.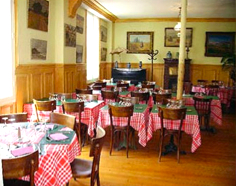 It was in the Hotel Baudy restaurant where one evening a fight broke out among Alfred Sisley, Mary Cassatt and Cézanne, who stormed out and had his things picked up and forwarded a few days later by Monet. Walk through the hotel's beautiful garden and climb stone steps leading up a hill, and view the artist studios built in the 19th century.
Practical Information for visiting Giverny as a Paris day trip
FONDATION CLAUDE MONET AKA "Monet's gardens at Giverny"
84, rue Claude Monet, Giverny 27620
Tel: 02 32 51 28 21
2012 Season:  Open April through October
Hours:  Daily (including bank holidays) 9:30AM-6:00PM  Last entry: 5:30PM
2011 Admissions (2012 information not yet posted):  Adult: 8E at door; advance online 9.5E ticket bypasses entry line. Reduced fares for children, seniors, disabled
Handicapped accessibility: gardens only; no wheelchair access to house or studio.
Plan your trip by train
Parking: free
Gift shop by Fondation Claude Monet
Tel : 02 32 51 28 21
Vernon Tourist Information
Getting from Vernon to Giverny (4.5 kms): taxi, city bus or rent a bike near the Vernon train station. Taxi will cost you under 15E each way (2011 prices); the gift shop will call for your return taxi if you wish. In Vernon, stop by the Vernon Tourist Information center for current bus, bike and taxi fares.
Michele Kurlander is a Chicago corporate lawyer, writer, small business and women's issues advocate who fell in love with France and all things French in 1967 when she first visited France as the chaperone of a younger cousin. Click on her name to view her entire profile.

Subscribe for
FREE

weekly newsletters with subscriber-only content.
BonjourParis has been a leading France travel and French lifestyle site since 1995.
Readers' Favorites: Top 100 Books, imports & more at our Amazon store
We daily update our selections, including the newest available with an Amazon.com pre-release discount as high as 30%. Find them by starting here at the back of each section, then work backwards page by page.
Learn more about Monet's Giverny and other art offerings in Normandy…please click on an image for details.
Click on this banner to link to Amazon.com & your purchases support our site….merci!
Leave a reply
Your email address will not be published. Required fields are marked *