Daytrip to Fontainebleau by Clay McLachlan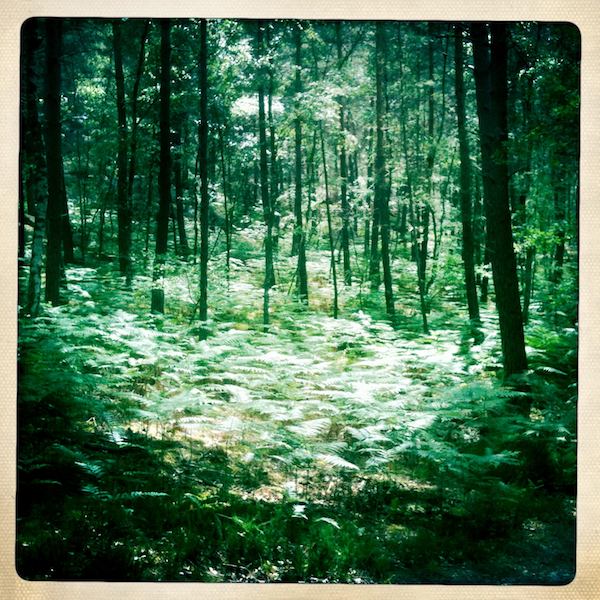 One of my favorite things about living in France is the ability to visit diverse places within the time span of one day. Earlier this week after dropping my daughter off at school I set my GPS for la forêt de Fontainebleau in search of a walk among the trees.
Less than an hour away from the Périphérique morning traffic, I was parked and walking through an amazing forest and gorge with views and incredible rock formations.
This bed of ferns bathed in sunlight surrounded by towering trees on the forest floor struck my eye and nourished my soul.
The Château de Fontainebleau is absolutely worth a visit and can in fact be reached by taking a short 40-minute train ride from Gare de Lyon in Paris. I was back in Paris in time to pick up my daughter after school!
Technical Details – iPhone 3Gs, Hipstamatic App, John S lens, Ina's 1969 Film, NO post production.
PRACTICAL INFORMATION
To arrange a tour of the forests of Fontainebleau
More about Château de Fontainebleau

Clay McLachlan is a Paris-based photojournalist with a clientele that includes internationally acclaimed top chefs, resorts and restaurants. His work has been published in award-winning books you can learn about at Clay McLachlan.com. Clay shares a slice of life in France and beyond in a photo published weekly in BonjourParis.

Subscribe for
FREE

weekly newsletters with subscriber-only content.
BonjourParis has been a leading France travel and French lifestyle site since 1995.
Readers' Favorites: Top 100 Books, imports & more at our Amazon store
Visit Fontainebleau with "Paris to the Past" as your guide after learning how to shoot better travel photos.
Thank you for using our link to Amazon.com…we appreciate your support of our site.
Leave a reply
Your email address will not be published. Required fields are marked *