Coutume Cafe in the Paris 7th: Coffee Mecca Worth the Trek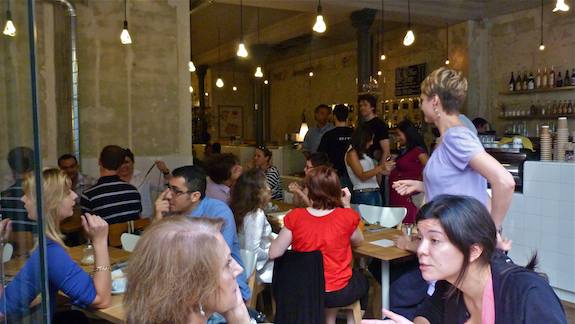 Paris has, without a shadow of a doubt, some of the absolute worst coffee in the world. Which seems incredible given the quality, variety, and almost delirious obsession with food that can be found pretty much throughout the capital of France. That is, until last April, when a couple of dedicated fellows opened Cafe Coutume on the Rue Babylon.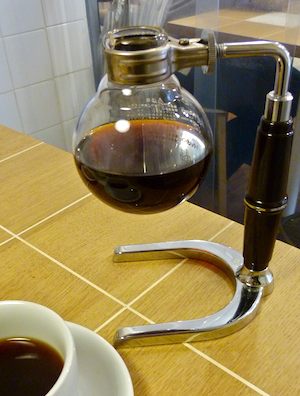 You will find Coutume Café on a quiet street in the Paris 7th, not far from the upscale Le Bon Marché and The Conran Shop. Once the home of a kebab take-out, the 170 square meter (1400 square feet) space has been transformed into a contemporary coffee mecca featuring a large roaster and four very different methods of preparing your beverage using only beans lovingly roasted by co-founder and master torréfacteur (roaster) Antoine Netien, who was just named "Best Roaster in France" by the Comité Français du Café.
That tall, smiling Brit behind the counter taking your order is co-founder Tom Clark, who will happily explain the various coffee brewing methods offered every day, as well as the variations on traditional espresso drinks and the various beans available for "drip" or "syphon."
Sitting prominently on the counter is a towering glass contraption looking more like it belongs in a mad scientist's laboratory than a coffee bar. It's a 24-hour cold drip method brewer designed to bring out the stellar qualities in premium coffee beans and is, indeed, most impressive as is the coffee drink it produces. Barista Kevin Ayers, who moved to Paris from the U.S. specifically to work with Tom and Antoine, makes coffee drinks with a rhythm and fluidity that is a joy to watch. He, too, is passionate about the entire process.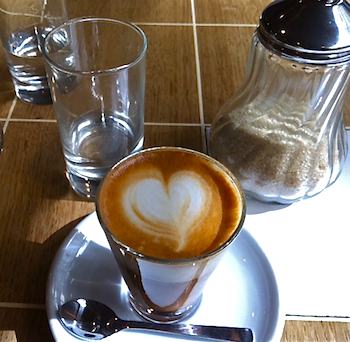 Tom explained the extensive remodeling process and noted their surprise to find a beautiful period ceiling that was previously hidden by a false ceiling discovered when walls were removed. He also happened to mention their five-month search for the perfect milk. You see, most cafes throughout France use (yucky) ultra-pasteurized UHT milk with an indefinite shelf life for their coffee drinks. Not Coutume. Tom and Antoine found a farmer just outside of Paris whose milk has the right flavor and just the right fat content for perfect foam. They pick up their milk from the farm weekly and we should be grateful for this extra effort that makes all the difference in the exquisite flavor of your cappuccino.
Hungry? No worries. There are goodies from La Pâtisserie des Rêves on rue du Bac, plus salads, sandwiches and a very popular weekend brunch with a most satisfactory, delicious menu at €20.
Coutume (another word for the porcelain drip filter holder) means "custom" in French. Be sure you make a coutume of visiting frequently, especially because it offers out-of-this-world coffee, free Wi-Fi and terrific music. To start a coutume at home, remember to pick up beans for your morning coffee, too.
Pratical Information:
47, rue de Babylone, Paris 7th
Tél: 01 45 51 50 47
Métro: #13 St-François-Xavier, #10 or #12 Sèvres-Babylone
Hours: Tuesday-Friday, 8am-8pm; Saturday-Sunday, 10am-5pm. Reservations are recommended for brunch.

Marie Z. Johnston was taught well by her Parisienne maman to appreciate good food, good wine and the good people who nurture it, sell it and serve it at restaurants around the world. Click on her name to learn more about the French Market Maven and a list of other stories she's written for BonjourParis.
Subscribe for free. NEW: exclusive content for subscribers only. Search our library with 7,200+ stories. BonjourParis has been a leading online France travel and French lifestyle site since 1995.

Thank you for using our direct link to Amazon.com every time you shop the world's largest online retailer.
Want more? View our recommended France-themed books & items. Most recent listings at last pages.

Direct airport transfer service
PARIS SHUTTLE is a leading Paris airport transfer service. Book your airport transfers in advance online for direct to-your-door service and check the current discount available to BonjourParis readers who book using our link.
Leave a reply
Your email address will not be published. Required fields are marked *