Christmas, New Year and Au revoir, for now
Nyons, France. Christmas seems to have tiptoed in this year, without much fanfare. Perhaps in the big cities it's different, but in Provence it was quiet, as it should be. After all, essentially, this is a religious holiday recounting the birth of a child in a manger surrounded by animals and poor shepherds, not all that unlike how many in Provence at one time came into this world. 
Christmastime coincides with the olive harvest and 2005 was a poor year. This is hard for an area known as the olive capital of France, where livelihoods depend on an abundant and rich harvest. For me, Christmas here has always been inextricably tied to olives, to rising long before the sun and spending my days high in the majestic branches of stately, ancient oliviers, hand-picking the diamond black fruit until the sun set and it was no longer possible to distinguish olives from sky. Christmas Day marked time off from the preceding weeks of hard labor. But alas, the farm where I worked was sold and work this year was hard to come by, given the meagre harvest. This has been an equally bad year for truffles, another local mainstay. Fortunately, the September grape harvest was good and vintage 2005 should be excellent.
Nyons is a town of close to 7,000 inhabitants, a virtual megalopolis in these parts. Unlike the many perched villages in the area that string simple beads of white lights around their church campaniles and across a few narrow streets, Nyons goes all out with its Christmas display, which is mounted by the town's "services techniques," a somewhat motley group of men driving around in white services techniques trucks. Each year, there is considerable anticipation awaiting the unveiling of their increasingly ghastly displays. Last year's was the ultimate,  a home-made Santa tippled over in a chair that rocked back and forth 24 hours around the clock powered by a screeching motor on top of backwards flapping bird wings perched beside the olive tree in the town's main rond point in the Place de la Libération. This was only equalled–topped?–by the local Roman Catholic Church suddenly loudly objecting to the placement of the plastic Baby Jesus doll in the town manger two weeks before His birth at midnight on Christmas Eve, forcing the services techniques under cloud of much controversy to remove said plastic doll and supposedly to place it back in the manger at the hour of His birth, something that was never done, leaving the town of Nyons without a Baby Jesus last year. Anyhow, "someone" high up must have said "something" because this year's decorations were simple, sedate and lovely.
The Baby Jesus doll was placed in the manger a week before Christmas, presumably a premature birth to which no one, given last year's abduction, dared object. The centerpiece in the rond point was attractive, if not puzzling. This is a town with an ancient and noble history stretching back to before the birth of Christ, but for reasons I can't fathom the centerpiece this year was a pyramid of light placed over the olive tree, a symbol I am told that was taken from a pop American novel called THE DAVINCI CODE that many people seem to take for gospel truth. The town made the wise decision not to blast "LA MACARENA" this year over loudspeakers at all hours of the day and night throughout the town. There was an enormous live Christmas tree in the 14th-century Place des Arcades decorated with simple strings of white lights that was beautiful and regal in its simplicity. The only false note I felt, though my opinion was not solicited officially or otherwise, were the Santas dangling by their arms, hoods fallen over their heads, from the lamp posts along the Rue des Déportés. A frightful sight, especially since the double human-life-sized Santa dolls were supposed to have been inflated before they were put up, something the services techniques seem to have neglected to do, so not only did they resemble the torture photos from Abu Ghereib but they also looked seriously starved.
A high point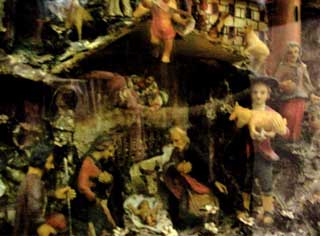 this year was the magnificent display of priceless 17th, 18th and 19th-century crèches put on by Jean-Pierre Autrand, owner of the famed olive oil Moulin Autrand beside the Pont Roman, model for the olive gatherer santon and historian extraordinaire of all pertaining to Nyons and Provence beyond it. Jean-Pierre had rented the thirty tiny boîtes vitrées (windowed boxes) crèches from private collections and from the association, Trésors de Ferveur (
www.chez.com/tr
ésorsdeferveur) in Chalon-sur-Saone and trucked them down under high security for the month-long exhibit he mounted in the magnificently restored 18th- century apartment of his ancestors that is part of the old moulin. For a entry fee of 2 euros, Jean-Pierre guided small groups in to see his treasures, the atmosphere enhanced by burning incense and Gregorian chants. These minute boxed crèches, each a delicately crafted gem, were made lovingly by hand by nuns during the 17th, 18th and 19th centuries, generally for wealthy benefactors of their convents or the local church. The Nativity figures and their surroundings were made out of wax, cloth, blown glass, paper, clay, sea shells, coral, dough, mirrors, dried flowers and plants, wood, papier-mâché, tissue paper, cotton, beads and bits of metallic thread. Some were multilevelled, fanciful and elaborate, others more simple. Each reflected the area of France where it was originally made, the ones from Provence always included a massive glowing sun in the center. Many of the boxes from Burgundy had the Holy Family dressed in elaborate clothing of silk, lace and brocade  with jewels, reflecting no doubt the nobility for whom they were made. My favorites, though not in a box, were large carved painted wooden 19th-century santons from a château in the Northern Drôme. Just as we were getting ready to leave, Jean-Pierre disappeared into his tiny closet of an office and came out with his own windowed box that he'd constructed himself several years ago. It was delightful and charming and he proudly showed it off, including where his cats had walked on its top and sharpened their claws!
My own cats were busy this Christmas, with Little Nell, who's the size of a tea cup leading the way to knock down the Christmas tree three times. Great fun, after which she would hop into the hat box of fabric scraps on my desk and give me the most innocent look in the world. The other big cat Christmas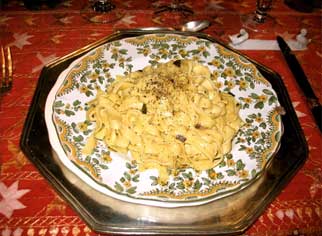 caper took place Christmas Eve while I was at my friend Lydie's château here in the Old Town for a festive supper of Champagne, smoked salmon and blinis, homemade pasta with decadently magnificent black truffles, several different Gigondas, salad, cheese, lemon soufflé and meringues. Apparently the cats felt the need for an indoor snowfall and managed to open and shred a new ten-kilo bag of kitty litter, dispersing it throughout all seven storeys of the house. Don't ask!
As I write this it is already four days into the New Year.  Which brings me to a rather sad decision I have had to make: to take a leave from the warm, supportive and superb BP community to give myself time to finish a book I have been working on far too long about the tiny street where I lived for 35 years in New York's Greenwich Village. BP is the closest to any family I have here in France and I've made marvelous friends through the website, including BP"s own "Diary from Limousin" author, Madeleine Dickson who came to visit for a week last summer with her husband and is now among my closest friends. I have also been supported and nurtured, like the cranky brat I can at times be, by Karen Fawcett and Sarah Gilbert Fox, who have pushed me and enabled me to thrive and grow enormously as a writer. I've known Karen and adored her through thick and thin for more than 15 years, long before I began to write, started travelling to France and then moved here to live. We met through the website when she'd just taken it over, when BP was still part of AOL, and the closest I ever got to France was the hours spent online visiting Bonjour Paris. And of course, there's Sarah, and Andrea, and Victor and just so many more members of the flourishing country known as  Bonjour Paris! Best wishes to you all, and au revoir, for now!
Leave a reply
Your email address will not be published. Required fields are marked *