Hotel St. Jacques Revisited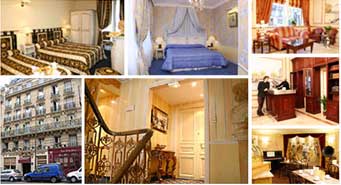 The last time I stayed in the Hotel St. Jacques I was a 16-year old French student. Its claim to fame was that it had co-starred with Audrey Hepburn and Cary Grant in the film, Charade, but the well worn two-star was far from a movie star. However, when I paid a visit this past September, instead of the student flophouse I remembered, I found the old gal twinkling— renovated with love by owners, Jean-Paul and Martine Rousseau.   The Hotel St. Jacques sits on the corner of Rue des Écoles and Rue des Carmes, in the shadow of the Sorbonne and a few steps from Boulevard St. Germain. I arrived on foot from the 7th, wilted from the unbearably humid day. As I entered the small but elegant lobby with red and tan marble floor and oodles of richly grained wood paneling, I was greeted by the amiable receptionist, Jo, who offered me a drink while I waited for my tour of the hotel. I accepted gratefully and plopped myself onto a red and beige striped divan. While sipping my water sans gas, I cast my eyes up at the wonderful trompe l'oeil ceiling. New? Cleaned? "Hmmm…I don't remember that," I mused. Indeed, there were a lot of changes. The breakfast room that once filled the lobby space was gone and in its place was an elegant little seating area with a fully stocked zinc-top bar—a custom-made, 19th century replica, so I was told. "Not to make money," Monsieur Rousseau would later explain, "just something nice for guests."   This seems to be the overarching philosophy at the St. Jacques—so many little details and niceties—that another two-star hotel might overlook—just to have "something nice for guests." Rousseau's renovation, completed in February 2005, was inspired by Belle Epoque Paris. Admittedly, it is often more impressionistic than authentic, but the effect is sweet and charming. No detail was overlooked from the zinc-top bar to an original copy of an Offenbach score on the player piano in the newly completed breakfast room. This room is Rousseau's crowning glory with its cabaret theme complete with bent wood chairs and a huge Toulouse-Lautrec mural; the player piano serenades guests during breakfast. Just something nice for guests.  Jean-Paul Rousseau, a robust gent with a mass of black curly hair, beamed like a proud papa as he showed me around the hotel. He brought me into room after room, taking care to point out special details like views from balconies and painted ceilings. "Did you see the ceiling? It's original to the building. Voyez-vous les petits oiseaux? Original." I sheepishly pointed to the bathroom addition whose wall cut into the lovely ceiling mural. "Oui, eets terrible," Rousseau lamented
in labored English. "It was like this already." He assured me that under the drop ceiling in the bathroom the painting was still intact, although he seemed to say it more to comfort himself than me. This is a man who truly loves history and the old hotel and took pains to preserve much of the original architectural details—from the ceilings, to the paneled walls, to the wonderful old doors with ornate brass doorknobs and skeleton key entry. I suddenly felt terribly guilty for staying at the Hilton.   Each of the 38 rooms at the St. Jacques is different in décor and size, and prices range accordingly. I saw about 12 of them. If you've ever wanted to sneak around your hotel when the maid is in to see what the other rooms are like, you can imagine how much fun I had. (Even though I was with the owner, key in hand, I still felt a little naughty.) On average, I found the rooms to be a decent size for Paris. Some bathrooms were on the small side, but many were a good size and some were downright glamorous. The rooms are on six floors (the elevator goes only to the 5th) and in typical Haussmann style, the 2nd, 5th and 6th floors have balconies. All rooms on the 6th floor are 90 euros a night and all but two have balconies. These tended to be the smallest rooms with dormer windows (where I could reach out and lay my hand right on the old slate roof). My favorite, room 31, was a corner room with two balconies and views of Notre Dame and the Pantheon. With its rooftop location and romantic charm, one could nest all day and write the great American (I mean French) novel. If you're looking for the original painted ceilings you'll find them in rooms 5 and 6; room 5 is dubbed the "honeymoon room," (with a large, romantically draped bed and ample bathroom). The largest rooms I saw were #24 and 25; #24 had a masculine feel with a fireplace and blue and gold Versace-esque décor and 25 had a lovely mosaic tile bathroom. Both can be booked as a double or triple—ideal for a couple with child in tow (118eu. dbl; 145eu trpl). Room 22 was bright and cheery, very feminine in pink with a bucolic mural and pink tile bathroom with tub—perfect for a woman travelling alone.   As part of the renovation, the hotel has added three new rooms where the restaurant once was. They are dressed in toile (very French!) and room 38 and 39 are on the ground floor. Room 38, in beige and blue toile, has handicap access. Room 39 (red/green toile) is on the small side with a tiny bathroom and windows slightly below street level, but still darling and extremely well laid out to maximize the space.   Like many European hotels, closet space comes only in the form of a wardrobe (and some are small), and there's no A/C so it can be hot in the summer. Still, there are many tradeoffs to make this adorable…
SUBSCRIBE
ALREADY SUBSCRIBED?
BECOME A BONJOUR PARIS MEMBER

Gain full access to our collection of over 5,000 articles and bring the City of Light into your life. Just 60 USD per year.

Find out why you should become a member here.

Sign in

Fill in your credentials below.
The last time I stayed in the Hotel St. Jacques I was a 16-year old French student. Its claim to fame was that it had co-starred with Audrey Hepburn and Cary Grant in the film, Charade, but the well worn two-star was far from a movie star. However, when I paid a visit this past September, instead of the student flophouse I remembered, I found the old gal twinkling— renovated with love by owners, Jean-Paul and Martine Rousseau.  
The
Hotel St. Jacques sits on the corner of Rue des Écoles and Rue des Carmes, in the shadow of the Sorbonne and a few steps from Boulevard St. Germain. I arrived on foot from the 7th, wilted from the unbearably humid day. As I entered the small but elegant lobby with red and tan marble floor and oodles of richly grained wood paneling, I was greeted by the amiable receptionist, Jo, who offered me a drink while I waited for my tour of the hotel. I accepted gratefully and plopped myself onto a red and beige striped divan. While sipping my water sans gas, I cast my eyes up at the wonderful trompe l'oeil ceiling. New? Cleaned? "Hmmm…I don't remember that," I mused. Indeed, there were a lot of changes. The breakfast room that once filled the lobby space was gone and in its place was an elegant little seating area with a fully stocked zinc-top bar—a custom-made, 19th century replica, so I was told. "Not to make money," Monsieur Rousseau would later explain, "just something nice for guests."  
This seems to be the overarching philosophy at the St. Jacques—so many little details and niceties—that another two-star hotel might overlook—just to have "something nice for guests." Rousseau's renovation, completed in February 2005, was inspired by Belle Epoque Paris. Admittedly, it is often more impressionistic than authentic, but the effect is sweet and charming. No detail was overlooked from the zinc-top bar to an original copy of an Offenbach score on the player piano in the newly completed breakfast room. This room is Rousseau's crowning glory with its cabaret theme complete with bent wood chairs and a huge Toulouse-Lautrec mural; the player piano serenades guests during breakfast.
Just something nice for guests. 
Jean-Paul Rousseau, a robust gent with a mass of black curly hair, beamed like a proud papa as he showed me around the hotel. He brought me into room after room, taking care to point out special details like views from balconies and painted ceilings. "Did you see the ceiling? It's original to the building. Voyez-vous les petits oiseaux? Original." I sheepishly pointed to the bathroom addition whose wall cut into the lovely ceiling mural. "Oui, eets terrible," Rousseau lamented
in labored English. "It was like this already." [Meaning: I didn't do it!] He assured me that under the drop ceiling in the bathroom the painting was still intact, although he seemed to say it more to comfort himself than me. This is a man who truly loves history and the old hotel and took pains to preserve much of the original architectural details—from the ceilings, to the paneled walls, to the wonderful old doors with ornate brass doorknobs and skeleton key entry. I suddenly felt terribly guilty for staying at the Hilton.  
Each of the 38 rooms at the St. Jacques is different in décor and size, and prices range accordingly. I saw about 12 of them. If you've ever wanted to sneak around your hotel when the maid is in to see what the other rooms are like, you can imagine how much fun I had. (Even though I was with the owner, key in hand, I still felt a little naughty.) On average, I found the rooms to be a decent size for Paris. Some bathrooms were on the small side, but many were a good size and some were downright glamorous. The rooms are on six floors (the elevator goes only to the 5th) and in typical Haussmann style, the 2nd, 5th and 6th floors have balconies. All rooms on the 6th floor are 90 euros a night and all but two have balconies. These tended to be the smallest rooms with dormer windows (where I could reach out and lay my hand right on the old slate roof). My favorite, room 31, was a corner room with two balconies and views of Notre Dame and the Pantheon. With its rooftop location and romantic charm, one could nest all day and write the great American (I mean French) novel. If you're looking for the original painted ceilings you'll find them in rooms 5 and 6; room 5 is dubbed the "honeymoon room," (with a large, romantically draped bed and ample bathroom). The largest rooms I saw were #24 and 25; #24 had a masculine feel with a fireplace and blue and gold Versace-esque décor and 25 had a lovely mosaic tile bathroom. Both can be booked as a double or triple—ideal for a couple with child in tow (118eu. dbl; 145eu trpl). Room 22 was bright and cheery, very feminine in pink with a bucolic mural and pink tile bathroom with tub—perfect for a woman travelling alone.  
As part of the renovation, the hotel has added three new rooms where the restaurant once was. They are dressed in toile (very French!) and room 38 and 39 are on the ground floor. Room 38, in beige and blue toile, has handicap access. Room 39 (red/green toile) is on the small side with a tiny bathroom and windows slightly below street level, but still darling and extremely well laid out to maximize the space.  
Like many European hotels, closet space comes only in the form of a wardrobe (and some are small), and there's no A/C so it can be hot in the summer. Still, there are many tradeoffs to make this adorable little hotel worth considering. And certainly for the price, it is far nicer than the generic Formica-furniture-and-asbestos-drop-ceiling variety that abounds in the city. A far more memorable experience. Something "nice for guests." 
The Hotel St. Jacques is a little sanctuary in the heart of a bustling city. It's an experience from another time—simple and unspoiled, elegant and gracious. As I walked away from the St. Jacques, my souvenir key chain in hand, I looked back at the hotel with the dome of the Pantheon in the background and thought: Next time, I'll skip the Hilton.
Hotel St. Jacques
35, Rue des Écoles
01 44 07 45 45
Do you have a favorite inexpensive hotel in Paris? Let us know on the BP Forum.
---
---