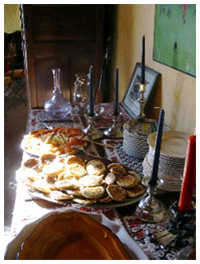 The BP editors have requested a piece on Christmas in Provence. Something quaint and charming I'm sure is expected. Immediately complications arise. I'm a foreigner. I'm here alone without any family. And I'm Jewish.   Yes, I have a tree, a beautiful Nordman spruce decorated with little toys and dolls, miniature red apples and golden pears, sparkly stars and balls, pine cones and baby's breath–"quaint and charming." In New York I never had a tree, but here in Provence I do. I suppose one could say, I've become one of THOSE Jews. Tant pis! So far, all four indoor cats have left the ornaments alone, though Pip and Alice, the little French foundlings, are having great fun with a piece of green string I'd neglected to cut from the trunk when I unwrapped the lower branches.   Until recently, people here say they did not have trees in the house at Christmas; neither did they put Santa-type decorations outside. The focal point has always been the crèche, with its santons and often elaborate handcrafted Nativity scene. No true Provençal home is without one. (If you want to read about the official traditional Christmas in Provence, there are already five superb articles on the BP website and two excellent articles about santons.)   Each Provençal village has an outdoor crèche; the churches have them inside as well. Often on Christmas Eve there are live Nativity pageants with farm animals and a costumed procession. My first year in Nyons there was a lovely one close to midnight in the Old Town. The Nyons outdoor crèche has always been under the large overhanging rock in the Vieille Ville across from the Pont Roman that spans the River Eygues (pronounced "egg"). The figures are painted wooden cutouts of Mary, Joseph, a donkey, a cow and attending figures in traditional Provençal dress. Baby Jesus has always been a soft-plastic baby doll dressed in a diaper, lying on top of a bed of straw.   This year, for reasons unknown to those few who consider themselves possessed with sense, aesthetic, common and otherwise, the crèche was moved to a construction site in the 14th-Century Place des Arcades and placed behind a locked pea-green iron cage during the first week of December. Instead of being naked in the cold, save for His diaper (whatever happened to swaddling clothes?), this year the poo
r Child was buried up to His chin in hay. The parish powers-that-be objected, not to the location or manner of placement but to the rubber doll's being born three weeks prematurely.   Suddenly this year, His appearance in the crèche before His birth at exactly midnight Christmas Eve was seriously politically incorrect. Much ink was shed in the newspapers over this affront, but unfortunately I was undergoing dental surgery outside Baden-Baden, so I cannot provide a firsthand account. A reliable source has reported to me that during week two of the controversy, she was on her way to the boucherie of Monsieur Ghys (pronounced "geese") in the Place des Arcades to purchase some tasty lamb chops at the exact moment that a member of the Service technique Nyonsais unlocked the green metal bars and took the Baby away from His manger. According to this same source, the gentleman from les services techniques (town maintenance) wedged the holy doll under his arm just above his elbow, hopped into an official white truck and drove off. The newspapers later reported Baby Jesus was being kept in a safe location (an incubator inside the mairie?) until His birth.   Meanwhile, les Services techniques and shopkeepers were busy decorating the town. Small live Christmas trees started to appear, generally tied halfway up drainpipes and bedecked with enormous shiny-foil red, gold and silver bows. Garlands of twinkly white lights were strung overhead, more shiny bows were placed around town and tunes such as "Silent Night" and the "Macarena" were piped from loudspeakers onto the streets. Two-storey high inflatable snowmen and Santas lined lined the Rue de la Resistance with its many shops until a scirocco from North Africa came to town.   The main Nyons Christmas tableau is always constructed around the olive tree in the Rond Point in the Place de la Libération, the central square in town. Last year's was what I call a mixture of metaphors. A very elaborate roof with a chimney was constructed under the tree and a Santa who looked as if he'd just hit all the bars and cafés in the Place was crouched on the roof next to a fountain of spurting water that seemed to originate to the left of the chimney. A prestigious award was given by the Mairie to the creators of this novel and noble spectacle for Noël. This year it was going to be hard to outdo last year's prize-winning display, but fortunately we were not disappointed. Enormous feathery white bird wings were put where the roof was last year and an even better Santa was placed on a chair in the middle of the wings. This Santa was jollier than last year's, no doubt because he'd had eleven months to patronize local drinking establishments, hence perhaps his need for the…
SUBSCRIBE
ALREADY SUBSCRIBED?
BECOME A BONJOUR PARIS MEMBER

Gain full access to our collection of over 5,000 articles and bring the City of Light into your life. Just 60 USD per year.

Find out why you should become a member here.

Sign in

Fill in your credentials below.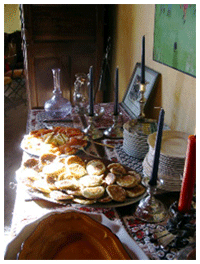 The BP editors have requested a piece on Christmas in Provence. Something quaint and charming I'm sure is expected. Immediately complications arise. I'm a foreigner. I'm here alone without any family. And I'm Jewish.

Yes, I have a tree, a beautiful Nordman spruce decorated with little toys and dolls, miniature red apples and golden pears, sparkly stars and balls, pine cones and baby's breath–"quaint and charming." In New York I never had a tree, but here in Provence I do. I suppose one could say, I've become one of THOSE Jews. Tant pis! So far, all four indoor cats have left the ornaments alone, though Pip and Alice, the little French foundlings, are having great fun with a piece of green string I'd neglected to cut from the trunk when I unwrapped the lower branches.

Until recently, people here say they did not have trees in the house at Christmas; neither did they put Santa-type decorations outside. The focal point has always been the crèche, with its santons and often elaborate handcrafted Nativity scene. No true Provençal home is without one. (If you want to read about the official traditional Christmas in Provence, there are already five superb articles on the BP website and two excellent articles about santons.)

Each Provençal village has an outdoor crèche; the churches have them inside as well. Often on Christmas Eve there are live Nativity pageants with farm animals and a costumed procession. My first year in Nyons there was a lovely one close to midnight in the Old Town. The Nyons outdoor crèche has always been under the large overhanging rock in the Vieille Ville across from the Pont Roman that spans the River Eygues (pronounced "egg"). The figures are painted wooden cutouts of Mary, Joseph, a donkey, a cow and attending figures in traditional Provençal dress. Baby Jesus has always been a soft-plastic baby doll dressed in a diaper, lying on top of a bed of straw.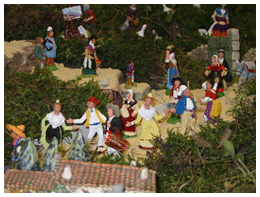 This year, for reasons unknown to those few who consider themselves possessed with sense, aesthetic, common and otherwise, the crèche was moved to a construction site in the 14th-Century Place des Arcades and placed behind a locked pea-green iron cage during the first week of December. Instead of being naked in the cold, save for His diaper (whatever happened to swaddling clothes?), this year the poo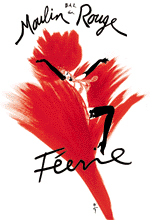 r Child was buried up to His chin in hay. The parish powers-that-be objected, not to the location or manner of placement but to the rubber doll's being born three weeks prematurely.

Suddenly this year, His appearance in the crèche before His birth at exactly midnight Christmas Eve was seriously politically incorrect. Much ink was shed in the newspapers over this affront, but unfortunately I was undergoing dental surgery outside Baden-Baden, so I cannot provide a firsthand account. A reliable source has reported to me that during week two of the controversy, she was on her way to the boucherie of Monsieur Ghys (pronounced "geese") in the Place des Arcades to purchase some tasty lamb chops at the exact moment that a member of the Service technique Nyonsais unlocked the green metal bars and took the Baby away from His manger. According to this same source, the gentleman from les services techniques (town maintenance) wedged the holy doll under his arm just above his elbow, hopped into an official white truck and drove off. The newspapers later reported Baby Jesus was being kept in a safe location (an incubator inside the mairie?) until His birth.

Meanwhile, les Services techniques and shopkeepers were busy decorating the town. Small live Christmas trees started to appear, generally tied halfway up drainpipes and bedecked with enormous shiny-foil red, gold and silver bows. Garlands of twinkly white lights were strung overhead, more shiny bows were placed around town and tunes such as "Silent Night" and the "Macarena" were piped from loudspeakers onto the streets. Two-storey high inflatable snowmen and Santas lined lined the Rue de la Resistance with its many shops until a scirocco from North Africa came to town.

The main Nyons Christmas tableau is always constructed around the olive tree in the Rond Point in the Place de la Libération, the central square in town. Last year's was what I call a mixture of metaphors. A very elaborate roof with a chimney was constructed under the tree and a Santa who looked as if he'd just hit all the bars and cafés in the Place was crouched on the roof next to a fountain of spurting water that seemed to originate to the left of the chimney. A prestigious award was given by the Mairie to the creators of this novel and noble spectacle for Noël. This year it was going to be hard to outdo last year's prize-winning display, but fortunately we were not disappointed. Enormous feathery white bird wings were put where the roof was last year and an even better Santa was placed on a chair in the middle of the wings. This Santa was jollier than last year's, no doubt because he'd had eleven months to patronize local drinking establishments, hence perhaps his need for the chaise. A motor was placed under the bird wings (which for reasons unknown were placed backwards), enabling Santa and the wings to rock from side to side around the clock. Unfortunately, there was a lot of rain before Christmas, causing Santa's motor to badly creak, a not-altogether pleasant sound.

Another giant homemade Santa with a knitted wooly beard was placed near the Pont Roman. This Santa, who could hardly be termed jolly, resembles a cross between the Abominable Snowman and Knecht Ruprecht or the Belsnickes of the past, who prowled Christmas Eve, frightening women and children, giving rods and coal to little ones who'd been bad, though I doubt the latter literary/historical allusion was intended. Based on anecdotal observation, the Pont Roman Santa has caused more than one tiny child to scream in terror. Others have been more preoccupied with speculation over what appears to be a "willy" sticking out of the Abominable Santa's "wooly."

With all this cheer in the air, Mr. Charmer across the street (also known as le fou, the lunatic and le psychopathe) decided the time had come to take down his Halloween decorations, including the larger-than-life-sized Day-Glo skeleton and disembodied skull that have been dangling from his baby pink second-floor shutters for the past 2 1/2 months. Naturally none of this work could be done in ordinary clothes. Mr. Charmer has a special outfit for each and every task. This one called for the official bleu jumpsuit of French workers covered by an official fluorescent vest for French road workers.

He put illuminated candlesticks in the windows, then Santa Claus and Rudolf plastic stickers and some Bonhomme de neige (snowmen), enormous colored tin-foil bows, followed by two-foot golden cherubs playing violins and lutes in the space formerly occupied by the fleshless glow-in-the-dark cadavers, and a stuffed Santa climbing a rope ladder attached on the third floor. There was a plastic picture in the kitchen window of all three members of the Holy Family in the Manger painted in the finest Norcross greeting-card style. This year, unlike last year, he removed the poster of a man urinating into the gas tank of a car that has occupied a central space in his kitchen vitrine for the past two years.

The pièce de résistance had yet to come. There was another change of outfit and much scurrying onto the roof. Through much of this petit drame, I was in bed, recuperating from surgery. Emily, my Westie, and the four cats were basking in my convalescence, having me to themselves in the bed. Suddenly with the force of an electric jolt, the six of us levitated from the mattress as a manic rendering of "Jingle Bells" played on a tinny toy piano blasted through the double-paned windows. After twenty minutes non-stop of enforced listening to what sounded like Santa on crack, the surgeon's operating chamber in Überünterinteröbersheim was seeming not so bad.

Two hours into the musical mania, I heard a major bloodletting out on the street. "Jingle Bells" was abruptly shut off, never to be played again, and Mr.Charmer slammed closed his baby-pink volets, depriving us of his exquisite son et lumière.

Christmas Eve I went to my friend Laurie's and the two of us made the same stuffing I'd made at Thanksgiving for the turkey she'd bought from Caty for her in-laws the next day. Mareva, her daughter, busied herself with building a gingerbread house and baking Christmas cookies as a surprise for her dad. Unfortunately Mareva was so involved with the gingerbread construction that there was an unscheduled cookie cremation in the oven. Finally, we sat down to a delicious feast prepared by Laurie's husband–superb wines from their own Domaine de Deurre, smoked salmon, sweet butter and thin-sliced bread followed by coquilles St-Jacques. By the time we got to the truffle ravioli I had entered another dimension. After dinner, Laurie and I prepared to head back to Nyons. Her husband was busy grating two enormous truffles into the mashed potatoes for the next day and packed a truffle to keep me well-supplied with truffled scrambled eggs.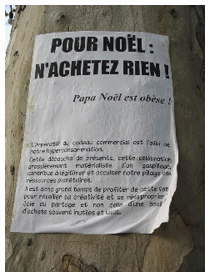 When we arrived in Nyons, it was well after midnight. Our first stop was the Place des Arcades to see if the Baby Jesus had been placed in His manger. NO DOLL! The Church was tightly shut, as were all the shops in the Place, including the two boucheries. The next morning, Emily and I went to look during our walk. The Gendarmes were parked near the crèche, which still lacked the Holy Child. Later I learned, from my same reliable source, during the night Monsieur Ghys had been robbed of all his Christmas oies (pronounced "wha," geese) and all his goose and duck foie gras, which were miraculously replaced in time for his customers' Christmas feasts.

Later Christmas Day, I went to the château for Lydie's annual Christmas dinner. The table was magnificently set, as always, and Lydie was busy supervising in the kitchen. Judy had an apron over her elegant dress and was busy making blinis for the smoked salmon. I was handed an apron and instructed to brush melted butter on the blinis before adding the salmon. Wayne opened the Champagne and as guests arrived, they were each handed a flute.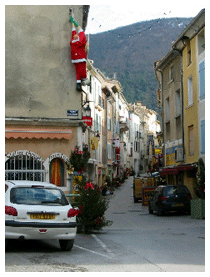 By the time we sat down to dinner, we had successfully polished off several large platters of smoked salmon blinis. We started with 1997 Chassagne-Montrachet 1er Cru Clos Saint-Jean and Lydie's famous cream of wild mushroom soup. Next were two different types of beef daube, smashed potatoes and several varieties of Gigondas. Then salad and cheese followed by Lydie's renowned fruit tarts, coffee and chocolates, and then some of the guests finished off with a selection of liqueurs.

By December 26th, the Baby Jesus had not been born. By New Year's, His crib of hay still lay empty. On the 3rd of January, the crèche was dismantled by the services techniques. Where the doll is, no one seems to know. Some mysteries are never solved. There is always Christmas 2005. In the meantime, have a Happy and Healthy New Year!
---
Among many other achievements, Patricia Fieldsteel has had an award-winning column in THE VILLAGER newspaper since 1997 and has also published in THE NEW YORK TIMES. She is an animal-lover par excellance and is divinely happy in

Provence

, though from time to time she misses the opera, ethnic food and Law & Order reruns. This is her story.
A little taste of Provence…
---
---