Best of Buzz 2004 – who's next
Where you should have been last year – where to go this year. "Food guides are useless, out of date by the time they're published," comments Figaro's Emmanuelle Rubin. BUZZ agrees; these days there are too many waltzing chefs chasing too many dreams, eager to cash in on their fifteen minutes. Hurry to these addresses; they may be ephemeral, they may last more than fifteen minutes! Who knows? Have you noted that last year was the year of the wine-bar, no restaurant could open without one: good thinking to get the punters in, not scare them away with sky-high prices. It all began with Lavinia 3-Boulevard de la Madeleine 1st. T:01 42 97 20 27. The following are all new and most of them have the bar idea.   Guy Savoy at Chiberta.Start here for contemporary food and service with décor by Jean Wilmotte. It's expensive but wadda ya expect from Savoy; you want charity, go to UNICEF! Dishes include soothing starters, crème de langoustine et carottes parfumée à la citronelle. A bon beef Simmenthal with a bon Béarnaise, a jarret de veau braisé avec des peches, and desserts d'enfance. Wines are impressive and selected from the open wine wall that decorates the stunning space.3, rue Arsene Houssaye, 8th (Metro: Charles de Gaulle Etoile)T: 01 52 53 42 00 Lunch from 60€ and you can eat at the bar
http://www.lechiberta.com/
  Dans Le Noir: Surprise/shock of the year, eat in the dark, served by visually challenged staff. Luckily chef Anne Marie di Lorenzo is sighted, the owners very far-sighted to dare a concept like this. Parisians like to be seen wearing the new YSL, carrying the latest Vuitton/Gucci but they flock to Dans Le Noir big time. Set up initially by the blind for the blind, and yes they do organise blind tastings!51 rue Quincampoix (4th). (Metro: Hotel de Ville). + Bar Dans Le Noir for wimps who don't think they can take the full monty. Or try Sunday BrunchT: 01 42 77 98 04
www.danslenoir.fr
  Les Fables de la Fontaine: We all know and appreciate Le Violon d'Ingres and Café Constant. The best surprise of the year has to be Les F
ables de la Fontaine, Constant's transformed oyster bar. Only about 20 covers, freshest fish, seafood and classic desserts such as Pithiviers, Paris-Brest, Baba-Au-Rhum.131 rue Saint Dominique, 7th, (Metro: Ecloe Militaire)T: 01 44 18 37 55 Open Sunday night!   L'Entredgeu:Last January, Philippe Tredgeu and his lovely wife Penelope transformed an old zinc bar into the hippest neighbourhood bistro in the 17th. They should open one in each arrondissement, they'd make a fortune. Definitely book ahead.83 rue Laugier, 17th (Metro: Porte de Champerret)T: 01 40 54 97 24Carte-Menu 29€ Lunch 20€   Pasco:The décor is Spanish bodega meets Moroccan riad, Pasco has a terrace and great views of the Dome des Invalides. Formerly the kitchens of Thierry Burlot, now at La Maison Baccarat. Pascal Vignes creates Mediterranean cuisine, quality- price you'll want to rush there. Between 15€-24€ + A La Carte74 boulevard de la Tour Maubourg, 7th (Metro: Invalides)T: 01 44 18 33 26
http://www.restaurantpasco.com/
  Le MuranoIf you like vodka the bar has a choice of 100! Shiny new designer restaurant in the shiny new "urban resort". First impressions are promising with a chef (ex-Ducasse), enthusiastic staff and ze beautiful pipole arriving, but not before 9pm, darling! Hip starters include salade de trios quinoas avec tomates et mousse de carottes. Tataki de langoustine et soup de haricots cocos. Lunch menu at 25€ Dinner 50€. Definitely worth a visit.13 boulevard du Temple, 3rd (Metro: Filles de Calvaire)T: 01 42 71 20 00
http://www.muranoresort.com/indexok.html
  La Table de RobuchonRobo's latest, located in Ghislaine Arabian's former canteen. Fréderic Simonin stays as chef, creates a light cuisine with an Asian spin. Demi-portions for the Ladies Who (don't) Lunch. Gélee of crab with avocado (18€) Caviar of Aubergine, slightly smoked (16€) and the all time classic Merlan frit Colbert beurre blanc (23€), Giant juicy veal with olives and artichokes (58€) Thyme flavoured lamb (34€). Light fruity desserts (gélee de thé, ice-cream) and excellent wines, by the bottle or glass (5€). 6-plat menu degustation 150€.16 avenue Bugeaud 16th (Metro: Victor Hugo)T: 01 56 28 16 16Open 7/7 Valet Parking   ApiciusJean-Pierre Vigato has moved house. It took eight months of work to transform a handsome hotel particulier into a magnificent restaurant worthy of this talented chef (ex-Apicius, avenue de Villiers). Architect Eric Zelle has made a mini-hip Versailles; it can't be long before Vigato is dubbed with a third macaron Michelin. Expect to spend 120€ per person + wine. But there's nothing to stop you from popping in for a drink at the bar, and rumour has it breakfast is served, but you must reserve.20 rue d'Artois, 8th (Metro: Concorde)T: 01 43 80 19 66Closed Sat-Sun   La Poele d'OrAlert readers will know that this is a BUZZ favourite. Alain Bourgade (ex-Ducasse) has been cooking since he was 14! His foie gras is superb (he'll teach you to make it) and you can pop in for a plat du jour, a glass of wine for about 15€.37 rue Miromesnil, 8th (Metro:Miromesnil)T: 01 42 65 78 60Closed Sat-Sun   Dominique BouchetTalented superchef (ex-Crillon) opens eponymous bistro, great rejoicing in gastroland."My carte is court, 5 starters, 4 fish dishes, 5 meat, 5 desserts and beautiful cheese from Marie-Anne Cantin," he explains. Yes, he is doing his "plat fetish" le gigot d'agneau à…
SUBSCRIBE
ALREADY SUBSCRIBED?
BECOME A BONJOUR PARIS MEMBER

Gain full access to our collection of over 5,000 articles and bring the City of Light into your life. Just 60 USD per year.

Find out why you should become a member here.

Sign in

Fill in your credentials below.
Where you should have been last year – where to go this year.
"Food guides are useless, out of date by the time they're published," comments Figaro's Emmanuelle Rubin. BUZZ agrees; these days there are too many waltzing chefs chasing too many dreams, eager to cash in on their fifteen minutes. Hurry to these addresses; they may be ephemeral, they may last more than fifteen minutes! Who knows? Have you noted that last year was the year of the wine-bar, no restaurant could open without one: good thinking to get the punters in, not scare them away with sky-high prices. It all began with Lavinia 3-Boulevard de la Madeleine 1st. T:01 42 97 20 27. The following are all new and most of them have the bar idea.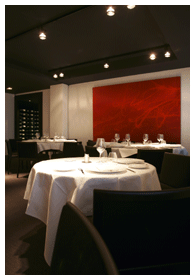 Guy Savoy
at Chiberta.
Start here for contemporary food and service with décor by Jean Wilmotte. It's expensive but wadda ya expect from Savoy; you want charity, go to UNICEF! Dishes include soothing starters, crème de langoustine et carottes parfumée à la citronelle. A bon beef Simmenthal with a bon Béarnaise, a jarret de veau braisé avec des peches, and desserts d'enfance. Wines are impressive and selected from the open wine wall that decorates the stunning space.
3, rue Arsene Houssaye, 8th (Metro: Charles de Gaulle Etoile)
T: 01 52 53 42 00 Lunch from 60€ and you can eat at the bar
http://www.lechiberta.com/
Dans Le Noir:
S
urprise/shock of the year, eat in the dark, served by visually challenged staff. Luckily chef Anne Marie di Lorenzo is sighted, the owners very far-sighted to dare a concept like this. Parisians like to be seen wearing the new YSL, carrying the latest Vuitton/Gucci but they flock to Dans Le Noir big time. Set up initially by the blind for the blind, and yes they do organise blind tastings!
51 rue Quincampoix (4th). (Metro: Hotel de Ville).
+ Bar Dans Le Noir for wimps who don't think they can take the full monty. Or try Sunday Brunch
T: 01 42 77 98 04
www.danslenoir.fr
Les Fables de la Fontaine: We all know and appreciate Le Violon d'Ingres and Café Constant. The best surprise of the year has to be Les F

ables de la Fontaine, Constant's transformed oyster bar. Only about 20 covers, freshest fish, seafood and classic desserts such as Pithiviers, Paris-Brest, Baba-Au-Rhum.
131 rue Saint Dominique, 7th, (Metro: Ecloe Militaire)
T: 01 44 18 37 55 Open Sunday night!

L'Entredgeu:
Last January, Philippe Tredgeu and his lovely wife Penelope transformed an old zinc bar into the hippest neighbourhood bistro in the 17th. They should open one in each arrondissement, they'd make a fortune. Definitely book ahead.
83 rue Laugier, 17th (Metro: Porte de Champerret)
T: 01 40 54 97 24
Carte-Menu 29€ Lunch 20€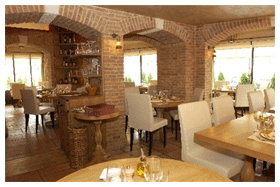 Pasco:
The décor is Spanish bodega meets Moroccan riad, Pasco has a terrace and great views of the Dome des Invalides. Formerly the kitchens of Thierry Burlot, now at La Maison Baccarat. Pascal Vignes creates Mediterranean cuisine, quality- price you'll want to rush there. Between 15€-24€ + A La Carte
74 boulevard de la Tour Maubourg, 7th (Metro: Invalides)
T: 01 44 18 33 26
http://www.restaurantpasco.com/

Le Murano
If you like vodka the bar has a choice of 100! Shiny new designer restaurant in the shiny new "urban resort". First impressions are promising with a chef (ex-Ducasse), enthusiastic staff and ze beautiful pipole arriving, but not before 9pm, darling! Hip starters include salade de trios quinoas avec tomates et mousse de carottes. Tataki de langoustine et soup de haricots cocos. Lunch menu at 25€ Dinner 50€. Definitely worth a visit.
13 boulevard du Temple, 3rd (Metro: Filles de Calvaire)
T: 01 42 71 20 00
http://www.muranoresort.com/indexok.html

La Table de Robuchon
Robo's latest, located in Ghislaine Arabian's former canteen. Fréderic Simonin stays as chef, creates a light cuisine with an Asian spin. Demi-portions for the Ladies Who (don't) Lunch. Gélee of crab with avocado (18€) Caviar of Aubergine, slightly smoked (16€) and the all time classic Merlan frit Colbert beurre blanc (23€), Giant juicy veal with olives and artichokes (58€) Thyme flavoured lamb (34€). Light fruity desserts (gélee de thé, ice-cream) and excellent wines, by the bottle or glass (5€). 6-plat menu degustation 150€.
16 avenue Bugeaud 16th (Metro: Victor Hugo)
T: 01 56 28 16 16
Open 7/7 Valet Parking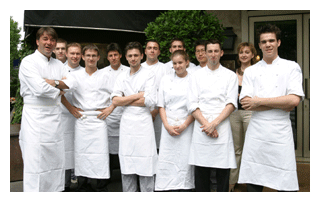 Apicius
Jean-Pierre Vigato has moved house. It took eight months of work to transform a handsome hotel particulier into a magnificent restaurant worthy of this talented chef (ex-Apicius, avenue de Villiers). Architect Eric Zelle has made a mini-hip Versailles; it can't be long before Vigato is dubbed with a third macaron Michelin. Expect to spend 120€ per person + wine. But there's nothing to stop you from popping in for a drink at the bar, and rumour has it breakfast is served, but you must reserve.
20 rue d'Artois, 8th (Metro: Concorde)
T: 01 43 80 19 66
Closed Sat-Sun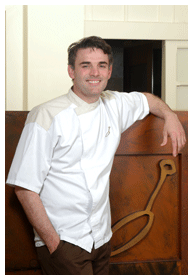 La Poele d'Or
Alert readers will know that this is a BUZZ favourite. Alain Bourgade (ex-Ducasse) has been cooking since he was 14! His foie gras is superb (he'll teach you to make it) and you can pop in for a plat du jour, a glass of wine for about 15€.
37 rue Miromesnil, 8th (Metro:Miromesnil)
T: 01 42 65 78 60
Closed Sat-Sun

Dominique Bouchet
Talented superchef (ex-Crillon) opens eponymous bistro, great rejoicing in gastroland.
"My carte is court, 5 starters, 4 fish dishes, 5 meat, 5 desserts and beautiful cheese from Marie-Anne Cantin," he explains. Yes, he is doing his "plat fetish" le gigot d'agneau à la cuillere, pommes purée. Start with la soupiere de chataignes aux truffe and finish with a riz au lait crème à la praline rose. Delicious. About 50€ + wine.
11, rue Treilhard, 8th (Metro: Miromesnil/Augustin)
T: 01 45 61 09 46
Shut Sat-Sun

Les Ormes
Stephane Molé and Madame Molé have taken over from the genial Gérard Goutany who has retired, they have re-named the legendary Bellecour and are continuing a fine tradition of excellent light cooking with matching prices. Lunch 28€ – Dinner 35€.
22 rue Surcouf, 7th (Metro:Ecole Militaire/Invalides RER)
T: 01 45 51 46 93
Closed Sunday & Monday lunch.

Petit dejeuner chic or a glass of champagne at Christian Lacroix's Hotel du Petit Moulin, 29 rue de Poitou 3rd.
17 rooms each showcasing a Lacroix creation, say, the corset Madonna wore for her Re-Invention Tour.
T: 01 42 74 10 10.

And watch out for the opening of Fouquet's Hotel, Avenue George V, 8th. Hiramatsu moved from the Ile Saint Louis to the tony 16th (Henri Faugeron's former restaurant). Cuisine is haute and so are the prices darling, should turn on the locals though.
T: 01 56 81 08 80.

BUZZ SUPER SCOOP
We don't know if the romance between Bouquet and Depardieu is on or off; probably they don't either. But it's business as usual as far as their total commitment to food and wine is concerned. You've enjoyed (or hated) La Fontaine Gaillon, now try L'Ecaille de la Fontaine, in the same rue. Fish and fruits de mer, décor by Bouquet, a great ambiance to sip a glass of fragrant Passito from her Sicilian vineyard, Pantelleria or maybe you prefer Depardieu's Chateau de Tigné!
15 rue Gaillon, 2nd. (Metro: Opéra/Quatre Saisons)
T: 01 47 42 02 99  

---
Born in Britain and now based in Paris, Margaret Kemp graduated from The Cordon Bleu and spent a year working and watching in the kitchens of top chefs from Sydney, Australia via Bangkok, Hong Kong, California, New York and France. Realising she would never win the coveted 3-Michelin stars, she decided to write about the people who do, the "disciples of Escoffier."
Learn to cook like him…
---
---