Dominique Bouchet
received a unique gift for his 50th birthday: the Legion d'Honneur! The year, 2002, marked the 200th anniversary of the highest award in France, created by
Napoleon
in 1802. "I have to say that it's the ultimate accolade in my 35+ year career, until now!"
Bouchet,
happily installed in his own maison, a warm and friendly, chic designer bistro in the tony 8th arrondissement, has come home.

Alert readers will know by now that
BUZZ's
favourite superchef left the kitchens of
The Hotel de Crillon
about 18 months ago.
Bouchet
is a passionate, perfectionist whose dedication probably cost him his first marriage; his two children have careers that "are as far away from gastronomy as possible." Bien sur, they were there in the salons of the
President of the Senat
when
Paul Bocuse
presented their talented father with his award. Tradition obliges that the recipient of the Legion d'Honneur choose not only the location but also the personality to present the award. Think of it as joining the most exclusive club in the world, and your sponsor must already be a member. "I asked Paul Bocuse because he's the role model for all chefs, and I never dreamed that I would ever receive the same honour," admits a too-modest Bouchet. He laughs, quoting Jack Benny accepting an award: "I don't deserve this, but then, I have arthritis, and I don't deserve that either."

Fellow Legions d'Honneur include
August Escoffier, Roger Vergé, Alain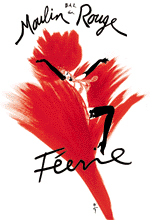 Senderens, Joel Robuchon
, and wine critic/guru
Robert Parker
. The late great
Julia Child
received hers at a ceremony in Boston;
Bocuse
accepted his from then-President,
Valery Giscard d'Estaing
, dressed in his chefs whites, and recalls he could have missed the ceremony, so busy was he preparing the celebration lunch!
Bouchet stayed out of the kitchen on his big day, saying "I just wanted to soak up the atmosphere." So there was a quiet celebratory lunch for a few close personals such as
Prime Minister Raffarin, Guy Martin, Bernard Loiseau
and
Guy Legay
, formerly head chef at The Ritz. "There were also lots of Japanese friends," he says. This could be because his beautiful muse is Japanese. When you see Yuriko you understand why Bouchet is fascinated by the Land of the Rising Sun, which he says he's visited about 200 times "and not only for the sushi!"

Joking apart, in 1983 Bouchet launched La Tour d'Argent, Tokyo. He speaks enough Japanese to, "have fun with our friends". I assume he has a trophy room somewhere, so many awards have been piled on him. Amongst them, he was elected Japan's Chef of the Millennium, received a Citoyen d'Honneur from
George W
and is a member of the Culinary Academy of France, Associate Professor at the Ecole Supérieure de Cuisine Française in Paris, received the Silver Medal for World Tourism and is cultural ambassador for his native Poitou Charente region.

I ask Bouchet if his Legion d'Honneur is more precious than, say, 3-Michelin stars? "I had 3-Michelin stars when I was chef at La Tour d'Argent, Paris. That was way back during the belle époque of a legendary restaurant," he shrugs. "Today it's so much less important. People look for conviviality when they go out; tant pis if their chosen restaurant has no grand listing".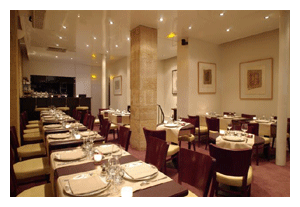 On a first visit "to Dominque Bouchet DB", the 40-seater room was already buzzing with punters who've heard, word of mouth, that Bouchet's back in town. "It's just a leetle bistro," smiled Bouchet, but it's more than that: it's a reflection of a lifetime of culinary perfection, from the "made in Japan" hand-painted dishes, to the glasses, outsize wall paintings, thoughtful attention to detail. 'Ere is ze non fumeur section," he chuckles, pointing to one small table, "ze one next to it is smoking!"
Here's a man who's been cooking since he was 15. The passion for what he does is written on the rough stone walls, manifests itself in the simple/complex (read, don't try this at home, it won't taste the same darling) plats that come out of the tiny, shiny open kitchen. "I love zis area, I can see if everyone's enjoying my food," he sighs. Bouchet says his cooking is a contemporary spin on the French classics, admits, "Japanese food has influenced me both artistically and in its delicacy."
While Bouchet creates, Yann Le Pevedic takes care of the salle, describes everything in detail, aided by young sommelier Mickael Sives. Both men were with Bouchet at Le Crillon. Starters on the seasonal changing menu include a soothing chestnut soup with truffles, you'll want to wipe round the bowl with Eric Kayser's crusty bread. Warm terrine of Beaufort cheese is studded with artichokes, chunks of raw ham and paired with a green salad. St-Jacques sit on a salade de mache, topped with vintage Parmesan. Foie gras is "au naturel," surrounded with a few dried fruits and Kayser's pain grillé. Mains include 5 fish; on Thursday Bouchet recommended the Aile de Raie (skate), the accompanying purée pommes rattes served in a huge cappuccino cup, spiked with olive oil, capers and citron.
The seven-hour gigot is probably what got Bouchet the Legion d'Honneur, so succulent is it! A hearty galette of pigs' feet with a jus de veau and truffles, fit for a king, is worth your attention. Follow with three cheeses by Marie Anne Cantin. Desserts are light, for the Ladies Who (Don't) Lunch: astringent sauterne jellied terrine of orange and grapfefruit, with a trio of sorbets. Chocoholics will go for the classic Marquise and, for a childhood memory, the riz au lait with a crème of pink praline. Wines are by the glass, carafe, bottle. Say a white Bordeaux Clos Floridène (11€ 28€ 39€) with the starter. Perfect with fish or meat is the Chinon "Domaine Beausejour" Domaine chaveau 2002 (5€ 13€ 18€) or something with a little more body the excellent Scamandre – Costières de Nimes 2003 (11€ 32€ 42€).

Bouchet says his favourite hobby is holidays, but he's not thinking of travelling much at present. He has a head buzzing with projects and ideas. After all he designed his restaurant while writing several books and doing aller-retour to Japan. We'll keep you posted with his latest secret projects but in the meantime, make DB your neighbourhood special, even if you don't live in the 8th It's "vol le detour. And look out for Bouchet's coffee-table tome, Café – Les Accords, published by Noesis. "It's unlike any other book you've ever seen," promises Bouchet.

11 rue Treilhard, 8th (Metro: Miromesnil)
Parking outside!
T: 01 45 61 09 46
Open Mon-Fri 12-14hrs – 19.30-21.30. Shut Weekends & August


www.dominique-bouchet.com

Bon Appetit!
---

Born in Britain and now based in Paris, Margaret Kemp graduated from The Cordon Bleu and spent a year working and watching in the kitchens of top chefs from Sydney, Australia via Bangkok, Hong Kong, California, New York and France. Realising she would never win the coveted 3-Michelin stars, she decided to write about the people who do, the "disciples of Escoffier."