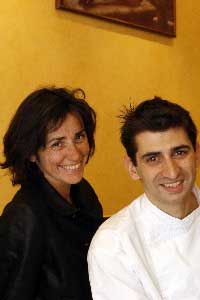 When Cécile Desimpel left her bistro "Chez Elle" Les Halles, she wanted to create a new concept. Setting up "Chez Cecile" (ex- La Ferme des Mathurins) with jazz musician Mathieu Boré the answer was obvious. Re-look Les Mathurins but not so much that the regulars (Georges Simenon used to scribble pages of Maigret here) get vexed. Leave the long zinc bar, the wonderful photos and do, doo-wop, Western swing and Country Jazz every Thursday, "we also do The Beatles", grins Boré.
In two years, not only has Cecile's confidence grown, chef Stéphane Pitré (ex-Ritz, London) has taken Chez Cecile to his heart, you can see him working, happy as Larry, in his beautiful new open kitchen. "I have my style, it's young, with a classic base, and we change daily, according to what I find at Rungis", he says.
From the telephone directory size wine list Cecile chooses a white Burgundy Premier Cru Rully 2005, (42.50€) "refreshing, lively and well balanced", just like you Cecile! Goes well with any of the six starters including a warm, tender, sweet potato gateau with mango and coriander, or Noix de St. Jacques, roasted with black truffles and, on the side, espuma of Jerusalem artichoke and bright autumn salad. Chateau des Estamilles 2002 from Lentheric in the Languedoc region (52,50€) is Cecile's choice to match the mains (choose from six). "It's a bit spicy and rustic with notes of dark chocolate". Nice with "Mon Pot Au Feu de Foie Gras des Landes" or "Marmite de Sole et Coquillages Bretons au beurre d'algues and petits legumes". Mop up with warm home-baked bread and, if you're a cheesehead, finish the wine with some seasonal fromage from Monsieur Cousin. Desserts include a Giant pink Macaroon (beetroot flavoured) sandwiched with chocolate ice-cream and Capuccino revised and corrected three different ways.
The joint is jumping, reserve ahead and, in the meantime, listen to Borés just released album "Sometimes on My Own", notes of Paul Anka and Hoagy Carmichael, make a delicious dessert, specially on Thursday nights. See you there. www.matthieubore.com
At The Intercontinental, Paris Grand, "Sapins de Noel Fashion 2007" united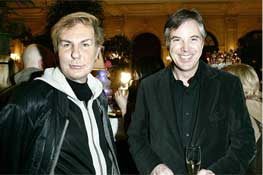 Fashion icons Stanislassia Klein, Claude Montana, Olivier Lapidus, rocking around 40 Christmas trees designed by students from Esmod International Ecole de Mode. The wacky and imaginative results "Christmas Couture" are on display all over the Hotel until 2 January. Pop into Café de la Paix, where MOF Laurent Delarbre (funny his name translates to "of the tree", how very seasonal n'est pas!) is always enthusiastically creating new specialities, just like the Cafe's brilliant former chef Christian LeSquer, whom he resembles, no? And don't forget to finish with Lapidus's dessert, light and lacy, just right for this time of the year.
They've spent zillions giving it a face lift to The Intercontinental, Park Lane, London, there's some good deals to be had, such as their Package VIP Park Lane. Check it out on www.intercontinental.com or call 00 44 207 409 3131.
Want a really unusual New Year's Eve idea? Pas trop cher? Top-gun of the kitchens, Guy Martin (Le Grand Vefour, Sensing) has created the menu at Le Cercle National des Armées, that handsome building opposite St. Augustin Church in the 8th.
Old soldiers never die they just lunch and dine at LCNDA, usually in private. The magnificent Art-Deco dining rooms are open to the likes of you and BUZZ, for the first time, 31st December (medals can be worn – tenue de soirée required). "It's a New Year's Eve journey between terre et mer", says Guy Martin.
Amuse Bouches, then Oysters in pumpkin bouillon, a touch of curry, horseradish, topped with caviar. Pressé de foie gras, girolles and violet artichokes. The main is truffled Chapon de Bresse, legumes oubliés. And dessert: Declinaison de marrons. Creamy café chocolat, sorbet orange. Cafe, mignardises, all washed down with Champagne, Monbazillac, and fine Bordeaux Pessac Léongan.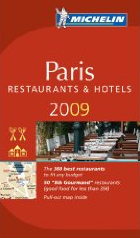 Music by Jazz Orchestra Stage One. You wouldn't expect any less from Guy Martin.
Address Book:
Chez Cecile,
17 rue Vignon 8th (Metro: Madeleine)
T: 01 42 66 46 39
Shut Sat-Sun
Lunch 23/34€ Dinner 32/37€
Tasting Menu – 58€
Jazz on Thursday from 21hrs.15
New Years Eve SOLD OUT.
Cercle National des Armées,
8 place St. Augustin, 8th (Metro: St Augustin)
T: 01 44 90 27 34
230€ including wine.