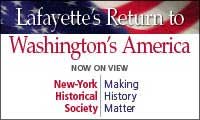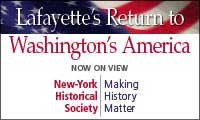 French and American histories intertwine at the New-York Historical Society
this season, in French Founding Father: Lafayette's Return to Washington's
America. Join us on a whirlwind tour with French General Marquis de Lafayette, a
hero of the American Revolution, and watch history come alive for the whole
family on Living History Saturdays, through reenactments and more. Information
at 212-873-3400 or nyhistory.org.
Leave a reply
Your email address will not be published. Required fields are marked *