Chefs Working the Front Room: A Drastic 180° Change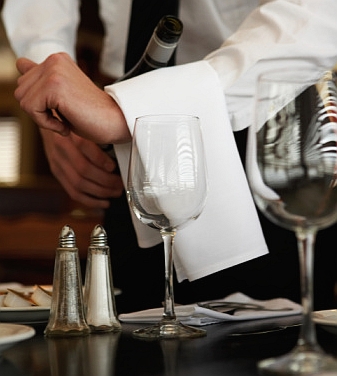 When I first came to France myself, not in films or class or fantasy, I never saw one single chef, unless he (and they were all males) was on the sidewalk smoking after service. I think the first guy who entered the front room was Bocuse, circa 1962, though I could be wrong, but I surely never saw the likes of Point, Terrail, Bise, the Troisgros or Giradet out of the kitchen. Fast-forward to 1989, when Colette and I went back to L'Arpège, which after a seemingly endless remake to get Passard some macaroons, was a stage for M. Alain, who held forth for hours with his customers out front, while his underlings did the food in the back. (I know, I know, "Who does the cooking when you're not here?" "The same guy as when I am here," attributed to everyone but Henry Kissinger.) In any case, I was dismissive, on the border of contemptuous, about such behavior. How could one run a kitchen when not there? And I was equally put-downing of chefs who came out from time to time to enquire how things were. OK. It was alright to come out when the last plat had been plated and the dessert guy or gal was running the show, but working the room, unnh unh. Plus – I didn't really want to talk to them. My critic buddies would sidle up to the door to the kitchen and I would shrink; I'm a very shy guy, hard to believe, for someone with my training and history, but I'd rather sit alone in my living room chair reading a book (not a
Kindle
thank you) than talk to people. Oh sure, every once in a while, I'm curious about a dish, ingredient, etc., and ask the chef but mostly I mumble "It's wonderful" even if it isn't, and soldier on. Colette, on the other hand, who insists she doesn't speak French (she does very well, however, at a "cocktail" when left to her own devices, but don't try to tell her that) always wants to know "What's in this, where did the chef train, what was this place before?", etc. But this week, I think I've begun to mellow. I've been softened up by warm characters like Daniel Rose at Spring, William Ledeuil at Ze and KGB and Gregory Marchand at Frenchie, who managed to win their ways to my heart and tongue. The crowning touch was today at Moustache, where I took Colette and her cousin D.  After I asked (horrors) for a sac for the incredible wok'd veggies of the season, I was not only treated to the doggie-container but to a long talk over another bottle of wine (his treat) with the chef – admittedly after the service was over. Colette got all her questions answered on his birth (Paris), provenance (Daniel Boulaud, Marriott,) custom and Asian/etc influences. So I'm reformed, I'm a new man, "free at last, free at last," (and I by no means mean to diminish MLK's cry in 1963)  but from now on, I'll chat'em'up. The resto discussed here is: Moustache 3, rue Sainte-Beuve in the 6th (Metros: Vavin or ND des Champs) T: 01.42.22.56.65 Closed Saturday and Monday lunch and Sundays A la carte about 40 €. ©by John Talbott 2010   If you're coming to France (or for that matter anywhere) you can 
reserve your hotel here.
To rent a car, Bonjour Paris recommends 
Auto Europe
.
SUBSCRIBE
ALREADY SUBSCRIBED?
BECOME A BONJOUR PARIS MEMBER

Gain full access to our collection of over 5,000 articles and bring the City of Light into your life. Just 60 USD per year.

Find out why you should become a member here.

Sign in

Fill in your credentials below.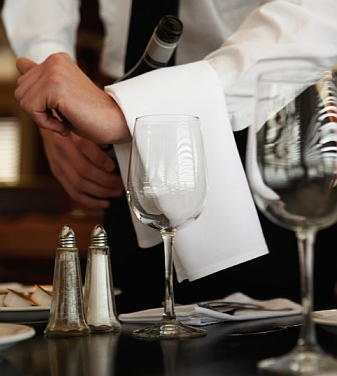 When I first came to France myself, not in films or class or fantasy, I never saw one single chef, unless he (and they were all males) was on the sidewalk smoking after service.
I think the first guy who entered the front room was Bocuse, circa 1962, though I could be wrong, but I surely never saw the likes of Point, Terrail, Bise, the Troisgros or Giradet out of the kitchen.
Fast-forward to 1989, when Colette and I went back to L'Arpège, which after a seemingly endless remake to get Passard some macaroons, was a stage for M. Alain, who held forth for hours with his customers out front, while his underlings did the food in the back. (I know, I know, "Who does the cooking when you're not here?" "The same guy as when I am here," attributed to everyone but Henry Kissinger.)
In any case, I was dismissive, on the border of contemptuous, about such behavior. How could one run a kitchen when not there?
And I was equally put-downing of chefs who came out from time to time to enquire how things were.
OK. It was alright to come out when the last plat had been plated and the dessert guy or gal was running the show, but working the room, unnh unh.
Plus – I didn't really want to talk to them. My critic buddies would sidle up to the door to the kitchen and I would shrink; I'm a very shy guy, hard to believe, for someone with my training and history, but I'd rather sit alone in my living room chair reading a book (not a Kindle thank you) than talk to people.
Oh sure, every once in a while, I'm curious about a dish, ingredient, etc., and ask the chef but mostly I mumble "It's wonderful" even if it isn't, and soldier on. Colette, on the other hand, who insists she doesn't speak French (she does very well, however, at a "cocktail" when left to her own devices, but don't try to tell her that) always wants to know "What's in this, where did the chef train, what was this place before?", etc.
But this week, I think I've begun to mellow.
I've been softened up by warm characters like Daniel Rose at Spring, William Ledeuil at Ze and KGB and Gregory Marchand at Frenchie, who managed to win their ways to my heart and tongue.
The crowning touch was today at Moustache, where I took Colette and her cousin D.  After I asked (horrors) for a sac for the incredible wok'd veggies of the season, I was not only treated to the doggie-container but to a long talk over another bottle of wine (his treat) with the chef – admittedly after the service was over.
Colette got all her questions answered on his birth (Paris), provenance (Daniel Boulaud, Marriott,) custom and Asian/etc influences.
So I'm reformed, I'm a new man, "free at last, free at last," (and I by no means mean to diminish MLK's cry in 1963)  but from now on, I'll chat'em'up.
The resto discussed here is:
Moustache
3, rue Sainte-Beuve in the 6th (Metros: Vavin or ND des Champs)
T: 01.42.22.56.65
Closed Saturday and Monday lunch and Sundays
A la carte about 40 €.
©by John Talbott 2010
If you're coming to France (or for that matter anywhere) you can reserve your hotel here. To rent a car, Bonjour Paris recommends Auto Europe.
More in Bonjour Paris, Eating in Paris, Food Wine, John Talbott Paris, Paris, Paris bistros, Paris restaurants, Restaurant reviews
---
---